(Celtics excerpts from Boston.com)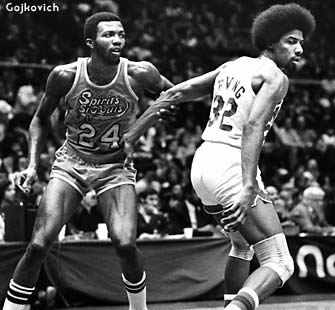 Marvin and the Doctor do the sweet compete
I'm too young to remember the heyday of the now defunct ABA, but from what I've seen in photographs and press clippings it gives off the impression that it was a microcosm of the "free spirited" early 1970's. The ABA was up there with the lava lamp and the glow-in-the-dark zodiac posters (love that Virgo!!!). Besides star attractions such as Julius Erving, George McGinnis, Connie Hawkins, David Thompson, Moses Malone and others, the fashion statements made by some players throughout the ABA looked like something out of the annual Player's Ball scene in The Mack.
Then there was Marvin Barnes, the ABA's man o' the times, the most free of the ABA spirits, Barnes was an enigma to those that loved the league and the era that it thrived in. Whether it was the fur coats, the Rolls-Royces that he drove depending on the weather that day, or his thoughts on time travel. Barnes was one of a kind to say the least.
If Marvin Barnes was in the hip-hop game he would be the equal of Kool Keith, formerly of the Ultramagnetic MCs – known now to the world as Black Elvis, Mr. Nogatco, Doctor Octogon, Rhythm X, or whatever name he choses for that week. I liken him to Keith because of his immense talent. Although at times their words and actions – though bringing a chuckle – leaves the question, "Where do they get this stuff from?"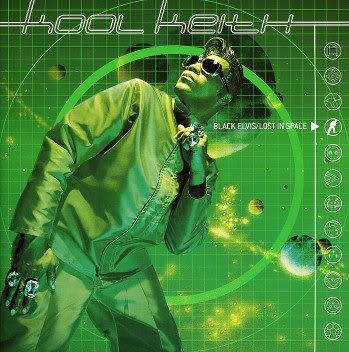 Antics notwithstanding, Barnes was a wonderful basketball talent, an All-American at Providence College where he and Ed DiGregorio led the Friars to the Final Four. Barnes was drafted by Denver in 1973 as an undergraduate and by Philadelphia in 1974, he was signed by the St. Louis Spirits in the same season.
Barnes enjoyed an outstanding rookie season – he was named a starter on the ABA All-Star team, he was 2nd team All ABA, as well as Rookie of the Year. Early in his rookie campaign Barnes was unhappy with playing center for the Spirits so he left the team for six days. Eventually he was found in a smoke-filled pool hall with his agent and he returned to the team.
(Photo By George Gojkovich)

Marvin was relentless on the floor as he was off it
Barnes had earned the nickname "Bad News" for some of his off the court actions. Barnes once robbed a liquor store in broad daylight. If a being a 6'9″ Black male didn't make Barnes stick out enough – the fact that he was wearing a basketball jersey with his name on the back was the clincher.
It was stories like this that made us laugh and wonder if a guy this smart was using his full brain capacity.
For instance:
Teammates try to awaken Barnes to keep him from missing a team flight, Barnes snaps back, "News will catch a later flight!" Five minutes before tip-off the locker room door swings open and there's Barnes in a full length mink coat, Big Mac in hand with just his uniform on underneath. Upon entering he bellows out, "Have no fear… Bad News is here!"
For the record he dropped 44 points that night.
Or maybe the time Barnes was actually on time for a team flight and handed the keys to his Mercedes to who he thought was a valet parking attendant. "Park this for me will you?", He asked the red-cap. Upon informing his teammates of his actions Barnes was shocked to find out that the airport did not have valet parking. Naturally, the Mercedes and the ahem…"parking attendant" were not seen again.
Like many of today's athletes Barnes had a huge love for cars…and he let it be known. Barnes would drive a silver Rolls Royce on clear days and a "Caddy when it clouds up." With a phone in each.
My favorite Barnes story involves a road trip where the team is flying from Louisville to St. Louis. The flight leaves Louisville at 11am and is scheduled to arrive in St. Louis at 11am. Upon reading the flight itinerary Barnes becomes confused and asks how can this be, someone breaks down the time zones and how St. Louis is an hour behind Louisville. Barnes says that they can cancel his ticket because "I ain't gettin' on no time machine!"

Barnes was mos def back to the future
Marvin even seemed to be the poet laureat of the Spirit. The team was facing the Champion New York Nets at home led by Dr. J. The Spirits has lost six straight to the Nets, but that didn't seem to bother the rookie, as he went on to write this poem:
Gather up close and hear what I say,
On Feb. 6 we'll be ready to play.
The New York Nets are going to be here,
And we need ALL our fans to come out and cheer,
Because the Nets are rough when they come to play,
With Kenon and Paultz and the bad Dr. J.,
But our time has come and WE ARE READY,
With Fly and Gus and Goo and Freddie.
So gather your money and place your bets,
Because on the night of the 6th,
We're going to beat the Nets.
AND . . .
There once was a doctor named Erving,
Whose slam dunks were especially unnerving,
But when Marvin gets movin',
And the crowd gets to groovin',
For the doctor a hospital bed they'll be reserving.
Final score Nets 113 – St. Louis 92
Beneath what seemed to be a free spirit – Barnes was a tortured soul. He had spent the bulk of his career getting high on alcohol, marijuana or coke.
Barnes was introduced to coke in the ABA he was using it at a rate that should've killed him twice, although addicted he was still able to play at an incredibly high level.
He recalls in graphic detail an incident that occured of all places on the team bench while spending a season in Boston:
"I remember this one game, I was sitting at the end of the bench," he recalled. "I had a towel over my head and I was snorting coke and my nose was bleeding. Don Chaney and Nate Archibald moved all the way up to the front and I had four or five seats between me and the next player. I was snorting coke and it was tearing my membranes up. Snorting it and blowing my nose. It was like my brains were coming out in the towel and I couldn't stop snorting it anyway. It was terrible, man. I was addicted."
Barnes bounced around the NBA, playing on four teams from 1976-80, averaging just 9.2 points. His life was spiraling out of control because of drugs, alcohol, and all-night partying. He went from nothing but net to simply nothing at age 28, when he was out of the NBA forever.
"I have never seen a player lose so much talent so fast," Rod Thorn, president of the New Jersey Nets, said at the time.
"My body just deteriorated," said Barnes. After an unsuccessful comeback attempt in Italy and the Continental Basketball Association, things got worse. Much worse.
Barnes moved in and out of prison for seven years (three stints) and was homeless in San Diego for five years, doing drugs, drinking, pimping, and robbing to pay for his habit. Barnes makes no excuses. "The talent I wasted," he confessed. "Drugs destroyed my life."
But five years ago, "Bad News" got some good news.
After treatment in 19 rehab programs and a religious reawakening, he started reaching out to troubled youth in the Providence neighborhood where he grew up. As founder and president of The Rebound Foundation — a nonprofit, community-centered organization that provides youth substance abuse and education talks, legal assistance, and mentoring — he's been spreading the light of hope into the shadows of trouble.
Staying clean has not been easy for Barnes, last year he was arrested on cocaine possession.
Let's hope and pray that Barnes has one more rebound left in him.

Be Peace bruh. Hold ya head