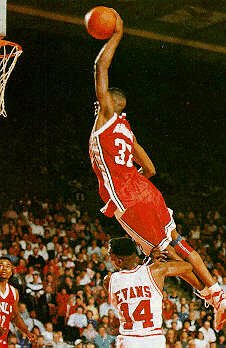 Plasticman springs into action.
I hope everyone enjoyed the first half of this list. The second half isn't too shabby either, we have a couple of sure-fire Hall of Famers in our second installment and maybe even a Blue Devil or two.

Who can stop it?
26. Shaquille O' Neal (LSU): I always felt like Dale Brown never turned Shaq loose in Baton Rouge. The team of O'Neal, Roberts and Jackson was a major disappointment.
27. Ray Allen (UConn): Always wanted the ball in his hands with the game on the line. You could sense that he was going to hold his own at the next level. Last of the great pure shooters in college.
28. Allan Houston (Tennessee): Was Mr. Everything in Knoxville coached by his father Wade, he was a standout on the college team the scrimmaged the 1992 Dream Team.

Sickly clutch at Cal
29. Jason Kidd (Cal): Upset 2-time National Champion Duke in your freshman year…you better believe he makes this list. A true floor general, Kidd was headed to UNLV before sanctions from the NCAA detoured him to Berkeley.
30. Glenn Robinson (Purdue): In college I was a teammate of Robinson's high school teammate, he had plenty of games on tape of Robinson. He carried his high school team just as he did the Boilersmakers. I'll always wonder why he lost the drive to win.
31. Reggie Miller (UCLA): A marksman extraordinaire, Miller could get his shot off from anywhere on the floor.
32. Johnny Dawkins (Duke): The first great player from Cameron that I heard about, he was relentless going to the hole. One of the first floor generals that I can remember in the college game.
33. Juwan Howard (Michigan): If Webber was hip-hop, Howard was the quiet storm. No two front court mates complimented one another better.

The Bluegrass hopper
34. Rex Chapman (Kentucky): Nearly caused an interstate war while being recruited by the Wildcats and Louisville. Had no fear driving to the basket and didn't mind throwing one down.
35. Jerry Stackhouse (UNC): The do-it-all guard/forward was Dean Smith's first above the rim threat since His Airness. His reverse dunk against Duke is an all-timer.
36. Anfernee Hardaway (Memphis State) Led a basketball revival in Western Tennessee, Penny's all around skills made him a triple-double waiting to happen.
37. Armon Gilliam (UNLV): Before Charles Barkley crushed his confidence in the NBA, "The Hammer" was a walking double-double. He and Freddie Banks are the reason I became a Rebels fan.

Sup Cuz? 
38. Jameer Nelson (St. Joseph's): The most decorated player in NCAA postseason history deserved every single award. Nelson put the Hawks on his shoulders and took them to an undefeated regular season.
39. Sherman Douglas (Syracuse): How could you not root for "The General"? Sherm quarterbacked some of the Orange's best teams. A sin he never won a championship.
40. Alonzo Mourning (Georgetown): One half of Georgetown's Twin Towers with Dikembe Mutombo, Mourning was the fiery leader of a Georgetown program that seemed to be in transition.
41. Doug Smith (Missouri): Many people may have forgotten how great a low post player he really was. The one guy I compared to Karl Malone.
42. Keith Lee (Memphis State): Another forgotten player; Lee was a 4-time AP All-American who along with William Bedford, Vincent Askew and Andre Turner were members of Memphis' last Final Four team.
43. J.R. Rider (UNLV): John Thompson said that he would never schedule a game against UNLV until Larry Johnson and Stacey Augmon were gone. Well, the first chance that he got against the Rebels J.R. Rider torched the Hoyas for 35 points in the first half of a Rebel rout.
44. Harold Miner (USC): He had it all the bald head, the number 23, the ferocious dunks, he even resembled the man. But after averaging 23 ppg. for his collegiate career Miner was the Bizarro to Jordan's Superman.
45. Marcus Camby (UMass): The defensive anchor on some outstanding UMass teams, along with Michael Williams and Lou Roe, the Minutemen could never break through to the Final Four.

Look he made the list! 
46.Christian Laettner (Duke): Yeah, I could've put him higher, way higher on this list – but why should I do that when he was picked ahead of Shaq for the Dream Team, he gets the bulk of the credit for Duke's back to back titles.(No thanks to Grant Hill) There's no room for my lips on his butt anyway. Hey, I'm not saying Laettner was a bad player by any stretch, but I am sick of the GWH (Great White Hope) Syndrome that the American media and public suffer from when it comes to athletics.