What the…


This ain't no coincidence. The enlistment pic was sent to me by a prominent writer soon after the issue hit the stands. It's the same damn pic. The weapon of choice is different and Gisele isn't topless, but you get the idea. Annie Leibovitz definitely has some explaining to do for this bullcrap–Mizzo
Once again a national publication has taken the liberty of pissing off the Black community. The April issue of VOGUE focuses on NBA superstar LeBron James of the Cleveland Cavaliers and supermodel Gisele Bundchen, girlfriend of New England Patriots quarterback Tom Brady. The cover of the magazine draws comparison to the King Kong/Fay Wray pose – James is shown baring his teeth, clutching the waist of Bunchen with his shoulders hunched in a gorilla-like pose. This recent development opens the door for James, who is arguably the most popular player in the NBA to address this issue and others concerning race in sports and how Blacks – specifically how Black men are viewed.
VOGUE magazine has been in existence for 113 years, in that time there have been a grand total of four Blacks to grace its cover – LeBron James being the first Black male.
It seems to me that the editors at VOGUE have driven home a point that they have been trying to make for decades.
The Black male is a threatening entity – savage like at times.
The Black secretly desires White women
Our instincts and emotions are primal, even in today's world.
There are other photos in the publication that could have been placed on the cover but were not.
LeBron finds himself in the same seat Tiger Woods was in a couple of months ago. When do you say, "Hey, this is wrong." or "This may be offensive to some people." or just say flat out, "I'm not taking a photo with that pose." He has that power and I'm sure that if he would've objected to the photo it would not have been taken. Sometimes I wonder if Black Athletes know how much power they really have. They don't have to take photos that depict them as slaves (Charles Barkley) a cross-dresser (Ricky Williams) or a skit that has them as some White woman's boy toy (Terrell Owens/Nicolette Sheridan).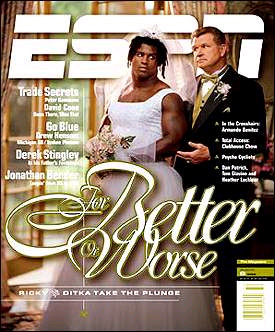 I'm sure that there are those out there that are just as outraged because a Black man is seen on the cover clutching a White woman as I am for him being depicted as a savage.
I would like to think that James' position would be more solid than the one taken by Woods who has stated that he is multi-racial and not specifically Black. James is by all means Black, he is from the inner city and is familiar with the struggles in the Black community, he has the street credibility, not to mention the adulation of a generation that seem to relate to him and is looked upon as the face of the NBA.
After reading James' comments on the cover controversy, I'm not too encouraged.
"Everything my name is on is going to be criticized in a good way or a bad way. Who cares what anyone says." LeBron inexplicably stated.
While the MSM and White America commend James for taking the "high road" we're left on the same dusty trail looking for someone to come along and lead.
Don't get me wrong, I'm not looking for LeBron James or any other athlete to become a Ghetto Messiah, all I'm asking is to read between the lines when you're asked to do anything, consider us as you would your own family. We've got you're back, just don't forget us. They can care less how you appear to them. To VOGUE, it's all about selling magazines, to the Cavaliers it's about selling tickets, at NIKE, it's about selling sneakers.
I'm more concerned about you selling your soul.