Black Steel in the Hour of Chaos
I was speaking to someone in regards to the political situation in China and how it may effect the Olympic Games this summer. From what I understand about the situation, Hillary Clinton has proposed that American athletes boycott the Games entirely. We also discussed the 1968 Mexico City Games, where Tommie Smith and John Carlos brought the atrocities of the Civil Rights Movement in America to a world stage giving us a lasting image in history.
From there I was asked, "What has happened to the social and politically conscious athlete? Why do today's American athletes leave these things up to politicians, why is everyone afraid to take a stand?" Later that night I thought in terms of the Black Athlete and asked the same question.
As the events of 9/11 and Hurricane Katrina unfolded in our living rooms, there was one constant throughout these ordeals: the image of Black Athletes doing what they could to help. Their contributions to these causes deserves to be commended and never forgotten.
But what about the real Cause…
What happened to the passion displayed that day in Mexico City? Smith and Carlos sacrificed their careers and put the lives of themselves and their families in harms way. Because of the socio-political climate in that year alone, I'm sure there were threats on their lives and anything else that would've made lesser men wilt under such heat.
There is a lack of passion is because there are no socio-political issues that interfere with everyday living. Today's Black Athlete doesn't know the sting of Jim Crow that affected the simplest of daily tasks even before 1968. Not many of us know what it is like to be told, "You can't sit here, this section is for Whites Only." How many of us would be willing to march for something we know is right while police dogs and fire hoses are used against us. There is an alarming disconnect between understanding the sacrifices made and the benefits being reaped because of them.
Somewhere in the last 40 years the fire has gone out and there is no sense of urgency to get back on track. If Earl Woods had really preached The Struggle to a young Tiger Woods he would be less of the paper lion he is when it comes to race issues.
When did this all become foreign to the Black Athlete? I see interviews and hear them say all of the right things. I want to hear a player mention the name of Malcolm X during one of those Black History month sound bytes for the NBA.
I believe there should be a wing in the Baseball Hall of Fame dedicated to the Negro League. I'm sure some of the Black ballplayers of today feel likewise, so why not raise some hell and get some answers?
What is this fear that paralyzes the Black Athlete when it comes to speaking out on racial, social and economical issues? Is it the fear of lost endorsements or being blackballed out of their sport? It seems that over the years the NFL, NBA and MLB have systematically neutered the Black Athlete — once aggressive and aware of his surroundings, he is now docile, being led about by his nose. Only a few have dared to buck the trend and stand up only to be exiled.
Mahmoud Abdul-Rauf (Chris Jackson) refused to stand for the national anthem and was slowly shipped out of the NBA. Ditto Craig Hodges whose dashiki and letter to then President Bush expressing his frustration with his administration's treatment of the poor and minorities didn't go over too well. The final blow came when he said Michael Jordan was bailing out for not using his status to address social issues affecting minorities. Hodges was cut by the Chicago Bulls at the age of 32 and was never offered a tryout by another team. He was blackballed by the NBA and later filed a suit with that claim.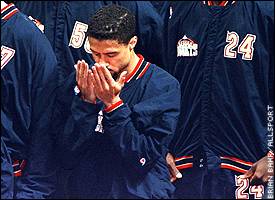 Blackballed in the prime of his career!
Stephon Marbury gets it in my opinion. Sure, he's had the season from hell on the court–off the court has been much worse. He lost his father in mid-season, not to mention his feud with his coach and former friend Isaiah Thomas. I mention Marbury because he realizes there is a Cause and he is doing his part toward a solution. During Hurricane Katrina he wept openly when speaking of "Babies floating in the water" in relation to his own children. He has the Starbury clothing and shoe line economically priced for those unable to shell out $100 or even $50 for a pair of good ball sneaks. Marbury hasn't promised a chicken in every pot, but a pair of $15 Starbury's goes a long way toward that end in many inner city homes. In the wake of the Michael Vick saga, Marbury spoke out in defense of Vick citing why should Vick be prosecuted when animals are killed everyday for sport. Marbury was one of few who spoke out on Vick's behalf.
I'm not saying that Marbury is the greatest guy in the world, but when it comes to issues that need to be addressed, at least he's in the mix.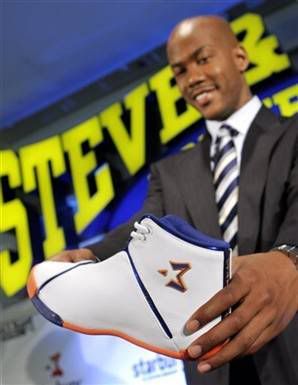 He gets it.