Posted in
Blogroll
on May 21st, 2008 by Ron Glover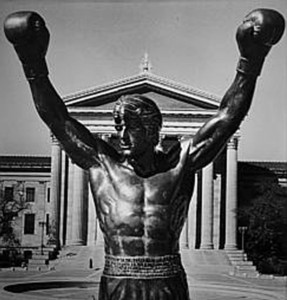 In 1983, the Rocky statue was no more than a movie prop. In Rocky III, it was presented as a gift from the City of Philadelphia to the "Italian Stallion" Rocky Balboa for winning the Heavyweight Championship from Apollo Creed. The statue was mounted atop the steps of the Philadelphia Museum of Art.
Today, the statue is an attraction for visitors from around the world, many come to Philadelphia just to run the steps of the Museum and to see the statue of their hero.
For yours truly, the idol worship bestowed upon this fictional champion may possibly be at the root of my beloved city's professional sports championship drought.