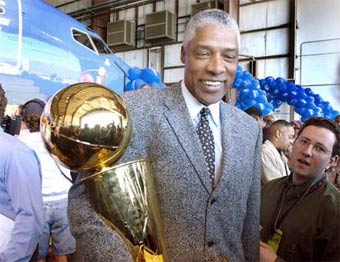 Tomorrow marks the 25th Anniversary of the Philadelphia 76ers sweep of the Los Angeles Lakers in the 1983 NBA Finals – it would also be the last major sports title won in Philadelphia.
It has been a rough stretch for the diehard sports fans in Philadelphia, but for a certain 11-year old back in '83, it was a great way to kick off the summer.
"Skeeta, the Sixers are gonna to win tonight, and we're goin' to the parade."
Those were the words of my late father on the morning of May 31,1983, I was getting ready for school and I was rocking a T-shirt that my mom's boss had bought me, it read: 'And it is written, that they shall be led by Moses (Malone)'. It had a pair of hands with wristbands holding a scroll, since I was raised in a Penecostal (Mom)/Baptist (Dad) home the shirt didn't sit too well with Mom, who thought it was blasphemous but allowed me to wear it on one condition; "Don't let your Nana (who was a Pastor at the time) see it".
Mom was even jacked up for the game, before 1981 we never had a color T.V. until my mom watched the 76ers-Celtics Eastern Conference Finals and saw Nate "Tiny" Archibald for the first time. She liked his game so much that she bought a floor model color T.V. because, "I hafta see Archiball play in color." She's been a hoops fan since.
The night of the game I was ready to go, I had fallen asleep on the previous three games but I wanted to see every second of this one. I remember Doc being asked if there was any chance that the 76ers would lose tonight so they could win in Philly? Doc said how nice it would be to win in Philly but, the opportunity was there to close it out tonight and that was the team's goal.
As was custom in the series, the Lakers would lead at the half only to fold at the end. Game 4 was no different, the Sixers last led 24-23 in the 1st quarter and fell behind as many as 16 points before they would regain the lead 108-107 with :59 left in the game on a layup by Doc.
As Cheeks threw down the dunk I realized that we had beaten the Lakers for the championship. I ran outside in my pajamas in the middle of my block amidst blarring horns and gunshots in the distance. You could hear people in their livingrooms screaming with joy it was euphoria – and Doc was finally going to get to hold that trophy, I wasn't sure how he was going to react but he accepted it with the humility and class that he had always shown, that in itself was moving.
I can't remember sleeping that night, but who needed sleep when you were living a dream.
Thursday morning came and I was getting ready for the parade I had my championship pennant and I was ready to go. It was a cool morning but you could tell it was going to be a hot day. The sun was extra bright, I had on a yellow sweatshirt (the glare of the shirt was blinding) as Dad and I headed towards the subway at Broad and Lehigh. On the way I forgot my pennant, but it was too late to go back, that was the only downer for me that day.
When we came up at 15th and JFK we were right where the float was going to turn onto 15th and work it's way back to Broad St.
To this day I can't describe the feeling I had, it was just pure excitement. Compare it to a Christmas or birthday where you got everything you wanted. it was that good.
As I stood there I thought to myself, all I wanted to see was Moses Malone and the Larry O'Brien trophy, I had seen Doc, Andrew Toney, Cheeks and the others before but Moses was the one I was waiting for.
The float made its turn onto 15th street and it stopped momentarily, I saw Moses holding the Trophy, the sun just beamed off of it, all I could do was clap, wave and jump up and down. I was definitely one of the great moments of my childhood and probably my life.
Me and Dad walked back to 11th and Walnut to catch the 23 trolley it seemed like everyone at the parade was going the same way. If you've never ridden a trolley in the summertime, don't. It was about 45 minutes of sweat, a couple of drunk guys still celebrating from Tuesday, it was the last leg on an already long day.
I got back home in time to watch the celebration down at old Veterans Stadium, Doc was at the mike speaking. Back in 1977 NBA Finals, the Sixers blew a 2-0 lead to the Portland Trailblazers led by Bill Walton. The battle cry after that series was 'We Owe You One.' Whatever Doc was reading was in reference to that series and he ended with, "Philadelphia we don't owe you anymore." The crowd went crazy and that was how my day ended.
There are some who say that the Lakers were injured opening the door for the 76ers victory, but that's bull. Magic was hurt in Game 1 in their rematch against the Pistons and was lost for the series after pulling his hamstring, no one talks about that. So to all of those that want to try and spit on this title, forget it, not today, not ever.