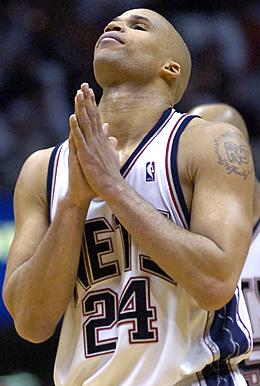 Did you get your wish bruh?

Should be an interesting night…
The wunderkind from China, Yi Jianlian gets his wish and is shipped to the Nets for Richard Jefferson. Bobby Simmons is also is sent to Jigga land. The pundits are saying this deal was done to clear space when LeBron, Bosh and Wade's salaries clear.
LeBron in Jerz seems to be what everyone wants so we shall see.
No draft picks in the deal makes that just a little more of a possibility.
Jefferson, who has been injury plagued the last couple of seasons, was a key player on the Nets Finals teams in 2002-2003. Ironically, he played in all 82 games last season and averaged a career high 22 points.
He'll have a shot to become a star…stay tuned

There was major noise that Yi wanted to play close to a major metro because of his Chinese heritage so he definitely gets that chance. I've seen him play a couple of times last season and he does have considerable skills.