How can the game's most prolific home run hitter have a clean bill of health, a desire to play, and none of baseball's 30 teams are interested in his services?
Here's my take on it.
I find it troubling that tonight's MLB All-Star game in Yankee Stadium is going to be short the game's most dominant player over the last decade.
Barry Bonds played three games in the "House that Ruth Built", going 3 for 7 with a home run in an interleague series against the Bronx Bombers in 2002.
Bonds quite possibly could've been playing in his last season this year. Had anyone including the San Francisco Giants had the balls to sign him, he would be playing his last All-Star game in Yankee Stadium tonight.
But enough with my flair for the dramatics.
In the winter of 2006, I stated that if Barry Bonds broke Hank Aaron's home run record in the 2007 season, that he would not be signed by any Major League team in 2008.
I'm sure I wasn't the only one to see this coming.
All 30 Major League Baseball owners have been put on notice by Commissioner Bud Selig not to contact Bonds or his agent in any way, shape or form.
This can be interpreted as Selig's punishment for Bonds not coming forward and admitting to any PEDs. All while breaking Hank Aaron's home run record.
Through last week Bonds' agent Jeff Borris has confirmed that there have been no offers for his client. Borris went on to decribe the chance of Bonds signing on with any team as "Bleak."
Two teams in particular that could use Bonds' presence are the Boston Red Sox and the New York Mets.
First baseman David Ortiz has been out since May 31st with a torn tendon in his wrist. The Red Sox hold a half-game lead over the surprising Tampa Bay Rays in the AL East. This situation would be ideal for Bonds because he could be an everyday DH with no pressure on his knees.
A week ago, the Mets lost outfielder Moises Alou for the season with a hamstring injury. Winners of 9 straight and a half game behind the NL East leading Philadelphia Phillies they are currently the hottest team in baseball. Also not a bad place for Bonds as he could platoon with Endy Chavez and Fernando Tatis. The Mets could use another bat with some pop in the lineup. And New York would love him.
But according to Borris, he can't remember the last time a team called inquiring about Bonds.
"No one is even asking about him. I talk to the clubs every day for a variety of reasons and his name is never brought up anymore. "I'm more convinced now than ever that he won't be in a major-league uniform in 2008 and I think that is a pathetic way for him to go out. He is deserving of better [because] he gave his heart and soul to this game."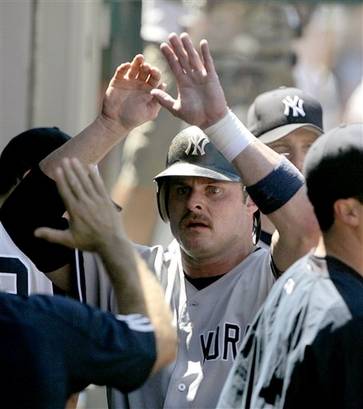 Kinda makes you wonder if Bonds had pulled a "Giambi" threw himself on Selig's mercy and begged for the fan's forgiveness all of this could've been avoided?
I don't think so. No matter how forgiving they say "Our" society is WE know that's a double-edged sword WE'LL never be able to weild.
Everyone has formed their own opinion of Bonds now anyway, so can the "Baggage" really be that heavy? Is he really going to be a "Black eye" to an organization trying to get into the postseason or further?
Bonds is alot of things to many people, one word we all may agree on is defiant; he walks to the beat of his own drum and doesn't mind dancing alone. If you push, he will push back. If it costs him everything he will stand on his beliefs.
As the clock ticks away on his career, he's locked into bitter a staredown with baseball Commissioner Bud Selig.
And it doesn't look like either man is ready to blink.