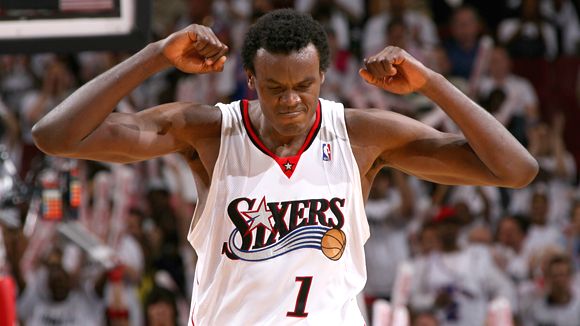 Dalembert leaves his heart and soul on the floor every single time out
SLAM Editor in chief, Ben Osborne hit me up during the season and asked if I would be interested in going over to Haiti with Samuel Dalembert during this summer in hopes of documenting his interaction with his people and more specifically children through Basketball Without Borders.
Anyone who knows me understands that I was very excited about doing something like this. I approached Sammy and he put me in contact with his people to discuss the possibility. When Sammy and I talked he was very excited as well to give of himself in a way most professional athletes don't. I don't think he cares about the pub personally, but this pub would shine on his homeland.
No judgments from me. These are Sammy's words…
"So whassup Sammy? Can we do this?" I asked.
"Yeah, definitely, but I may be playing for the Canadian Olympic team."
"Damn!" I thought selfishly to myself. Don't get it twisted, I was definitely happy for Sammy because you could see the light in his eyes when he discussed the opportunity, but I myself wanted a chance to experience a different culture outside of our own.
We agreed that he would definitely do this if something fell through.
The season ended and time has progressed to these pre Olympic summer hot hot days. I'm headed out to Vegas to cover USA Basketball for SLAM, so I called Sammy's people to see if I could get some personal time with him since he played with Canada…to try to get a sense of him playing against what is a very talented USA squad.
"Sammy is no longer on the team," his publicist tells me in a melancholy tone–after getting back to my request.
"What?!?"
"Yeah, you want to talk to him?"
"Damn right!"
"Well he's returning from Greece Wednesday."
So we set up a time to get this done Thursday. I couldn't wait to hear what Sammy had to say for the criticism coming from the Canadian coaching staff just didn't sit well. Sammy simply is not an asshole. I assure you of that. There had to be something more to this story…
"Whassup Mike, this is Samuel."
"What's goin' on brothaman?"
I got straight to the chase…"Man, what happened?"
"It was crazy. Just crazy. The thing about it was there was no warning. It was a lot of stuff that had nothing to do with basketball. It started with my high school coach being with me. He was there with me last summer and nothing was said. There was no problem and all of the sudden I was being made the scapegoat. It was, Sam doesn't do this. Sam doesn't do that. The media would wait for me after personal workouts with my coach. I worked hard even after practice. You know me Mike. I hoped they would come with something better than that."
"Sam," I asked, "didn't you expedite your Visa to play for the team? Did they extend an offer to you to be part of the team or was this something you wanted to do?"
"The initial move was on my own will. You know I do the Basketball Without Borders in the summer. What really upset me is that Leo Rautins talked about Basketball Without Borders like it sucked. I sacrificed that time to be on this team and I didn't want to become a distraction. If I would have gone, I would have missed like 5 days of training camp. I respected that he wanted me to report to the team because he's the coach. I asked him again and he told me no because I was the leader of the team. He said we only have one chance to win this summer and I had a chance to be a part of it. I made some phone calls and came to the conclusion that he had a point. I told him that I was going to make it on time. Suddenly, it became that I wanted to do all these other things except play for the team. I told him he was full of crap. Of course I wanted to do some basketball goodwill with kids in India. That was no vacation. It was about the kids for me, but I reported on time."
"He had me doing a lot of stuff (public relations). I was cool with it. I was part of the team, so no problem."
"The reason why I brought my high school coach with me was so he could work out with me. I could never be late under his (Leo's) clock, so I made sure I wasn't. Then the issue became the team meal. There was nothing said that everybody had to be at the team meal. Sometime before the game, I chose this time to sleep instead of eating. He didn't even show up at some team meals. Everything I did was called into question. He never told me I had to be there until later on. My high school coach was always at the team meal. He knows not to bother me because I have a routine. I was never late for anything. Coaches were. My high school coach made sure I was up and ready for anything and everything that I had to be present for. They kept saying "Sammy is late for this. Sammy is late for that." "I was like dude, I'm never late. You don't show up for team meal some of the time because you are with your wife. If things were mandatory, I should have been given the respect to at least known that. I wish it would have been said to me. As far as the team meal, I don't eat pork. Most of the stuff over in Germany, was pork. I didn't want to be different from anyone else, just in that regard. I wasn't a prima donna. There's NBA players who would have asked for this and that, but I made sure I paid for everything extra. I didn't want to be uncomfortable. People were coming up to see me. I wanted to be in shape so I did what I had to do."
"Another thing was everything was day by day. There was no set schedule. He would move practices up and wouldn't tell us until 30 minutes in advance like we had nothing else to do."
"There was no communication. I was laughing. I thought this was funny. I wanted to be organized. We have to follow strict schedules in the NBA. Sometimes we had to take cabs to the airport after he said there was no bus, then there was a bus. It was getting irritating. Then I said to myself, that since this is summertime, I was not going to stress myself out. He would tell me that he wanted to make sure I did everything I was supposed to do."
"I agreed. Suddenly, everything was cool. Then we lost a game where I sat out for a long period of time (loss to Slovenia). We didn't play well as a team."
"Everything pretty much fell apart from there. He wasn't telling me things. Five minutes before we boarded the team bus to play South Korea, He said he wanted to talk to me. We sat down and he said some things that were not true. It got heated, he put his finger in my face. I told him not to do that. I got on the bus. They said the bus wasn't going anywhere and told me to get off. Coaches asked me to get off, so I did. I waited to hear from them and I didn't. God as my witness. If I'm lying…"
MT: What do you think about Canadian players like Steve Nash who don't play for the team? Do you think it's because of the current coaching staff?
SD: I understand Steve Nash wants to spend time with his family. I don't know what went on there. I have a different perspective on things now then I did initially. I learned at a young age that while there are rules, you have to deal with people differently. I don't know how the situation was handled with Nash or the other NBA players. I don't think any NBA players would want to be in that situation and deal with that drama. It would be tough for anybody.
MT: Rautins has also made it sound like as though you were forgetting Joel Anthony when you said it would be tough to get NBA players on the roster. He was a D-League call up. It appears obvious your intent was not to diss a teammate. Could you clear that up?
SD: I was dissing nobody. Me and Joel Anthony was cool. We hung out together. I even told him that I was proud of him being on the team. He was born in Canada. How come he never played for the Canadian team? Doesn't make sense huh? I told him, I was sooo happy to have him on the team. He works hard. He goes strong. I told him I loved playing with him. He should be very proud of himself. It's a tough situation.
MT: Was there a meeting saying your dismissal was unanimous among the team?
SD: There was no meeting. That's not true. I spoke with some of the players. He said the same thing when he cut the other players about it being unanimous among us. He cut four players. I also think he had too many personal ties to the team.
MT: What would you say to Canadian fans who don't know what's going on? They lost their best big man.
SD: I'm very very sorry for what has happened. There was nothing I could have done any different. I loved playing for Canada. I got hurt and I still played. I wanted to succeed for this team. I really wanted to be there. I was like a kid in a candy store. I was proud to play for this team. I put up with a lot of stuff. I don't like drama.
MT: Do you think in any way you added to the drama?
SD: No, I just wanted there to be more communication than it was. There was no organization. There's been a lot of stuff said about me. There's been a lot of stuff said about people I love. I leave it to my fans to decide what's right or wrong. People should know me well enough by now to understand how I do things. They should know my personality. I play hard. I work hard for my teammates. I always have and I always will. I wish them the best. I never said anything bad about coach while I was there. I'm busting out now to tell the truth of what happened. I'm not putting anybody out there. I'm not a liar.
I'm sorry. For some fans who think I'm guilty, I apologize for that. Most people know Leo more than me in Canada. They can see for themselves what's really going on. I didn't know Leo as a coach. When I first walked into camp, I didn't know who the head coach was. Everyone was talking. No one took charge. Even some of the coaches didn't get along.
I stood by Leo even though I heard all kinds of stuff about him. Somebody has to be blamed for the loss in the first game and they made sure it was me. It's fine. I take the blame. I'm a man. I can take it. I deal with it the way it's supposed to be dealt with. I have to be a man and stand up for myself. I cannot be disrespected. I'm a very quiet person. I'm a very fun person, but I have to stand up for myself here.
MT: Most Americans are going to be disappointed for you personally because you didn't achieve your goal of playing on the Canadian National team. I was looking forward obviously to seeing you this weekend. I'm sorry it didn't work out for you.
SD: I'm very sorry people, but there's nothing I could do about this. I'm looking forward to playing in the season. Elton is going to be a big help. He's gonna make my job a lot easier like Chris Webber did when he was here. I can't wait until we are all together. It's going to be a fun season.