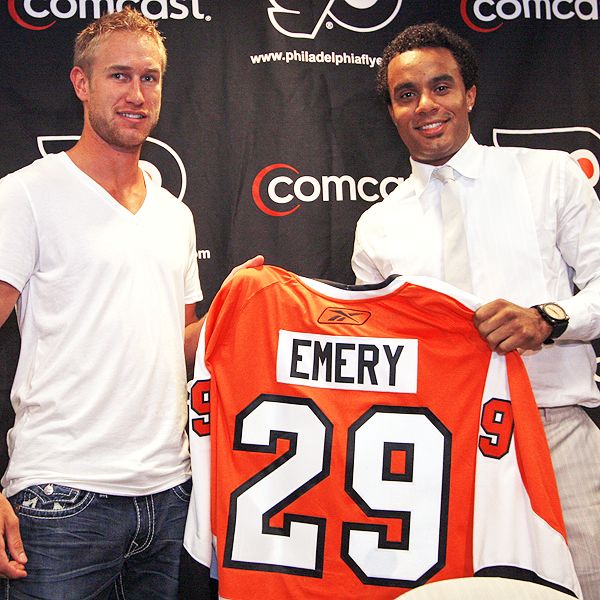 When the Flyers signed  former Ottawa Senators goalie Ray Emery earlier this month, two questions came to mind – what took them so long and how long will the marriage last?
Ray Emery at the age of 26 stands alone on an island – hockey's goal crease. He is the last line of defense and the gate. Any individual between his opponent and pay dirt should be hell to get through – in the NBA it comes in the form of Dwight Howard, the NFL produces Ed Reed. This isn't to say that Emery is the NHL's best but for his position, he can hold his own…literally.
The Philadelphia Flyers are historically known for their physical play – be it the Broad Street Bullies of the 1970's or the Dave Browns or Tim Kerrs of the 1980's no one wanted any part of coming to South Philly. From the late 1980's to mid 1990's there was one player that was the face of enforcement for the Flyers… goalie Ron Hextall.  In my eyes Emery is Ron Hextall and I truly believe Flyers GM Paul Holmgren (a former teammate of Hextall) had Hextall in mind when acquiring Emery.
There are similarities between Hextall and Emery – both are fiery emotional players unafraid to mix it up with opposing players, or Emery's case even his own. Both even led their teams to the Stanley Cup Finals very early in their careers. But it is their differences that cause intrigue in a city that hasn't won a Stanley Cup in almost two generations.
Ray Emery lives a Diddyesque lifestyle in sport ill prepared for someone engrossed in the Hip Hop culture. The tattoos, several (his nickname "Razor" across his chest) and hanging out with celebrities is something that has made the NHL very uncomfortable.  Being a Black goalie in the NHL is not the issue concerning Emery, some of his perceived behavior is. After reading up on Emery, I sense fear and reluctance on the part of the NHL to deal with Emery and anyone else of color that resembles his personality. While most NHL players are laid back guys Emery is out and about and what do you expect from a 26 year-old athlete? It seems that the major sports leagues have come to the conclusion that this is the way of the world for today's athletes.
It's time for the NHL to fall into line.
An incident involving Emery in 2006 shows how far the NHL has to go in terms of dealing with it's players born during or after the Reagan Administration. Emery had his goalie mask painted (as all goalies do, it normally depicts the city or something/one inspirational to the goalie) with the image of Mike Tyson, after speaking to the Ottawa Senators' brass, they came to a "mutual" understanding that Tyson's image on the mask was inappropriate for hockey because his conviction as a rapist. Emery has since had Muhammad Ali and Floyd Mayweather painted on his mask. It's apparent that the NHL is trying to avoid the image issues that have affected the NFL, NBA, and MLB. Prevention is one thing, ignorance is another.
Emery's incidents range from missing practice to fights with teammates in practice, he has also been known to be late and in some cases absent from practice. These issues raised flags following the 2006-07 season in which Emery led the Senators to the Cup Finals and signed a three year 9.5 million dollar deal the following year. Trade rumors surfaced but there were no takers for Emery. Following seasons end it was announced that Emery would not be on the Senators 2008-09 roster. Emery would play with Atlanta in the Moscow league this past season, that would end in Emery disputing his salary at mid-season and a run-in with the team trainer.
The blackball was in full motion.
On one hand there's Todd Bertuzzi who (then-Vancouver Canucks) ended Steve Moore's career with a blatant cheap shot, and got away with basically a 20-game suspension, he was allowed to play on team Canada during the 2006 Winter Olympics and has since become a sympathetic figure in the NHL. On the other you have an upstart goalie who has had maturity issues that he has put behind him and only one team in the league was willing to take a chance on him. He's not a bad goalie, his .902 doesn't make him Bernie Parent but he isn't Garth Snow either.
If one thing has kept the Flyers from winning the Cup in recent years it's been the breakdown at goalie in the playoffs. They've never been quite the same since Hextall's departure. Help at the defenseman spot has been a lingering issue as well. Without making many moves this off-season, the additions of Emery and defenseman Chris Pronger may be the cure for its aling fanbase.