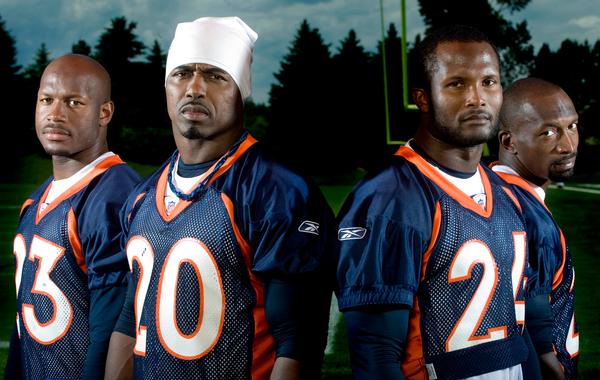 The free agent signing of safety Brian Dawkins breathed life into a Denver Broncos franchise many of us predicted would fall apart with the sudden trade of disgruntled quarterback Jay Cutler. All Weapon X has done is lead just as he did in Philly - while all the Broncos as a whole have done is win.
1. Denver Broncos (6-0): Ok, so they started out with wins over the Bengals, Browns and Raiders, they've gone on a three-week tear handling the Cowboys, Pats and Chargers. Face the Ravens and Steelers after the bye.
2. Indianapolis Colts (5-0): Even with a banged up receiving corps, Peyton Manning is still getting it done. May be his best campaign yet.
3. New Orleans Saints (5-0): Every time Drew Brees goes off, I wonder what are they thinking over in San Diego. Phillip Rivers is good – he's no Drew Brees.
4. Minnesota  Vikings (6-0): The good news here is that Brett Favre hasn't cost the Vikings any games as of yet. The bad news is that it's still early.
5. New York Giants (5-1): Nothing came easy in The Big Easy last Sunday, hoping the G-Men aren't looking ahead to the Eagles in two weeks.
6. New England Patriots (4-2): The beatdown the Brady Bunch gave the Titans would've been just as ugly on a field covered in gravel. Cover your eyes, they face Tampa Bay this week.
7. Atlanta Falcons (4-1): The Dirty Birds and Matt Ryan are on a slow creep - expect some real noise once Roddy White and Michael Turner get goin'.
8. Cincinnati Bengals (4-2): Is it safe to say that we believe in the Bengals again. Those three consecutive division wins (two on the road) will pay dividends late in the season.
9. Pittsburgh Steelers (4-2): In starting Rashard Mendenhall over Willie Parker, the Steelers can go back to a power running game but the lose some home run ability. Three lost fumbles last week against the Browns may be a concern.
10. Chicago Bears (3-2): The Bears are holding their own, sandwiched in those two tough loses (Packers and Falcons) are three decent wins.
11. Baltimore Ravens (3-3): The Ravens were in position to pull of the upset Sunday after awakening in the 4th quarter. That's a dangerous way to play on the road. In their three loses the Ravens have given up an uncharacteristic 22 points per game.
12. San Franciso 49′ers (3-2): Wins (3) within the division shows improvement for the Niners. Last week's loss to the Falcons got out of hand in a hurry. With the return of Frank Gore and the debut of Michael Crabtree we get a glimpse into the future of the Niners.
13. Philadelphia Eagles (3-2): I didn't think anything could be worse than that tie in Cincinnati last season, now this. Andy Reid's inability to adjust has cost this team dearly over the years. Funny how we don't hear much talk about an extension anymore. If the Eagles miss the playoffs, I believe ownership is going to throw the checkbook at Mike Shanahan.
14. Green Bay Packers (3-2): Could easily be 5-0, the O-Line better man up before Aaron Rodgers gets killed back there.
15. New York Jets (3-3): Sunday we'll begin to find out how mentally tough Mark Sanchez is.
16. Dallas Cowboys (3-2): Maybe the possible return of Roy Williams will point the 'Boys in the right direction. The backs continue to get nicked up.
17. Arizona Cardinals (3-2): The Cardinals may be ready to return to their 2008 form - just don't expect much from the running game.
18. Houston Texans (3-3): I really like what the Texans are trying to do, but just when I think they're gonna break through they disappoint. Matt Shaub is an underrated QB in this league, if Steve Slaton can return to 2008 form the playoffs are a real possibility.
19. Miami Dolphins (2-3): Liked what I saw out of Chad Henne two weeks ago against the Jets. Remember back in '06 Nick Saban backed out of signing Drew Brees who was coming back from shoulder injury. Sunday the Phins get to see Brees up close and personal.
20.  San Diego Chargers (2-3): Monday night, first quarter, fourth and goal from the two. Darren Sproles is in while LT is on the sidelines??? Need we go any further?
21. Jacksonville Jaguars (3-3): This team can't shake the Jekyll/Hyde personality that doomed them last season.
22. Seattle Seahawks (2-4): Due to injuries you don't know what you're getting from the Seahawks just yet.
23. Carolina Panthers (2-3): It looks like the Panthers' running game is rounding into mid season form. Maybe this will allow Jake Delhomme to settle in to some sort of rhythm.
24. Buffalo Bills (2-4): Terrell Owens is counting the days that he'll be released from this hell.
25. Oakland Raiders (2-4): You saw the Raiders gain confidence as the game wore on against the Eagles. The defense played inspired ball after losing Nnamdi Asomunga.
26. Kansas City Chiefs (1-5): Can't remember the last time I've seen a star fall as fast as Larry Johnson.
27. Detroit Lions (1-5): The Lions have a bye before a meeting against the Rams. Giving Matthew Stafford and Charles Johnson time to heal.
28. Washington Redskins (2-4): Jim Zorn needs to check and see if he has a pair. He's been stripped of coaching the offense but has been allowed to finish out the season, with Sherman Lewis being brought in to run the offense on a "consultant basis". How would you like working with your possible replacement.
29. Cleveland Browns (1-5): See what happens when you put your team into the hands of a "genius". The Browns were 10-6 two season ago, now they're in need of a major overhaul.
30. Tennessee Titans (0-6): Why is Kerry Collins still starting for this team? We know Vince Young would've been benched by Week 2.
31. Tampa Bay Buccanneers (0-6): The Bucs have some nice pieces in place, it may not happen this season or even next but I believe Raheem Morris has the backing of ownership and will be given time to put his personal stamp on this club.
32. St Louis Rams (0-6): Steve Spagnulo is in the same boat as Morris. Time for the Rams to draft their franchise QB in the spring.