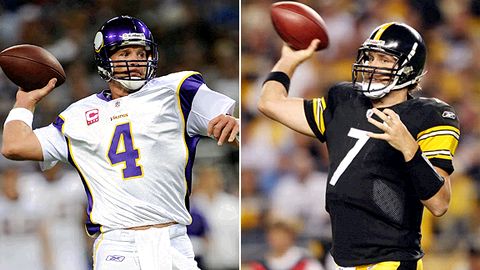 The marquee matchup for Week 7 in the NFL has Brett Favre and the 6-0 Minnesota Vikings visiting Heinz Field for a showdown with the Big Ben and the Super Bowl Champion Steelers. Other games of note include: Niners/Texans, Cowboys/Falcons and Saints/Dolphins.
Sunday October 25, 2009
Minnesota Vikings (6-0) at Pittsburgh Steelers (4-2) 1pm: Rashard Mendenhall is the Steelers starting back while Willie Parker's toe heals. His 5.1 yards per carry will be tested as the Vikings allow 93 rushing yards per game. Both Mendenhall and the Vikings Adrian Peterson will have opportunities for big gains, but I expect more of a down field passing game for both of the more traditional running teams.
Vikings 30 – Steelers 20
New England Patriots (4-2) at Tampa Bay Bucs (0-6) In Wembley Stadium London, England 1pm: The conditions of Wembley Stadium are similar to what the Patroits are used to in Foxboro. Curious to see how soon Bill Belichick goes for the jugular. I also would like to see how Josh Johnson handles the Pats defense. Other than that enjoy your tea and crumpet.
Patriots 38 - Bucs 10
Green Bay Packers (3-2) at Cleveland Browns (1-5) 1pm: If the Browns can employ an effective running game and keep the Pack guessing they have a chance. Outside of that, expect big games from Aaron Rodgers, Ryan Grant and Donald Driver.
Packers 35 – Browns 7
Indianapolis Colts (5-0) at St. Louis Rams (0-6) 1pm: They should hand out blindfolds to this game the way they hand out 3D glasses at the movies.
Colts 35 – Rams 0
San Diego Chargers (2-3) at Kansas City Chiefs (1-5) 1pm: Matt Cassel is still looking for that breakout game, it may not come today. But expect Larry Johnson to find pay dirt and rush for over 100 yds today. Something is going on in that Chargers locker room and it isn't good.
*Upset Special* Chiefs 20 – Chargers 17
San Francisco 49′ers (3-2) at Houston Texans (3-3) 1pm: This game has some of the NFL's best young stars on display. Today marks the return of Niners' back Frank Gore and the debut of first-round pick Michael Crabtree. Matt Schaub has been on fire.
Texans 33 – Niners 31
Buffalo Bills (2-4) at Carolina Panthers (2-3) 4:05pm: Steve Smith feels like he's not a part of the Panthers' offensive plans? Thanks to DeAngelo Williams and Jonathan Stewart racking up over 200 yards on the ground last week and going against a porous Bills' run defense (181 ypg.), he can expect more of the today. That's what happens when you have a turnover machine at quarterback.
Panthers 24 – Bills 10
New York Jets (3-3) at Oakland Raiders (2-4) 4:05pm: The Jets will more than likely be without receiver Jericho Cotchery, lump this in with the loss of DT Kris Jenkins and QB Mark Sanchez being brought back to reality and the suddenly confident Raiders are in a winnable position.
Oakland 24 – Jets 13
Atlanta Falcons (4-1) at Dallas Cowboys (3-2) 4:15pm: Expect both teams to be up and down the field today. The Matt Ryan/Roddy White combo is stating to heat up. Roy Williams may be a game time decision for the 'Boys.
Falcons 20 – Cowboys 17
New Orleans Saints (5-0) at Miami Dolphins (2-3) 4:15pm: The 'Phins may be able to apply some resistance to the seemingly unstoppable Saints offense. How well have the Saints prepared for Ronnie Brown running the Wildcat offense.
Saints 27 – Dolphins 24
Chicago Bears (3-2) at Cincinnati Bengals (4-2) 4:15pm: Both teams are coming off of tough loses last week and are looking to regain their momentum. Cedric Benson is looking to silence the Bears, whom he feels tried to sabotage his future with other teams as a free agent.
Bengals 31 – Bears 17
Arizona Cardinals (3-2) at New York Giants (5-1) 8:20pm: Kurt Warner, who plays poorly in the Meadowlands has to score early and often to keep the Giants duo of Brandon Jacobs and Ahmad Bradshaw on the sidelines. Anquan Boldin has been slowed by injuries and is listed as questionable.
Giants 26 – Cardinals 17
Monday Night October 26, 2009
Philadelphia Eagles (3-2) at Washington Redskins (2-4) 8:30pm: The Eagles were blindsided by the Raiders blitzing scheme and paid for it. This week it's the defense that will be in suspense as offensive consultant Sherm Lewis will be calling the shots. With tackle Jason Peters out, the Eagles will be forced to run more for the sake of keeping Donovan McNabb in one piece.
Eagles 31 - Skins 13