It's happened here to Moses Malone, Charles Barkley, Reggie White, Randall Cunningham, Allen Iverson and most recently Brian Dawkins – athletes traded or released from Philadelphia sport franchises while they were in their prime or still productive players.  So it should come as no surprise that after 11 seasons Donovan McNabb is facing a similar fate.
The handwriting has been on the wall for sometime now – years to be exact, before losses to the Cowboys in consecutive weeks Donovan McNabb's one-way ticket out of Philadelphia was punched. And no one is happier than me.
Happier for McNabb that is.
The last time I felt this way, the Allen Iverson trade talks were nonstop and I just wanted him gone just because it was time.
In McNabb's case; there is no irresistible force, only the immovable object which is coach Andy Reid, who pays as much attention to the run as he does those who question his lack of using it. When Reid was extended earlier this season there was slight hope that the same would be done for McNabb if the season ended in Miami or even the NFC title game. Chances of that happening grow slimmer every day here's why:
1. Andy Reid's non-committal to a balanced offense does not bode well for any quarterback over age 30. Given McNabb's injury history long before his 30th birthday, you would think that Reid would've made the necessary adjustments to keep McNabb out of harm's way. Wherever McNabb goes from here, he will be blessed with an above average running attack -which could be any of the remaining 31 teams.
2. The media and fans curiosity to see Kevin Kolb (or anyone other than McNabb) has remained high, many are concerned with Kolb's ability to carry a team for a full season while those who want to see him come hell or high water point to his two 300-yard performances against the Saints (loss) and the Chiefs (win). Kolb supporters point to his ability to hit the slant route and his accuracy. I wonder what will happen when teams have the opportunity to game plan for Kolb?
3. I refuse to place the Eagles last two playoff losses squarely on the shoulders on McNabb, That falls at the feet of a defense that was unable to get off of field. The inability to provide adequate pressure up front on Kurt Warner and Tony Romo respectively, allowed an otherwise respectable secondary to be picked apart. Poor tackling and lack of technique can also be attributed to the collapse. This Eagles defense used to strike fear in it's opponents not anymore,  now the opposing quarterbacks just throw strikes.
4. Andy Reid's sudden desire to go with a youth movement beginning with the drafting of DeSean Jackson last season with the additions of Jeremy Maclin and LaShon McCoy this season were not picks for McNabb per se. If anything McNabb would be given a one year run with the full compliment of this outfit (Brent Celek included) and if it worked out it would be a bonus – otherwise go with Kolb. The firestorm surrounding McNabb's comments regarding his younger teammates after the season finale loss in Dallas has led to speculation that he has lost the lockerroom altogether. This coupled with the career-threatening injuries to Brian Westbrook are pushing the Eagles brass towards ushering in a new era of football in Philadelphia.
5. If the Eagles trade McNabb, the franchise will not suffer at the gate, (unlike the 76'ers) the waiting list for the Eagles runs a couple of years so the enthusiasm is still there. If the unknown that is Kevin Kolb doesn't work out there may be a drawback otherwise things should remain about the same.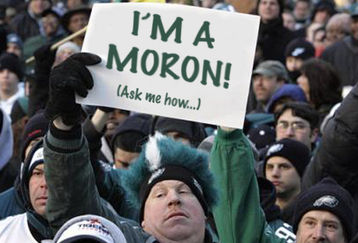 To those that just want McNabb gone without a logical football explanation, I don't know if your motivation is race or frustration but there is a pretty large demographic that never wanted Five here. I'm not talking about the contingent that went out there and made asses of themselves when he was selected. I'm speaking to those that want a future Hall of Fame quarterback to be moved aside for a player that hasn't proved much of anything to any of us. Hopefully, you'll all get your wish and Five will move on to greener pastures in Arizona, Carolina, 'Frisco or even Minny. Upon his return in the midst of a true championship run. Once again you'll all be reduced to your thoughts of what might've been.