(Slant)
The time you won your town the race
We chaired you through the market-place;
Man and boy stood cheering by,
And home we brought you shoulder-high.
A.E. Houseman 'To An Athlete Dying Young'
For twenty springs, I have remembered the man, the moment and his memory. Embracing who he was and what he meant to a neighborhood, a city and a university. Every year I seem to hold on a little tighter.
I hold on because I can't let go of Hank Gathers.
Eric "Hank" Gathers was a comet – explosive, radiant and inspiring to the point where you stood and marveled at his brilliance.
Suddenly before you knew it, like that comet – Hank was gone.
Named for his boyhood hero Hank Aaron, (hence the number 44), Gathers was a player who could turn teammates into spectators as he was the fuel in Loyala Marymount's rocket floor attack. In 1989, Gathers had the entire nation watching as he became the second player in the modern NCAA to lead the nation in scoring and rebounding in the same season.
If Rocky Balboa is Philadelphia's story, Hank Gathers is North Philadelphia's Story. A place where dreams abound as does failure. Here the snares of life occur more frequently than most places. To make i through this concrete minefield, you'd better come from a strong home, have strong people in your corner and have an even stronger heart.
Gathers had all of the above – especially heart.
"Happy is the son whose faith in his mother remains unchallenged." – Louisa May Alcott
I had a conversation over two years ago with Hank's mother Lucille Cheeseboro, it lasted all of a minute, but my nerves coupled with the emotion on the other end of the phone made it seem like an eternity. It was my desire to work on a compilation of stories on Hank from the people who knew him best. I went to Ms. Cheeseboro for her blessings. After introducing myself and my reason for the call, she respectfully declined to speak about "anything regarding Hank right now."  I could hear the emotion in her voice. If she was having a good day prior to my call, I felt like I'd just ruined it. From that point, I decided not pursue the book.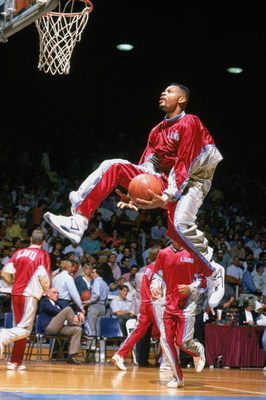 The passing of Hank Gathers serves as a point of reference in my life, it happened during my senior year at Northeast High School – basketball was a big part of my life and even bigger in Philadelphia. In this time, Philly was sending two or three teams to The Big Dance every year. Temple was the class of the city as coaching legend John Chaney was just hitting his stride in his Hall of Fame coaching career. In his midst was Mark Macon, an explosive junior guard from Saginaw, MI., — who may have been Chaney's greatest recruit. Macon was in his junior season, trying to lead the Owls to the Final Four. Further up North Broad Street on Olney Ave, one of the best stories in college basketball was unfolding as Lionel Simmons was leading the LaSalle Explorers to a NCAA bid while on his way to winning the Naismith Award.
On the night of March 4, 1990, these men wept like children. John Chaney, was told the news after winning the A-10 Championship but the victory offered little solace in the wake of Hank's passing. "When everything is said and done, Hank Gathers epitomizes so much of what life is all about," Chaney said. "This basketball game meant nothing. To hear that news just devastates me. How unfair." Simmons wept openly and had to be pulled from their MEAC Tournament final. Simmons would spend the rest of the game with a towel over his head, shoulders heaving.
Of everything that was said that night across America, his former coach at USC George Raveling may have summed it up best. "I know the neighborhood that he came from," Raveling said. "And it was a tough neighborhood. And here's a kid just about ready to reward himself and his family and give him some of the comforts of life, he's about 10 months away, and it's over. It's hard to comprehend."
That was the feeling of everyone who came in contact with Hank's story. It took me back to the Len Bias tragedy – how a family went from euphoria to sorrow in a matter of hours. Larry Bird called it "the cruelest thing ever." On that day cocaine extended its demographic from rich, White and suburbia to any price to anyone, anywhere. What was once taboo was alive in technicolor, making Bias a public service announcement no one wanted to see.
Before Marcus Liberty, Nick Anderson and Kenny Battle, there was Benji Wilson. Wilson didn't experience the pleasures of college like Gathers or Bias. The Chicago prep phenom had his life snuffed out before he began his senior season at Simeon Vocational High School. Wilson had just signed days before to the University of Illinois and was the Windy City's first National Player of the Year. To give you an idea of Wilson's dominance; he was playing in front of NBA scouts since 9th grade. Former teammate Nick Anderson wore Wilson's number throughout his collegiate and NBA career.
Wilson and Bias were tragic examples of what happens when sports and the ills of society collide.
"We call that person who has lost his father, an orphan; and a widower that man who has lost his wife. But that man who has known the immense unhappiness of losing a friend, by what name do we call him? Here every language is silent and holds its place in impotence." – Joseph Roux
I've heard the relationship between Hank Gathers and Bo Kimble wasn't as solid as advertised. I don't believe that. When you travel 3,000 miles away as a package deal to two different schools you're the best of something. I ran into Kimble at a club about 5 years back and all I could say to him was thanks for that moment, he said that he can't believe how many people still hold on to it. I told him how I was a huge UNLV fan but I was pulling for Loyola Marymount that day and how I cried when Loyola Marymount's run was ended by the Runnin Rebels.
In September, 2009, I felt what Kimble, Simmons, Daryl "Heat" Gates and others who considered Hank their friend and brother, had been dealing with for two decades. I buried my brother James "Geech" Thompson, we weren't brothers in blood, but you couldn't tell us that. Wherever he was I tried to be and for the better part of 25 years he was the big brother I never had – at times father-like. When James passed, in some ways it was like losing my father all over again. Death robs us all of something, it's what we chose to replace that loss with that will set the tone for the remainder of our lives.
"Time is what we want most, but what we use worst" – William Penn
I remember a psychology class in high school where we were talking about coping with death. My teacher talked about how his father passed when he was in his 40's and how he would visit his gravesite two, three times a year. One day it dawned on him that he had surpassed his father in age, time stopped for his father but his continued on. It's something I never paid much attention to, but when you think about it the depth of that.
I was seventeen when Hank passed at age twenty-three, places in life where you think all you have is time, but you never have time, it has you.
Even when you're a comet.