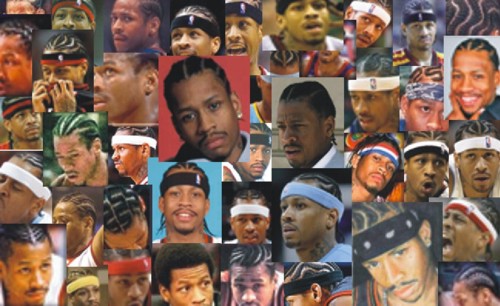 Why should I be concerned about Allen Iverson's personal life spiraling out of control – after all we knew this was how it was going to end right? All the late night drinking and gambling slowly ate away at his game, his career and his marriage. I've got my own problems, Allen hopefully has several millions left to make it – several million more than myself. So why am I even concerning myself with A.I.?
Because even in his darkest hour, I won't stop pulling for him.
This is hard to watch and even harder to write.
Allen Iverson is one of life's great comeback stories, we're all dealt a hand when we leave the warmth of the womb and enter the coldest of worlds. Iverson's road to the NBA has been paved with sleepless nights in a prison cell, sewer filled floors and a fatherless youth. Iverson entered the League young, gifted, unapologetic and proud. He is exiting the League older, skills declining, unapologetic and proud.
My words to him are simple (In my John Thompson baritone): Allen, now is the time when you have to reach past the Cristal, past who you feel loves you and who doesn't, way past those nights when you spent the salary of five men just hangin' out. You have to go back to that sewage filled living room in Virginia, back to those nights when you stayed with the neighbors – and yes Allen you have to go back to that prison cell. You know why?  That's what made you a survivor, not putting that 2001 Sixers squad on your back, not playing with numerous injuries, not even outlasting Larry Brown in Philly. We all have a special DNA Allen, and yours is self-preservation. You've overcome the jungle of your youth which was beyond your control,  you bobbed and weaved your way through the Sequoias that David Stern's League set before you. Now as you leave the twilight of your career and enter the dawn of your life after basketball, life's lottery has again pulled your number.
This time around, you set the conditions and with the exception of little Messiah's illness you have to make this right. You can't make up Tawana's mind for her, all you can do is better yourself. I know you've heard it before but this isn't about basketball Allen, this is essentially your life and God forbid your demise. People have written about this and hoped for this day since you walked out of that Virginia prison – they've been keeping that cot warm for you. That demographic out there that has been after you will not rest until you've gone the way of Michael Ray Richardson, Roy Tarpley and the dozens of others. Right now their sentiment is, "Why should I shed a tear for Allen Iverson, he has millions of dollars – and besides he brought this on himself."  All that's left is for you to go off the deep end.
Don't give up now man, this is the greatest of your tests – when everything is falling down all around you, stand still. Do what you need to do to get your family back, every man needs his wife if there is true love there and every man damn sure needs his children.
I speak on behalf of many when I say you're not admired by people because of what you can do with a basketball, you're admired for what you can do with a basketball at your size. You're one of us, the common man who overcame much to gain much more while not forsaking your roots.
When a plant struggles in it's growth — the problem isn't always it's roots — sometimes it just needs new soil.