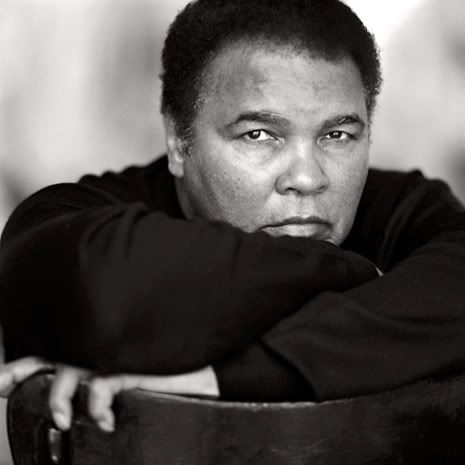 He has inspired everyone from royalty to the common man, his likeness is recognized in the most remote corners of the earth. He would usher in what Dr. Harry Edwards would term, "The Golden Age of the Black Athlete." He is part Jack Johnson, part Joe Lewis and all mouth. He is the first cultural icon of post World War II America, the innovator of trash talk, signature moves but more importantly, one who transcends race worldwide.
My appreciation for him goes far beyond his God-given abilities – more for his selfless spirit and desire to see the human race run on an even track during a time when many of his contemporaries wouldn't suit up. He is many things to many people of all colors, creeds and faiths.
But to this scribe – Muhammad Ali is simply The Greatest.
"First time in my life I slept on my back. Had to, or the medal would have hurt my chest."
Fifty years ago,  Cassius Marcellus Clay stepped off  the Olympic podium light heavyweight champion of the 1960 Rome Games and into the conscience of a world in which he would leave an indelible mark.
The 1960's brought change to the world on a social, economic and political scale. There was a new young family in the White House as an era of "Camelot" was rendered in the United States, while in the heat of the South a young "King" was rallying his troops for a cause much greater than any storybook fantasy could comprehend. The Civil Rights Movement gathered steam just in time for the world to witness the hypocrisy of America on display.  And while the Black Man, Woman and Child could boast of its own "King" and e"X"calibur – for Clay it would take the exuberance of a prince to step away from the marches and sit-ins to go alone into the wilderness on his own rite of passage.
"The man said, 'We don't serve Negroes.'
I said, 'I don't eat them either!'
They shouted, 'Boy get out!'
I looked at my medal and thought,
'This thing ain't worth nothin' – it can't even get me a hamburger!'"
Upon returning to his native Louisville, KY., young Cassius would realize first-hand the double standard applied even after Olympic glory. After he was refused service in a "whites-only" diner, an angry and humiliated Clay would later toss his gold medal into the Ohio River. In that moment Clay realized that there was a cause out there bigger than himself  – boxing would be his vehicle to drive the point home.
"I dig them cats!"
The incident in Louisville brought Clay to the realization that no person of color was exempt from Jim Crow regardless of their status. From that point, Clay began to privately court the Nation of Islam after befriending  Minister Malcolm X along the way (approximately 1961). It was in Clay's best interest to keep his dealings with the NOI under wraps to avoid the possibility of being blackballed by the powers that be in boxing's sanctioning bodies. In the ring, Clay was undefeated and on a collision course with the heavyweight champion and a stunning metamorphosis.
"If you wanna lose your money – then bet on Sonny."
February 25, 1964 – changed the landscape of sports forever. At age 22, Clay would become the youngest challenger to win the title from the current titleholder. No longer was there a cookie cutout athlete who "said all of the right things" in a monotone voice. Clay/Liston I may have been filmed in black and white, but the moment Liston's corner conceded the heavyweight title, the sports world was transformed to technicolor – loud, bold, unscripted and unrepentant. The more Cassius Clay proclaimed that he "Shook up the world" the more America wanted to hear it.
Their euphoria with Clay would be short lived.  America would not be able to persecute him the way Jack Johnson was in the early 20th century, they would not build up, tear down and eventually discard Cassius Clay the way they did Joe Louis and he would not become the token for their democracy that they made Jesse Owens out to be.
Muhammad Ali and the Nation of Islam would see to it.
"Cassius Clay is my slave name!
Clay means dirt.
I didn't choose it, and I didn't want it.
I am Muhammad Ali, a free name –
Muhammad means 'worthy of praise'
and Ali means 'most high' –
and I insist that people use it when speaking
to me and of me."
Word had leaked that Clay had been seen with Malcolm X on several occasions, most notably prior to the Liston fight in Miami, it was apparent that something was on the horizon. Fight promoter Bill Faversham had spoken with Clay about the rumors and decided that Clay should withhold his announcement of joining the Nation of Islam until after his fight with Liston as to not to affect the gate.
It didn't take long for Clay to confirm his relationship with Malcolm X and that he had joined the Nation of Islam. Clay would now be known to the world as Muhammad Ali
Round 2 Next Week