On April 28, 1967 Muhammad Ali was stripped of his heavyweight championship for refusing induction into the U.S.  Army.  Ali applied for the Selective Service as a conscientious objector on the grounds of religion while he was a minister with the Nation of Islam. His decision naturally caused an uprising among those who felt Ali was playing the role of an "ungrateful negro".  America was just coming to grips that he had forsaken his Christian roots for a Black "radical" group. But to for him to eschew his natural obligation as an "American citizen" to defend HIS country which had "given him so much" was the ultimate betrayal.
Even while slavery was still law in the state of Mississippi.
On the B side, there was a new face in the Black struggle and he wasn't about to blink. From Watts to Harlem, Ali's stance had opened up the consciousness of not only his own – but those who shared a vested interest in a war where the average age of the American soldier was nineteen.  Students in colleges and universities around the country lobbied on Ali's behalf. Sixty-four percent of eligible Blacks were drafted while thirty-one percent of eligible Whites were drafted. Thus, the Black casualty rate was twice as high.  The war had the potential to wipe out a generation of doctors, lawyers, movers and shakers for the next 40-50 years.
"I see signs saying, 'LBJ how many kids did you kill today?' I didn't write that. I didn't say nothin' half that bad! White  American kids are sayin' that!"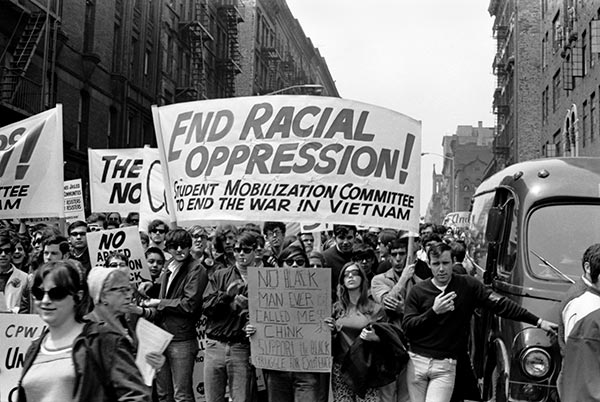 The above photo was taken at the Harlem Peace March to End Racial Oppression in 1967.  Ali's plight was an additional cog in the wheel of the Civil Rights Movement – more along the lines of Human Rights but nevertheless a cause. Looking closely at the photo above notice  the young man wearing shades holding a sign that reads: "No Black Man Ever Called Me 'Chink'. Support the Black Struggle for Existence." An unlikely yet influential ally had joined Ali's cause, their demonstrations began on the campuses of their respective colleges and universities and ended up in the streets of some of America's biggest cities. Anti-war demonstrators arm in arm with Civil Rights activists was the last thing the government wanted to see. It was one thing to release dogs and open fire hoses on peaceful Black demonstrators and offer up some BS in the name of segregation. Try explaining similar images being played out on many non-Blacks peacefully marching in the name of Civil and Human Rights.
Ali's ascension from champion of the world to champion of the people was in motion – however far from complete.
Support from Ali came from everywhere – even those that ridiculed his conversion to Islam supported his right of refusal into the Army. Two individuals that stand out were Floyd Patterson, who continued to call Ali by his slave name Clay even after he insisted that no one did. Floyd stated that Ali had a right to refusal based on his religious beliefs. The other, was an up and coming heavyweight who, like Ali was an Olympic gold medalist (1964 Tokyo) who would also become world champion and was admired for his brawling style contrary to the showmanship of Ali. He was a listening ear for Ali during his suspension and would even assist him financially when he was able to.
His name was Joe Frazier.
Ali's appeal would hang in space for more than four years. In that time, Joe Frazier would become heavyweight champion leaving Ali as an afterthought in the minds of those that figured he should go away. Frazier was a lunch pail fighter – he came to work, did his job and went home. A  feared brawler, Frazier's punch was  a left hook that left many a man dazed and confused. What endeared Frazier to the American public was that he was free of controversy which gave people the notion that Frazier "loved his country".  Frazier was a quiet man who keep his personal and family matters close to the vest.
All of that would soon to change forever.
In 1970, Ali was allowed to fight while his case was being appealed by the Supreme Court. The state of Georgia would be the first to grant Ali a boxing license because they did not have a state boxing commission. The New York State Athletic Commission would soon follow on grounds that Ali was unjustly denied a boxing license (New York was the first to suspend Ali, and actually stripped him of his title).  On June 28, 1971, the Supreme Court reversed it's conviction of Clay/Ali v. The United States due largely to the fact that the Government failed to specify which claims were rejected and sustained. The decision was unanimous.
This photo is the position most of America wanted Muhammad Ali to be in upon his return to the ring – on the outside looking in. Frazier the current world champion looks comfortable, unassuming, almost looks as if he's ignoring Ali. While Ali seemingly fading from the  picture is looking to say or do anything to get Frazier's attention.
Ali's words above all else would define their relationship in the ring and beyond for decades.
"Anybody Black who thinks Joe Frazier can whip me is an Uncle Tom. Everybody who's Black wants me to keep winning. I'm proving you can be a new kind of  Black Man."
Ali knew that he had all but lost the support of the White American public, not that it really mattered – but it did. Not because Frazier was champion but because Frazier was a Black champion who didn't make the waves that he did, he wasn't as outspoken as he was and finally he didn't challenge the system like he did. And in those days if you were a Black man that went along with the program, you went by one name – Tom.
That was Ali's perception of Frazier (at least that's how he played it) and anyone of color who supported him. If Ali's ploy succeeded at anything it was at splitting the Black community in two, and for that part most of the country. Frazier although champion was the sympathetic figure here, all he did was win the heavyweight championship and defend it against all comers. Ali on the other hand was coming to reclaim what was rightly his – one man didn't take his title – twelve men did, and Frazier just happened to be in the way of the inevitable.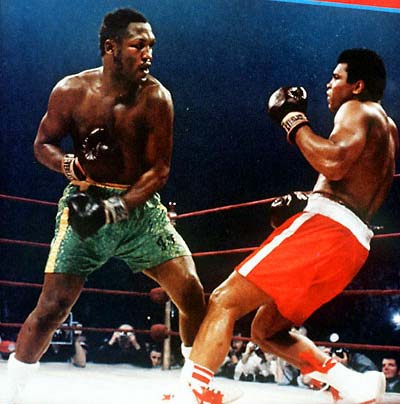 " I looked up, and I was on the floor."
Muhammad Ali's first bout with Joe Frazier was about more than simply regaining the heavyweight title – it was about the reckoning. He had proven that he could stand up to the U.S. Government and take their best shot. And winning back his title some four years later from the younger champion would go down as one of the great feats in the history of sports.
I don't believe that Ali didn't like Frazier personally, I believe it was more of Frazier's stance on the war and America concurring with his beliefs making him someone that they could hang their hat on. Frazier stated that he did not fight in the war because he had children, but he would've entered if drafted because his country had been so good to him. Did that make Frazier and Uncle Tom?  Depends on who you ask. Remember Frazier had a young family at the time and could ill afford to jeopardize their safety by being outspoken on hot button issues – that's simply my view on that. Frazier didn't have the N.O.I. at his back so he was pretty much on his own. I don't question Frazier's blackness or his commitment to the struggle of his people, I know he built a gym in the heart of North Philadelphia – 6 blocks from where I was raised. His children went to public schools and he was a fixture in North Philly long after he hung up his gloves.
Ali just knew which buttons to push when it came to Frazier.
As for their fight in the ring, Ali's backers figured that he still maintained enough speed to pose a problem for Frazier's stalking style while the champ was expected to capitalize on Ali's layoff in the later rounds.
New York's Madison Square Garden would host the "Fight of The Century" as it was dubbed. Of course the Garden brought out the who's who of sports and entertainment and tickets were so hard to come by many first rate stars took odd jobs just to get in on the action. Actor and boxing aficionado Burt Lancaster called the bout from ringside while the great Frank Sinatra doubled as a photographer for LIFE magazine.
Ali's speed and snapping jab were the story for the first 3 rounds, eventually Ali would wear down and Frazier would land some huge shots on the former champion. From the six round on Frazier was obviously the better fighter scoring almost at will, but unable to land the money shot.
Then came the 15th round.
Frazier was ahead on all cards (I'm sure he was coached to stay out of Ali's way). Like his counterpart, Frazier was out to prove something to Ali more than anyone else and this inspiration came in the form of a looping left hook that caught Ali square on the chin – sending him to the canvas. Ali would pop up as fast as he went down but the surprised look on Ali's face summed up his night with Frazier, who retained his title on a unanimous decision.
Ali was dealing with defeat for the first time as a professional and although he would defeat Frazier in their 1974 rematch, he split bouts with Ken Norton (Ali had his jaw broken in the first bout which he lost) in 1973.
Ali would not fight for the world title again until October 1974 against another young gold medalist who endeared himself to the American public. George Foreman would provide Ali's stiffest test to date – encouraging many to imply that this would indeed be the Louisville Lip's swan song.
In the end Ali would fool them all.