Post-season trades, NFL Draft, Preseason publications, NFL Network re-runs, and even the early fantasy football drafts have gotten me through the last five months, but enough is enough –  it's time to turn my focus towards Kickoff 2010. For me, it's a season of new beginnings here in Philly. I'm over the sting of the McNabb trade until he one-ups his former mates in one of their two meetings this season.
In honor of NFL Training Camps opening this week, I'm going to preview all 32 teams in the order of which I feel they rank at this moment (32 to 1). Prior to Kickoff 2010, there will be a final Pre-Season Power Ranking.
Okay, time to break this huddle.
32. Buffalo Bills: The arrival of Terrell Owens in Buffalo did about as much good for the Bills as a snow shovel does in one of those sign of the apocalypse snowstorms in upstate New York. If it looks bad and plays bad – it is bad, and it's not going to get better this season. It was a combination of injuries, suspensions, poor play and anything else that you can name that doomed the Bills season.
Anything and anyone except Owens.
Owens pulled off a rare double last season by being a non-issue on and off the field – Owens could've trashed everyone from the front office to his teammates but to the chagrin of many in the press, Owens took the high road kept quiet.
The Bills are in a total rebuilding stage and enter the 2010 campaign with a new GM and Head Coach in Buddy Nix and Chan Gailey respectively. The word on Nix is that he's a exceptional judge of talent, while Gailey was way down on the list of desireables for head coach. Owner Ralph Wilson was unable to attract Mike Shannahan or lure Bill Cowher out of retirement so he went after Gailey who was out of the league last season. In 2008, Gailey began the season as offensive coordinator for the Kansas City Chiefs, only to be demoted after three PRESEASON games. I know pickings were slim but Chan Gailey?
Offense
The quarterback situation in Buffalo is not as bad as most would think, but it is bad – I think Trent Edwards can work here. While starting 14 games in 2008, Edwards passed for 2,700 yards and despite throwing only 11 touchdowns to 10 interceptions, he was able to complete 65 percent of his passes and had a modest QB rating of 85.4.  Last season's woes can be attributed to Edwards losing his starting left tackle and the firing of his offensive coordinator a week before the season opener. The no-huddle was a disaster last season despite some adequate weapons on offense. Expect a fresh outlook from Edwards this season as he takes steps towards becoming a leader on a  team looking for an identity. If the team has to look to Ryan Fitzpatrick or Brian Brohm – winter will come sooner than expected.
The emergence of Fred Jackson as a 1,000 yard rusher was a bright spot on a team looking for a spark on offense. Jackson in his first three seasons has averaged 4.5 yards per carry. Jackson was an effective safety valve for Edwards with 46 receptions, averaging over 8 yards per catch. If there's a knock on Jackson it's his struggle to find the end zone, the flip side to that is that he protects the ball exceptionally well, losing only two fumbles last season.
If Marshawn Lynch can regain his 2008 form maybe he can find team willing to take a flyer on him – the Bills are hoping for the same as they look to give explosive rookie C.J. Spiller a decent amount of touches this season. Lynch was lost for the Bills first three games – just enough time for Jackson to make his mark and eventually supplant Lynch as the starter by Week 9. Despite his run-ins with the law and requests to be traded GM Nix refuses to listen to offers for this talented back. The Bills are going to have to make room for Clemson speedster C.J. Spiller who is cut in the Brian Westbrook mold (5'10", 195). Spiller is the perfect complement to the bruising styles of Jackson and Lynch. Don't be surprised to see Spiller in the Bills' return game. This is the one unit on this team that will keep fans watching.
The acquisition of Terrell Owens was supposed to mean the ascension of Lee Evans to the upper echelon of receivers in the NFL. In the end Evans would be the one player who would benefit the least in the season from hell. This came as a shock because Evans has been productive in a generally weak receiving corps Even with his struggles Evans did manage seven touchdowns. This season will look all too familiar to Evans who will have little help from his supporting cast in the way of receivers. James Hardy has the size and build (6'5″ 220) to be a difference maker in this offense but injuries and lack of production have stifled his growth. Roscoe Parrish is really nothing more than a special teams threat with an occasional outbreak on offense. The Bills need to develop second year tight end Shawn Nelson who looked good in spurts last year.
When you have a season like the Bills had last season the one silver lining is that you will find players that are hungry and want to make a name for themselves. The offensive line yielded two studs from the '09 draft in Eric Wood and Andy Levitre. Wood, a first round pick and possibly the team's best lineman was injured midway through last season but is expected to be back starting at right guard. Levitre started all 16 games including 15 at left guard. Other than that the Bills struggle with speed rushers and show a tendency to get overpowered by larger defensive lineman.
The Bills are making the switch to a 3-4 alignment, this looks to be more experimental than anything since the Bills lineman fit better in a 4-3 scheme. Marcus Stroud will make the switch from tackle to end along with Spencer Johnson. The Bills only seasoned veteran in the 3-4 is Dwan Edwards, who will play end as well. Fifth year tackle Kyle Williams – who opened some eyes last season in the 4-3 will be placed at nose tackle.  New defensive coordinator George Edwards is rolling the dice on a unit that finished 30th against the run last season.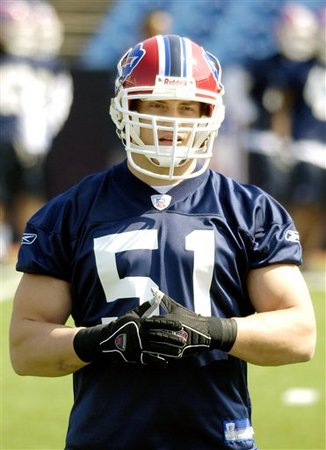 The Bills linebacker corps is decent and has the potential to excel in the 3-4. Paul Posluszny recorded 111 tackles despite missing four games, last year's free agent acquisition Kawika Mitchell is looking to rebound from a disappointing season. The acquisition of Andra Davis has given the Bills experience at linebacker in the 3-4 despite lacking the speed and ability to shed blockers as he once did he should solidify a young unit with a lot of potential. Second year end Aaron Maybin may benefit the most from the 3-4 as he will be asked to come off the edge as the speed rusher. If end Aaron Shoebel puts off retirement for another season it would at least add depth at the position.
Like the running back corps, the secondary needs no improvements. The Bills finished second in interceptions and in fewest passing yards per game. This is a deep talented group that plays in a division against some of the NFL's best. Corners Terrence McGee and Leodis McKelvin are of the League's best and overlooked tandems. Both missed chunks of last season due to injuries but the Bills filled in with the likes of Reggie Corner, Ashton Youboty, Cary Harris and Ellis Yankster. Strong safety George Wilson came into his own last season with 103 tackles and four interceptions.
But the real surprise came from rookie free safety Jarius Byrd – the rookie out of  Oregon finished tied for second for the NFL lead in interceptions – earning a well deserved trip to Honolulu. Byrd's ability to read plays and react on the ball will make him a perennial Pro-Bowler for years to come.
The Bills special teams unit has been one of the best for year's, losing coach Bobby April will have it's impact but this far too talented a unit to sink- especially with the edition of C.J. Spiller to the bolster the kick return game (see young Brian Westbrook). This may open the door for Roscoe Parrish to focus more on his duties as a third receiver, Leodis McKelvin also serves on the return teams. Don't expect anyone to challenge placekicker Rian Lindell who made 28 of 33 attempts last season.
Outlook
The Bills have some good young pieces in place, and will need to continue to build through the draft. Inexperience and learning a new system will cause growing pains but there is a good mix of veterans around to keep things sane. Running the ball will keep them in some games if they don't try to get too cute in the passing game. Defending the ball will be the true test as they switch to a 3-4, the benefit if having an above average secondary will help the defense on some days. Special teams will play a huge role as the offense could afford to use the benefit of an occasional short field. Like most young teams they will have their moments and struggles, the benefit of playing in the tough AFC East will pay off in a couple of seasons.