We're moving right along with our preseason power rankings. Today we'll cover teams 29 through 27 – let's get started.
29. Cleveland Browns – The edition of Mike Holmgren to the Browns  front office has given hope to a franchise that is one of four franchises yet to reach the Super Bowl. Ironically- the Browns were one of the great NFL powerhouses prior to the Super Bowl era. Of all Holmgren's offseason moves biggest have been bringing back head coach Eric Mangini. The Browns 4-0 record to end the season may have saved Mangini's job.
The first order of business for Holmgren is to add talent to a team that has some bright spots but needs more in order to challenge in the AFC North. Out are Derek Anderson and Brady Quinn enter Seneca Wallace and Jake Delhomme. Delhomme, who has always been turnover prone really fell off the last two seasons, to the point where he was replaced in Carolina by Matt Moore. The situation in Cleveland for Delhomme gives him young talent at receiver and running back – what he will miss is the luxury of a stifling defense. Like Jaamal Charles in Kansas City and Fred Jackson in Buffalo, Browns running back Jerome Harrison took his opportunity to fill in for a veteran back and never looked back. Harrison's 862 yards included a team-record 286 yards against Kansas City. The Browns will be careful not to use the 5'9″ 205 lbs. Harrison as they will counter with rookie Montario Hardesty who checks in at 6'0″ 225 lbs. 
There are too many questions at receiver for the Browns to really expect much from this corps this season. Can Muhammad Massaquoi continue to develop while easing up on dropped passes? Can Brian Robiskie benefit from playing with a veteran quarterback – provided he gets on the field this season? Most importantly, can Josh Cribbs transfer some of that special teams magic into his receiving talents? The acquisition of Ben Watson well help the Browns in red zone situations. The offensive line is okay and should get better with some of the added veteran additions.
The Browns defense can only get better after finishing 28th against the rush 29th against the pass and 31st overall – right? It will on the upgrade of the secondary alone the addition of rookie Joe Haden and veteran Sheldon Brown will be a training camp competition to see who starts opposite Eric Wright. Second round draft pick T.J. Ward will push out either strong safety Abram Elam or free safety Mike Adams. At linebacker, the Browns should be more versitile as defenders the addition of Scott Fujita from the Saints will add experience and a winner in the locker room. Chris Gocong from the Eagles will give the outisde position a pass rushing element. D'Qwell Jackson and Eric Barton look to rebound from disappointing seasons. Up front, Shaun Rogers looks ready to go after a season-ending ankle injury in Week 11 Ahtyba Rubin was a valuable fill-in and should see his time increase this season. Robaire Smith returns at end, but for the Browns to improve against the run others along the line will have to step up. 
Don't expect too much from the Browns this season as they look to get solid pieces in place to gain confidence and momentum.
28. Detroit Lions – Things are looking up in Detroit, and it's quite possible that they could challenge for third in the NFC North. This young pride is slowly putting a team in the front office and on the field. General Manager Martin Mayhew and Head Coach Jim Schwatrz have done a decent job removing the Lions from laughingstock status. 
Matt Stafford has made big strides and looks like he's going to hang around for awhile. The knock on Stafford is his stretches of inacuracy, drive-killing turnovers and a bout with the injury bug. If Strafford can go 16 strong, the Lions are a better team for it. The Lions have struggled to find a feature back for the better part of two seasons, things were looking up with Kevin Smith before he went down with a serious knee injury. The Lions were looking to upgrade the position regardless of how Smith finished. It looks like rookie Jahvid Best out of Cal the home run hitter the Lions have been missing at running back since that Sanders guy. Maurice Morris fits in as a solid backup but isn't a guy that can shoulder a full load. Keep an eye on Aaron Brown – a special teams threat, who may supplant Morris.
Calvin Johnson will never be noticed by the national audience until the Lions find someone who can help remove the blanket of double-teams he faces week in and week out. Nate Burleson is serviceable but far from the answer the lions need opposite Johnson. Bryant Johnson,Derrick Willliams and Dennis Northcutt will battle to be in the slot.  Second year tight end Brandon Pettigrew showed flashes of brilliance and should improve on last seasons numbers. Tony Sheffler's ability to stretch the field will be essential in the intermediate passing game. The offensive line is a gritty group led by 10-year veteran Jeff Backus, the unit as a whole is better suited for the run but are improving at keeping Stafford upright.
For three straight seasons the Lions defense has finished dead last in the NFL, the addition of Kyle Vanden Bosch and first round pick Ndamukong Suh will improve the pass rush and hopefully assist a woeful secondary (32nd overall). The linebacking unit is weak and short on depth, headed by Julian Peterson, second year player DeAndre Levy has the speed and toughness to handle things in the middle. The secondary is looking for a few good men to build around second year free safety Louis Delmas. Delmas was effective against the run and is a very physical player – with some seasoning and and better supporting cast the Lions secondary should be on the road to respectability. The Lions will take some steps this season, but are are a year or two away.
27. Denver Broncos – This will be Tim Tebow's team sooner than later but for now eager Broncos' fans will have to endure some growing pains. The trade of Brandon Marshall and the potential season-ending injury to linebacker Elvis Dumervil has left the Broncos minus key ingredients on both sides of the ball. Coach Josh McDaniels first season in Denver was interesting to say the least as he has managed to alienate some and endear himself to others in and out of the organization.
Kyle Orton is on a short leash and he knows it. Between being the guy that replaced Jay Cutler and the one in the way of Tim Tebow he's in the worst of positions. Last season Orton played well going 21/12 with close to half of his TD strikes going to Marshall with a young corps of receivers in place, the McDaniels will probably implement an offense geared to spreading the ball around. Knowshon Moreno and Correll Buckhalter held down the backfield for most of the season until Buckhalter began to get nicked up, Moreno's numbers remained modest at best. More is expected from Moreno this season as he will be called upon to catch more balls out of the backfield as well. The addition of LenDale White (ineligible until week 5) may spell the beginning of the end for Buckhalter unless he impresses early in the season.
The Marshall trade opened the door for a group of receivers that can be formidable with some experience and confidence. Eddie Royal will enter as the no.1. Royal didn't have a great sophomore season and looks to make big strides this year. Rookie Demayius Thomas is a big target cut in the Marshall mold who needs to work on his speed and the ability to hold onto passes, he could emerge as the no.1 receiver in a year or two. But the stud of this group is Jabbar Gaffney, who may be Orton's favorite talent. Gaffney has been bounced around the league but has found a home in Denver, he has developed into a great possession receiver who will make an occasional big play. Don't look for to much from tight ends Daniel Graham and Richard Quinn who are looked upon more as blockers.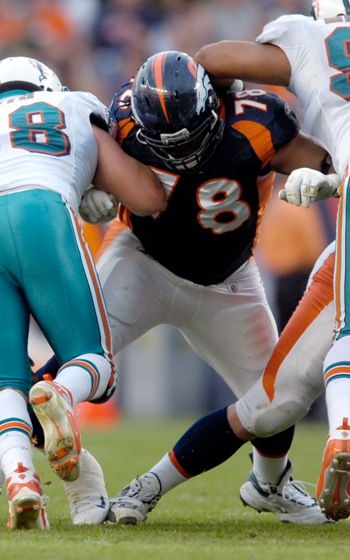 The success of the entire offensive unit depends on the health of left tackle Ryan Clady who tore a patellar tendon in the offseason. Despite his ability to practice with the team, his regualar season status is up in the air. After Clady their is a steep dropoff filled with second-tier free agents and draft picks, although second round pick Zane Beadles may be the opening day starting guard.
The loss of Dumervil will be tough to overcome to a team that finished 10th in the NFL in sacks in '09. The best that this unit can do is play the game in front of them. The defensive line got bigger and a little older with the additions of Jarvis Green and Jamaal Williams both are stout against the run and both are over 30 which isn't a concern just yet but will be if they log alot of snaps over the course of the season. The pressure is on the front four to step up minus a serious pass rusher. At linebacker D.J. Williams remains along with Mario Haggans and Robert Ayers.
The secondary is a experienced saavy group that finished third in pass defense. Led by an inspired Brian Dawkins the Broncos finished 13th in interceptions, joined by Champ Bailey, Renaldo Hill and Andre Goodman. Look for a fusion of youth into this group to spell them during the season.
Key losses on offense and defense will make this an uphill climb for Josh McDaniels and Co.