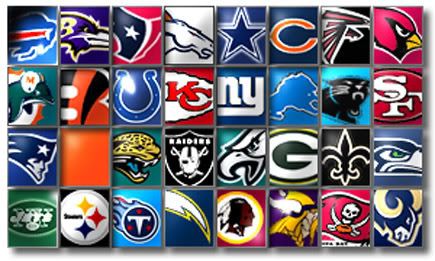 We're working our way to the top – sorting through the bottom tier of the NFL is not easy. It's beginning to clear up now as we move towards the middle of the pack.
Let's go.
26. Seattle Seahawks – I'm scratching my head at Pete Carroll's attempts to turn a franchise five seasons removed from the Super Bowl in to the University of Southern California Northwest Campus, when the opportunity was there to trade for Donovan McNabb, Anquan Boldin was a trade option, Terrell Owens was out there, as was LaDanian Tomlinson. Instead they chose to keep the aging Matt Hasselbeck, signed former USC standout Mike Williams – who has been anything but at the next level.  And rolled the dice on the talented but troubled LenDale White. Don't be surprised if Matt Leinart is looked at by Carroll before Sunday's kickoff. The Seahawks attempts to revamp their running  did a poor job when it came to addressing their running attack, on draft weekend they acquired LenDale White and
Seattle had two of the first fourteen picks in this spring's draft and came up with cornerstones for the offense and defense for years to come. Offensive tackle Russell Okung steps in for future Hall of Famer Walter Jones while Safety Earl Thomas looks to give the Seahawks an intimidator not seen in their secondary since the great Kenny Easley.
The offense will be under Hasselbeck for one more season, then it will be turned over to Charlie Whitehurst obtain from the Chargers in an offseason trade. Expect a short leash for Hasselbeck this season as Carroll looks to put his immediate stamp on a team that's rebuilding on the fly. The Seahawks attempt to revamp their running attack can be deemed as marginal at best, on draft weekend they acquired LenDale White who released about a month later as he faces a four game suspension (substance abuse). They also obtained Leon Washington from the Jets who is attempting to make a comeback from a compound leg fracture last season. If things don't work out there they will rely on Justin Forsett, who doesn't have breakaway speed to get the bulk of carries. The sudden and surprising release of wideout T.J. Houshmandzadeh has left an already shaky receiving corps in shambles. Mike Williams, Reggie Williams, Deion Branch and rookie Golden Tate aren't going to get it done.
Rookie safety Earl Thomas is a player, I had the chance to watch him in an earlier preseason game and he looks the part. Thomas displays the aggression and ballhawking skills that will make him a Pro Bowler before long.  Earl Thomas is the bright spot in an otherwise porus secondary (30th against the pass in '09). The defense is in the state of flux but could pan out to be better than advertised. Defensive End Chris Clemons comes over from Philadelphia looking to regain the form that he had a few years ago in Oakland. The run defense finished 15th against the run and with the possibility of linebackers Lofa Tatupu, Aaron Curry and Leroy Hill finally being on the field at the same time expect that ranking to rise. Hill and Curry are two of the fastest outside linebackers in the league while Tatupu is still one of the better middle linebackers in the league despite struggling last season. This season Carroll will who is committed to playing his brand of football, we won't begin to see the new Seahawks until 2011. Personally, I can wait.
25. Jacksonville Jaguars – The Jags underwent a youth movement last season and still were in the playoff hunt until the final weeks of the season – this season expect them to welcome the pressure as the playoff chase ensues. If anyone is under pressure now, it's quarterback David Garrard who is being placed on a short leash to begin the season. Ownership has grown tired of Garrard's lack of desire and committment to make the team his own. Journeyman Luke McCown is waiting in the wings if Garrard slips.
The running attack is in good hands with Maurice Jones-Drew who rushed for over 1,300 yards in his first season as the Jags starting back. Backup Rashard Jennings is going to demand more carries this season as his 202 yards on 39 carries (5.2 yds) cannot be overlooked. Mike Sims-Walker enjoyed a breakout season with 869 yards and 7 touchdowns - even more impressive was Walker's 13.8 yards per catch. Speedster Troy Williamson returns healthy and gives the Jags two formidable receiving threats. Several possible candidates will vie for the no.3 position. The offensive line need an interior upgrade but Eugene Monroe and Eben Britton are solid at the tackle positions. 
The goal for the defense is to improve upon a league-worst 14 sacks last season. They upgraded their pass rush with the addition of Aaron Kampman, who should be ready to go after a season-ending knee injury last season. Opposite Kampman is Derrick Harvey who has just 5.5 sacks since 2008. The interior line will be placed into the hands of second year tackle Terrence Knighton and rookie Tyson Alualu (10th overall, Cal). Depth at both positions is a major concern. The linebacking corps is iffy, Daryl Smith (107 tackles in '09) has the confidence of the staff – after that it's up in the air. Kirk Morrison (Oakland) hope to solidify the middle. The secondary is average and needs some consistency at the safety position. Rashean Mathis and Derek Cox are solid at corner but there is a logjam of marginal talent competing for the safety positions.
24. Kansas City Chiefs – The Chiefs could make things interesting in the AFC West or they could just hand it over to the San Diego Chargers. Whatever the case at least the running back situation is now clear. Jamaal Charles stepped in last season and rushed for 968 yards and 7 touchdowns in the last eight games. Added to the backfield is the versatile Thomas Jones and explosive rookie Dexter McCluster who will give the Chiefs an impressive and productive backfield. Matt Cassell hopes his second season as a starter is better than his first. Cassell finished with 16 touchdowns and 16 interceptions and a passer rating of 69.9. He'll have a refocused Dwayne Bowe and the seemingly ageless Chris Chambers (31) who turned out to be a great find for coach Todd Haley last season. Tight End Leonard Pope needs to have a breakout season. The offensive line was the weak link last season as Cassell ran for his life. The left side is set with Brandon Albert and Brian Waters, 15 year veteran Casey Wiegmann will compete for the starting center position. Free agent Ryan Lilja and Ryan O' Callaghan will try to strengthen the right side of the line.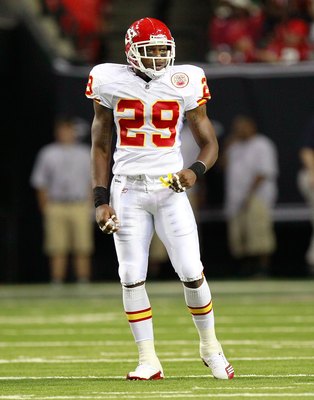 This young Chiefs defense is only going to get better, the unit finished 30th in total defense last season while trying to find the correct bodies to man their 3-4 scheme. It looks like they may have it figured out. The LSU tandem of Glenn Dorsey and Tyson Jackson will man the ends with 10-year veteran Ron Edwards in the middle. Tamba Hali has a new lease on life as the 3-4 OLB by racking up 8.5 sacks and 4 forced fumbles. Mike Vrabel and Demarrio Williams round out the left side Corey Mays will join Hali on the right. Safety Eric Berry is going to bring a little bit of everything to a unit that struggled last season. What Brandon Flowers lacks in size he brings in intensity the 5'9″ corner had 5 picks last season and is an exceptional in coverage. Brandon Carr is taller than his counterpart and uses that to size up well against bigger receivers.  If the Chiefs can put it all together this season it would be a huge step for a team not looked upon to challenge for at least another season.