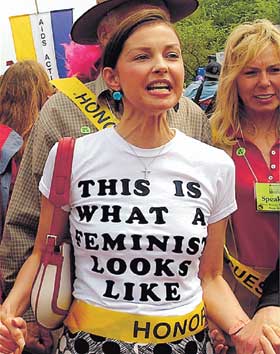 Let's be real about something. In a lot of ways, what the byline of this piece tells you is more about you than me. It is a considered truth that being a feminist in sports is terribly complicated. But it has never been harder than it was this past week.
Full Disclosure before I go any farther: I have never been in a locker room, and I have no desire to be. But just because of that it does not mean that I am going to stand idly by while sexual harrassment is explained away with a combination of defenses each more implausible and utterly ridiculous than the last one.
First off a little bit of background. Ines Sainz, a sports reporter for the Mexican TV network TV Azteca, went to the practice facility of the NY Jets with the idea of interviewing their Mexican-American quarterback Mark Sanchez. As soon as she got there she was allegedly sexually harrassed both on the field and in the locker room, the kind of catcalls and hooting that a respected male journalist simply does not get.
And what has the response been? Some chuckling, a few "boys will be boys", and the worst part: "Look at how she's dressed. She had to have known she was going to get ogled and catcalled."
All of these are wrong answers. Those of you who read this site and post in the comments ask yourself one question. Imagine your wife, or your daughter, or any female family member who you respect as a journalist and this was their job. Would you be completely ok with that same person being cat-called, hollered at like she was a girl in the street, and openly disrespected merely because she fit a certain set of beauty standards? Of course you wouldn't. You'd be pissed off.
But just when I thought there was nothing more that could be said, here comes Clinton Portis. Clinton Portis, who has made a career out of talking constantly and consistently about whatever might flit through the entirety of his mind, went on sports radio in Washington, DC and explained that he expected all female journalists to have at least some degree of attraction to at least one of their interviewees.
Here's the full transcript: (Big ups to the DC Sports Bog for this)
"You know man, I think you put women reporters in the locker room in positions to see guys walking around naked, and you sit in the locker room with 53 guys, and all of the sudden you see a nice woman in the locker room, I think men are gonna tend to turn and look and want to say something to that woman. For the woman, I think they make it so much that you can't interact and you can't be involved with athletes, you can't talk to these guys, you can't interact with these guys.
"And I mean, you put a woman and you give her a choice of 53 athletes, somebody got to be appealing to her. You know, somebody got to spark her interest, or she's gonna want somebody. I don't know what kind of woman won't, if you get to go and look at 53 men's packages. And you're just sitting here, saying 'Oh, none of this is attractive to me.' I know you're doing a job, but at the same time, the same way I'm gonna cut my eye if I see somebody worth talking to, I'm sure they do the same thing."
And recently on my twitter feed (follow me at @OkoriWadsworth) Jason Whitlock, a man who has openly and unabashedly declared his rather hefty appetites for the female flesh, railed against everyione for coming to Sainz's defense. His basic point was the same as Portis's, and for good measure, he threw in a bucket's worth of misogyny.
Now from a man who has reveled in the fact that he goes to strip clubs to then proclaim that everyone in the whole wide world needs to be, HAS to be, obsessed with sex in the manner that he is…. I can't take it.
Let me be clear about what being a feminist means. it means that I want respect to be shown to people of all genders, races, and creeds regardless of how they are dressed, or how good their butt may or may not look in a pair of tight jeans. It also means that when a reporter, a journalist, shows up to do her job she does not have to be subjected to catcalls and harassment merely because she happens to be attractive.
In a sporting world where my commercials are swamped by half-naked women selling beer, and every woman is judged on her looks first and her talent 4th, this is no longer acceptable. Ask yourself if this is worth it.