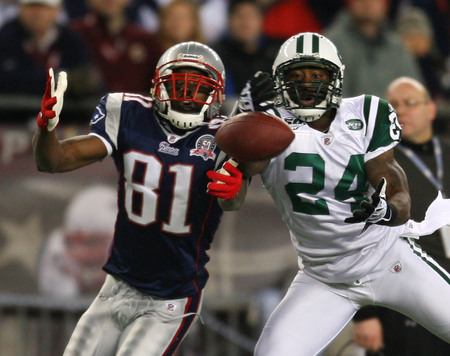 The New York Jets welcome the New England Patriots into the new and improved Meadowlands. It may be cornerback Darrelle Revis' week to eat his words. This summer Revis referred to Pats wide receiver Randy Moss as a "slouch". Well, Moss was kind enough to remind Revis that the "slouch" will be in town this weekend. This on the field encounter is only one battle within the war for supremacy in the AFC East.
Sunday September 19, 2010
Buffalo Bills (0-1) at Green Bay Packers (1-0) 1pm – The season-ending injury to running back Ryan Grant is a huge blow to a very balanced offense. Brandon Jackson will be the number one back for the forseeable future. Ironically, it was Grant who leapfrogged Jackson and an injured DeShawn Wynn to grab the lead back spot in 2007. The Bills plan to start rookie C.J. Spiller failed miserably last week as he rushed for an embarrassing 7 yards on 6 carries. Expect the Bills to go with veterans Fred Jackson and Marshawn Lynch against a formidable Packers defense. Other than Michael Vick's 103 rushing yards last week, the defense held the Eagles to 47 yards on 10 carries. The Bills talented young secondary will be challenged by Aaron Rodgers and prime targets Donald Driver and Greg Jennings. Look for tight end Jermichael Finley to score twice on Sunday.
Pick: Packers 35 – Bills 10
Miami Dolphins (1-0) at Minnesota Vikings (0-1) 1pm – The  VIkings go into today's contest on 10 days rest against a Dolphins team that is opening its season on the road. The Vikings would be wise to run the offense through Adrian Peterson until further notice. On of the faux pas in their loss to the Saints was that they took the ball out of Peterson's hands and relied on Brett Favre and their passing game to pull them through. The Phins should mix it up as they normally do with the Williams/Brown combo. Brandon Marshall will be a headache for the Vikings secondary. When Favre drops back he will be pressured by a speedy defense led by Karlos Dansby.
Pick: Vikings 21 – Dolphins 17
Kansas City Chiefs (1-0) at Cleveland Browns  (0-1 ) 1pm – This may be the day Matt Cassel breaks out and gives Chiefs fans the performance that they waited for all last season. An uninspired performance by the Browns today could be the beginning of the end for Eric Mangini tenure in Cleveland. One saving grace could be that the Chiefs allowed Phillip Rivers to get the ball downfield last week – problem for the Browns is that Jake Delhomme is the quarterback and can't shake the turnover bug. The Chiefs have a superior running game, but I feel eleven carries for Jamaal Charles is way too little, he's proven that he can handle a full load, give him 25-30 totes today.
Pick: Chiefs 38 – Browns 13
Chicago Bears (1-0) at Dallas Cowboys (0-1)  1pm – Both teams come into today's contest off of last second decisions that determined the outcome of their respective games. Wade Phillips decision not to sit on the ball with seconds left in the first half ultimately doomed the Cowboys and once again has owner Jerry Jones questioning his coach. The Bears should've lost to a game Lions team that was robbed by the officials but the call stands. Julius Peppers is going to be his disruptive self and should cause Tony Romo to rush a pass or two, that plays into the Bears hands as Romo only seems to be looking for receiver Miles Austin. Jay Cutler and running back Matt Forte carried the Bears offense last week but don't expect the same numbers against this Cowboys defense. The Cowboys are not a confident team right now, and the Bears need to capitalize on that.
Pick: Bears 21 – Cowboys 20
Arizona Cardinals (1-0) at Atlanta Falcons (0-1) 1pm – The Cardinals could open the season 2-0 if they can handle the Dirty Birds who need to rediscover their running game this week. The Falcons have one of the NFL's best in Michael Turner, but could only manage 56 yards last week in their loss to the Steelers. Beanie Wells should get the start this week after sitting out last week, this could be the opportune time for Wells as the Falcons gave up 143 yards on the ground last week. Quarterbacks Derek Anderson and Matt Ryan will be with out key receivers in Early Doucet and Michael Jenkins. Safety Adrian Wilson who plays well against the Falcons, is coming in fresh off a two interception performance last week. 
Pick: Falcons 27 – Cardinals 23
Tampa Bay Bucs (1-0) at Carolina Panthers (0-1) – The best pregame status I have on Panthers quarterback Matt Moore is probable (Sunday 8am). Whether it's Moore or rookie Casey Clausen the best chance for the Panthers against a young Bucs team looking to build momentum is to get backs DeAngelo Williams and Jonathan Stewart going. There is nothing much at receiver other than a nicked up Steve Smith and the absence of DE Julius Peppers is too obvious to ignore. Josh Freeman threw for two touchdowns last week and should be able to pick his spots against the Panthers, who gave close to 400 total yards to the Giants last week. Ronde Barber is an ageless wonder.
Bucs 24 – Panthers 12
Philadelphia Eagles (0-1) at Detroit Lions (0-1) 1pm – Michael Vick starts in his first NFL game in four years and looks to maximize his opportunity against a young Lions team that suffered a heartbreaking loss last weekend to the Bears. The Lions gave up close to 500 yards of offense to the Bears which could indicate a big game from a potentially explosive Eagles offense. The Eagles run defense faces a huge test in Lions running back Jahvid Best who can run inside or outside – the loss of MLB Stewart Bradley (concussion) could loom large in that category. Asante Samuel will be licking his chops as he hopes to jump a route or to against backup Shaun Hill.
Pick: Eagles 30 – Lions 10
Baltimore Ravens (1-0) at Cincinnati Bengals (0-1) 1pm – Chad Ochocinco will attempt to point the Bengals in the right direction this week as the Bengals look to avoid going 0-2 against the hated Baltimore Ravens. The Ravens are coming off a physically and emotionally draining game last week against the New York Jets. I'm not sure if the Ravens can pull off  emotional back to back road wins on a short week.
Pick: Bengals 24 – Ravens 13
Pittsburgh Steelers (1-0) at Tennessee Titans (1-0) 1pm – Steelers quarterback Dennis Dixon may end up running for his life today, as the Steelers are short on the offensive line and the Tiatns defense is young and active. The Steelers will need a big dose of Rashard Mendenhall to keep the Titans off the field and the ball out of Chris Johnson's hands. I believe Hines Ward will have a big day, But Chris Johnson is going to make the most of his touches.
Titans 28 – Steelers 27
Seattle Seahawks (1-0) at Denver Broncos (0-1) 4:05 pm –  In an old AFC West matchup both teams come in with injuries at key spots. Kyle Orton is doing his best to hold off his potential replacement in Tim Tebow. It looks like Brandon Lloyd has stepped right into Brandon Marshall's shoes. For Seattle Matt Hasselbeck looks to build on last week's performance, however he may be in trouble if the Seahawks running game does not show up this week.
Pick: Broncos 17 – Seahawks 14
St. Louis Rams (0-1) at Oakland Raiders (0-1) 4:05pm –  Maybe playing the game in the LA Coliseum would've been a good idea.
Raiders 24 – Rams 16 
Houston Texans (1-0) at Washington Redskins (1-0) 4:15 pm – The Houston Texans offense face a stiff test in the Washington Redskins, depite their last second victory held the Dallas Cowboys offense in check for most of the game. Houston's defense gave up nearly 500 yards to the Indianapolis Colts in their shocking victory. The Skins are still figuring out their offense, while the Texans will look to all-world wideout Andre Johnson to shine this week.
Texans 20 – Redskins 13
New York Jets (0-1) at New England Patriots (1-0) 4:15pm – Bill Belichick will pull out all the stops to make Mark Sanchez's NFL experience an uphill climb. Nobody likes anybody in this game – and that makes for great theater. But this one gets ugly in a hurry.
Patriots 35 – Jets 13
Jacksonville Jaguars (1-0) at San Diego Chargers (0-1) 4:15pm – The Chargers are happy to be back home but will that bring Phillip Rivers to a comfort zone with some of the newer faces in his huddle. Jacksonville is going to go heavy with Maurice Jones-Drew and test the secondary on occasion by going deep.
Chargers 24 – Jags 23
New York Giants (1-0) at Indianapolis Colts (0-1) 8:20pm – The Colts are angry and embarrassed, and they will play like it. Problem is – little brother Eli and the Giants aren't going to lay down for them.
Giants 24 – Colts 21
Monday  September 20, 2010
New Orleans Saints (1-0) at San Francisco 49'ers (0-1) – I wonder if the paint in the 49'ers lockerroom has been replaced, I'm sure Mike Singletary took it all off of the walls following last week's loss to the Seahawks. They will come at the Saints with all they have, question is will it be enough?
Saints 30 – Niners 24
Last week's record 2-0