In a shocking development Andy Reid has named Michael Vick as the Eagles starting quarterback Sunday against the Jacksonville Jaguars and for the forseeable future.
Sooooooo many people said that this opportunity would never come to him again, that guys like him didn't deserve a second chance and any team that took him on was taking up a roster space for someone that really deserved it.
And that was only in Philadelphia. Regardless, Michael Vick has come full circle and the Eagles are a better team for it.
Let's look at why this works for the Eagles and why it may not.
Why Vick?
1. Kevin Kolb's lack of mobility coupled with the play of a porus offensive line was going to have him on the trainers bench again. Vick himself was sacked six times on Sunday, imagine if it were Kolb out there. Center Mike McGlynn was terrible at recognition and protection against the Lions blitz packages and that play trickled down the offensive line. Had Kolb taken some of the shots Vick took on Sunday, we might be talking about more time on the injured list or worse.
2. Kolb's playing with advanced weapons – by that I mean DeSean Jackson and Brent Celek are Pro Bowlers, Jeremy Maclin and LaSean McCoy are looking at potential breakout seasons, Kevin Kolb doesn't display the skills needed to avoid the blitz to get the ball downfield at this time. I don't mean scrambling out of the pocket, just movement in it to avoid the rush, thus you're going to see alot of shorter routes that only stunt the growth of these potential stars.
3. The NFC East is for the taking right now and there is no reason to play around with that. The Giants and Redskins are each 1-1 and coming off losses while the Cowboys are 0-2 and still trying to find themselves in the midst of a tough stretch early in their schedule. The Eagles face Jacksonville, Washington, San Francisco and Atlanta – all winnable games. You have to ride the hot hand in this case.
4. When Vick came to the Eagles, it was Reid's goal to make Reid a pocket passer without stifling his rushing ability. Vick's committment to think pass first is paying huge dividends. On Sunday, Vick was 21-34 for 284 yards and two touchdowns. His numbers for the season; 37-58 for 459 yards, 3 touchdowns and a passer rating of 105.5. Sunday Vick rushed 7 times for 37 yards, he was able to get off several passes in the face of a heavy pressure.  After the Green Bay game we knew that Vick's legs were back and his ability to outrun opposing defenses had returned. This week we saw how useful Vick's legs are IN the pocket. Although Vick is 31, his legs are probably that of a 28 year-old due to inactivity with little wear and tear.
5. It's possible that in the first half of the Green Bay game Reid saw his career flash before his eyes. If Kolb's performance was any indication of how the season was going to turn out, he was going to be home by Thanksgiving – or sooner. Although Reid has a 3-year extension in his hip pocket that isn't guaranteed (like everything else in the NFL) when you have an unproven starter deemed as the franchise quarterback and a more than capable backup who gives the team a better chance of winning. It would be almost comical for Reid to trade Donovan McNabb only to have an unprepared Kevin Kolb cost him his job. McNabb knew his days in Philly were numbered his lobbying to Reid for Vick may have eventually bought Reid more time than he would've had if say Mike Kafka was the third string quarterback. Vick was the ace that Reid held onto and it may pay off in a big way.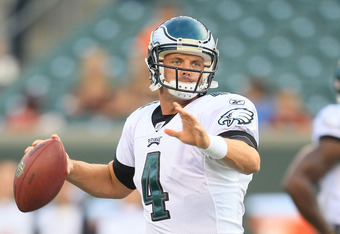 Why Not Vick?
1. There is always the possibility of Vick being tempted to going back to minimizing his reads or just trying to do too much with his legs. I believe that he's bought into the think-pass-first theory – but there will be times when he will want to run and will pass and vice-versa. Case in point – in the Green Bay game where Vick chose to pass over running in what would've brou ght the Eagles to within three points instead the pass went incomplete.Vick cannot allow himself to become confused in those situations.
2. If you think Andy Reid is being second-guessed now just wait until the first time Vick struggles (and he will) what will be his stance on that because you have essentially lost Kolb – possibly for good. You're in deep with Vick now and if Reid can deal with survive the T.O. circus, the well-publicized issues with his own children, the firestorm when Vick was brought here and finally the McNabb trade – Reid can handle if this backfires. Trust me, he's thought this scenario through, if coaching in Philadelphia has done anything for Reid it's given him thick skin and if this goes to the left he'll take in his words, "full responsibility".
3. Kevin Kolb's confidence is shattered right now and understandably so – the best thing for Kolb to do right now is ride this out, take the $12 million he'll earn this season and request a trade if he desires. But for now Kolb must acknowledge Vick as the starter as Vick did on Monday prior to Reid's decision. Now the question is Vick's future in Philadelphia based on this season's performance or this an extended audition for a potential trade? Whatever the case, Vick has put himself in position for a major payday. Despite the demotion, Reid says that he still believes in Kolb – just not right now.
I wonder if Kolb feels the same.