I held off until after the second week of games to compile the power rankings. I considered waiting longer and rolling them out like the BCS Standings. As always I welcome your feedback.
Let's get started.
1. New Orleans Saints (2-0) – The silver lining in the injury to Reggie Bush (approx. 6 weeks) is that the Saints play four home games with the only threat being the Steelers on October 31.
2. Green Bay Packers (2-0) – Could the Packers make a move for the Giants Brandon Jacobs by the trading deadline? Stay tuned.
3.  Pittsburgh Steelers (2-0) – Mike Tomlin is in my opinion the best coach in the game right now. Whatever he said last week to put that defense into a frenzy needs to be bottled.
4. Miami Dolphins (2-0) – The Dolphins offense hasn't really started to roll yet. Expect their battle with the Jets to be typical of their rivalry.
5. Houston Texans (2-0) – The "Best team in Texas" showed what they were made off last week against the Redskins. Andre Johnson has seen every coverage known to man and still racks up catches and yards. Matt Schaub is on the fast track to a 5,000 yard season.
6. Indianpolis Colts (1-1) – The Colts took their frustrations out on the Giants as they should have. Joseph Addai is the grinder in an otherwise finesse offense. The Broncos are next.
7. Baltimore Ravens (1-1) – Joe Flacco played ugly in a butt-ugly game. The Ravens normally win games like this – expect the defense to pitch a near shutout Sunday against the Browns.
8. New York Jets (1-1) – Sunday's performance was what we've been waiting to see from Mark Sanchez. Monday night in Miami will be a great test for this defense. Falling two games behind the Dolphins could be a problem.
9. Chicago Bears (2-0) – Jay Cutler looks like he may be ready to break out, put that together with a defense that is gaining confidence by the week, and you have a Bears team that is going to be scary in the long run.
10. New England Patriots (1-1) – Want an elixir for last weeks embarrassing loss to the Jets? The Buffalo Bills at home.
11. Cincinnati Bengals (1-1) – The Bengals beat the Ravens at their own game, they may win a few more like this. Expect the offense to put up some big numbers against the Panthers Sunday.
12. San Diego Chargers (1-1) – The Bolts whipped on the Jags to keep pace in the division. If Ryan Matthews is out against the Seahawks this week, things could get hairy.
13. Atlanta Falcons (1-1) – The Falcons bounced back in a big way on Sunday, they get their first shot at the champs on Sunday.
14. Kansas City Chiefs (2-0) – The Chiefs welcome a frustrated San Francisco team desperate for a win. A Chiefs win on Sunday will definitely open up some eyes.
15. Philadelphia Eagles (1-1) – I almost forgot the Eagles had a game this week.  This game against the Jags is a classic trap game with Donovan McNabb and the Redskins on the horizon.
16. Washington Redskins (1-1) – The Redskins face a nice warmup before D-Mac's return to Philadelphia.
17.Tennessee Titans (1-1)  – I don't understand Jeff Fisher's logic in benching Vince Young who can't help but be looking over his shoulder the remainder of the season.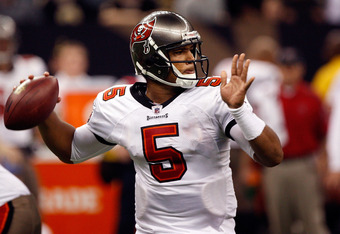 18. Tampa Bay Bucs (2-0) –  No one is talking about Josh Freeman or even the Bucs for that matter. If they give the Steelers a scare on Sunday it will do wonders for their confidence.
19. New York Giants (1-1) – The Brandon Jacobs situation isn't going away until he's traded – problem is, there's no backup to Ahmad Bradshaw.
20. Dallas Cowboys (0-2) – The moving boxes are sitting inside Jerry Jones' office. A loss on Sunday and they could be outside Wade Phillips' door.
21. Minnesota Vikings (0-2) – I hope the Vikings don't think that the Lions are going to come in and lay down for them on Sunday. No guarantees here.  Adrian Peterson needs the offense to go through him.
22. Denver Broncos (1-1) – Kyle Orton is playing like a man who wants to keep his job – it's the running game that has the offense hamstrung.
23. Arizona Cardinals (1-1) – The Cardinals are going to get it together, they caught the Falcons at a bad time.
24. San Francisco 49'ers (0-2) – Mike Singletary gained confidence in Alex Smith and the rest of the team on Monday. Question here is can they get a win against a hot team on a short week?
25. Jacksonville Jaguars (1-1) – The Jags are giving up huge chunks of yardage, that could continue with the Eagles coming in this week.
26. Seattle Seahawks (1-1) – Last week's Seahawks team is the one you can expect to see for most of this season.
27. Oakland Raiders (1-1) – So much for the Jim Plunkett comparisons  – the only starting QB to get a quicker hook was Kevin Kolb
28. Detroit Lions (0-2) – Was impressed with the Lions last week Jahvid Best started strong but faded in the second half, that needs to be balanced out.
29. St. Louis Rams (0-2) – Steven Jackson must really love the St. Louis area.
30. Carolina Panthers (0-2) – The Jimmy Clausen era is underway in Carolina, the Bengals defense will welcome him with open arms. 
31. Cleveland Browns (0-2) – Seneca Wallace will more than likely start again on Sunday.
32. Buffalo Bills (0-2) – Can they leave for Toronto now!