After going 12-4 last week, things get a little tougher in week 3. One game that has my interest is Pittsburgh at Tampa Bay. Both teams are 2-0, which we expected  from the Steelers, but the Bucs are reminding many of the upstart Bucs that blossomed under Tony Dungy. A young vibrant defense and a unheralded leader in quarterback Josh Freeman has things looking up in Tampa.
Sunday September 26, 2010
Tennessee Titans (1-1) at New York Giants (1-1) 1pm – Not too concerned about which Vince Young shows up, the uncertainty lies with coach Jeff Fisher, meanwhile Kerry Collins would love to come in and steal one from his old mates. Brandon Jacobs won't remove his helmet for any reason today.
Pick: Titans 20 – Giants 17
Cincinnati Bengals (1-1) at Carolina Panthers (1-1) 1pm – Imagine a combo of Terrell Owens and Steve Smith with that stud backfield in Carolina. Speaking of that backfield where have they been this season. Jimmy Clausen is handed the keys today –  and runs into a brick wall.
Pick: Bengals 30 – Panthers 9
Pittsburgh Steelers (2-0) at Tampa Bay Bucs (2-0) 1pm – I watched the poise of Josh Freeman when they defeated the Saints in New Orleans last season. I think that he stands tall today against the rabid Steelers defense, Charlie Batch at the helm for the Steelers opens this up for the Bucs.
Bucs 17 – Steelers 16
Buffalo Bills (0-2) at New England Patriots (1-1) 1pm – Can they put an "R" rating on this one, the Patriots were embarrassed last week and they're ticked off – the Bills just happen to be in the way this week.
Patriots 35 – Bills 6
Cleveland Browns (0-2) at Baltimore Ravens (1-1) 1pm – See Bills/Pats – Only difference here, I don't think the Browns score six points.
Ravens 24 – Browns 0
San Francisco 49'ers (0-2) at Kansas City Chiefs (2-0) 1pm – The Niners need this one bad – real bad. The Chiefs are winning in spite of Matt Cassell. Expect to see plenty of Jamaal Charles and Thomas Jones today. This one will be physical.
Pick: Chiefs 21 – Niners 20 (Sorry Michelle)
Dallas Cowboys (0-2) at Houston Texans (2-0) 1pm – The Cowboys are shocked and nervous, facing playoff – type pressure this early in the season isn't good especially when heads could roll. The Texans give up yards and points in chunks, the Cowboys are going to run alot today and let Tony Romo pick his spots.
Pick: Cowboys 23 – Texans 22
Atlanta Falcons (1-1) at New Orleans Saints (2-0) 1pm – The Saints have to find a way to get yards on the ground (Pierre Thomas)  to have a chance against the Dirtys, I think this Falcons team is up for the challenge on the road.
Pick: Falcons 28 – Saints 24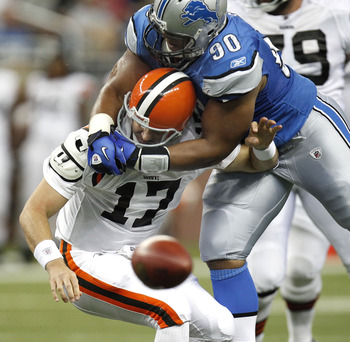 Detroit Lions (0-2) at Minnesota Vikings (0-2) 1pm – The legend of Ndamukong Suh is real – so are the Lions chances in this game. The Lions looked good last week against the Eagles. Shaun Hill is holding his own. Brett Favre and the Vikings avoid being fed to the Lions – this time.
Vikings 24 – Lions 23
Washington Redskins (1-1) at St. Louis Rams (0-2) 4:05pm – This is your proverbial "trap game" , the Rams are facing a Redskins team that lost a frustrating game last week and could be caught looking ahead to Donovan McNabb's return to Philly next week.
Redskins 21 – Rams 19
Philadelphia Eagles (1-1) at Jacksonville Jaguars (1-1) 4:15pm – The Jags are giving up yards by the ton, and the Eagles run defense didn't look great last week. If this thing gets out of hand – the Eagles could drop this one.
Pick: Eagles 27 – Jags 13
Indianapolis Colts (1-1) at Denver Broncos (1-1) 4:15pm – I like what Kyle Orton is doing this year but the last thing he needs at this point is to get into a shootout with Peyton Manning – who is usually quick on his draw.
Pick: Colts 30 – Broncos 17
Oakland Raiders (1-1) at Arizona Cardinals (1-1) 4:15pm – Bruce Gradkowski gets the nod as the starter for the Raiders, was Jason Campbell really that ineffective. The Cardinals Derek Anderson could suffer the same fate this week.
Pick: Raiders 16 – Cardinals 10
San Diego Chargers (1-1) at Seattle Seahawks (1-1) 4:15pm – Vincent Jackson isn't coming through that door – and Phillip Rivers and the Bolts needs to start playing that way. Seattle needs to run the ball by committee and keep Matt Hasselbeck upright to stand a chance.
Pick: Chargers 28 – Seahawks 20
New York Jets (1-1) at Miami Dolphins (2-0) 8:20 pm – Curious to see how Chad Henne and Brandon Marshall go after Jets corner Antonio Cromartie. The Wildcat will be used based on it's effectiveness. I'm not sold on the Jets ability to move the ball with consistency.
Pick: Phins 24 – Jets 13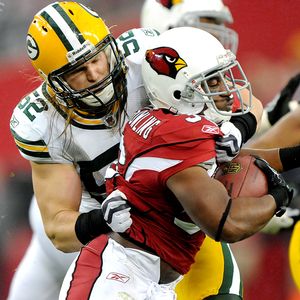 Monday September 27, 2010
Green Bay Packers (2-0) at  Chicago Bears (2-0) 8:20 pm – The Bears are coming together and the biggest reason is the play of Jay Cutler, the Packers will miss Ryan Grant in this one. Julius Peppers and the rest of the defense show America who's for real.
Pick: Bears 27 – Packers 17
Last week picks 12-4, Season 14-4