We're a quarter of the way through the NFL season and there have been some surprises. The Kansas City Chiefs remain undefeated, Michael Vick has rejuvenated his career while he heals from a rib injury. The Albert Haynesworth/Mike Shanahan drama continues and it hasn't really affected the Redskins – yet. But the biggest news came this week as Randy Moss returns to the Minnesota Vikings in a trade after three-plus productive seasons in New England.
Today's games include the Chiefs at the Colts, AFC passing leader Kyle Orton faces his biggest test as the Broncos face the Ravens, Julius Peppers returns to Carolina as the Bears face the Panthers and Moss returns to Revis Island (provided he plays) as the Vikings and Jets square off Monday Night.
Byes this week: Dolphins, Patriots, Steelers and Seahawks
Sunday October 10, 2010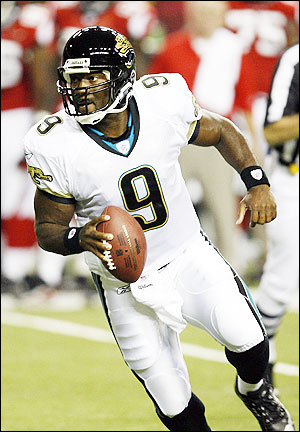 Jacksonville Jaguars (2-2) at Buffalo Bills (0-4) 1pm – The Bills are due at some point it could be this week  they've played well the past couple of weeks but have come up short. Good news for the Jags is that they have a chance to build some momentum after last weeks emotional win against the Colts and Maurice Jones-Drew is warming up. Bad news is that how long can David Garrard continue to play decent ball.
Pick: Jags 24 – Bills 21 (ot)
Denver Broncos (2-2) at Baltimore Ravens (3-1) 1pm – The Broncos will be without Knowshon Moreno and his replacement Laurence Maroney has struggled. That puts it all on quarterback Kyle Orton, the Ravens know this and will adjust accordingly. Denver's winless streak in B-More continues.
Pick: Ravens 30 – Broncos 13
Kansas City Chiefs (3-0) at Indianapolis Colts (2-2) 1pm – The football revival in Kansas City is real and the Chiefs are going to beat the Colts today – there I said it!
Pick: Chiefs 28 – Colts 24
Green Bay Packers (3-1) at Washington Redskins (2-2) 1pm – This could be the day that the Packers ground game woes catches up to them. The Skins are high after an emotional win in Philadelphia last week and begin a tough stretch against the Packers, Colts and Bears. Donovan McNabb has won four of his last five games against the the Packers.
 Pick: Redskins 24 – Packers 17
St. Louis Rams (2-2) at Detroit Lions (0-4)  1pm- How about the Rams could be in first place in the NFC West by today's end. The Lions are due for a win and today is an opportune time but running back Jahvid Best is hobbled with a toe injury that could make things difficult for the Lions ground game. I think the Rams win a tough one on the road.
Pick: Rams 25 – Lions 21
Chicago Bears (3-1) at Carolina Panthers (0-4) 1pm – The Bears bandwagon emptied out like someone yelled "FIRE" and rightfully so, the way they played in the Meadowlands last week was embarrassing.  Now they face a Carolina team that is looking for their first win. Two things here: Julius Peppers returns to the team that couldn't afford him but could sure use him now and Jimmy Clausen gained confidence as they put a scare into the Saints last week.
Pick: Panthers 23 – Bears 21
Tampa Bay Buccaneers (2-1) at Cincinnati Bengals (2-2) 1pm – The Carson Palmer breakout watch continues as Cedric Benson remains the key to the Bengals offensive success. Defensively, the Bengals need to get tougher. The Bucs have won their last five in Cincy and look to spread the ball around today.
Pick: Bengals 34 – Bucs 21
Atlanta Falcons (3-1) at Cleveland Browns (1-3) 1pm – It took a huge hustle play from Falcons wide receiver Roddy White to salvage a win against the Niners last week. This week the onus will be on quarterback Matt Ryan as he has to deal with the Browns aggresive defense. It looks like running back Peyton Hillis is the guy for the Browns right now.
Pick: Falcons 27 – Browns 17
New York Giants (2-2) at Houston Texans (3-1) 1pm – The Giants racked up 10 sacks last week against the Bears and are looking for more against a predominatly passing offense. The Texans are trying to stay ahead of the pack in the AFC South, the Texans defense gets a jolt as linebacker Brian Cushing returns after a four-game suspension.
Pick: Texans 24 – Giants 20
New Orleans Saints (3-1) at Arizona Cardinals (2-2) 4:05pm – The Saints are running out of close calls and they're going against a Cardinals teams that's dangerous in spite of their record. But they won't show many teeth today because they may be starting rookie Max Hill after quarterback.
Pick: Saints 38 – Cardinals 10
Tennessee Titans (2-2) at Dallas Cowboys (2-2) 4:15pm – As good as this looks on paper, I think the Titans are too physical for this Cowboys team most notably their offensive line. Calm down Cowboys fans, you're not out of the woods yet.
Pick: Titans 31 – Cowboys 21
San Diego Chargers (2-2) at Oakland Raiders (1-3) 4:15pm – Phillip Rivers is 8-0 as a starter against the Silver and Black. The Raiders are without Darren McFadden which could doom this thing from the start. But I wouldn't be surprised at a wild ending.
Pick: Chargers 31 – Raiders 28 (Long Live the AFL)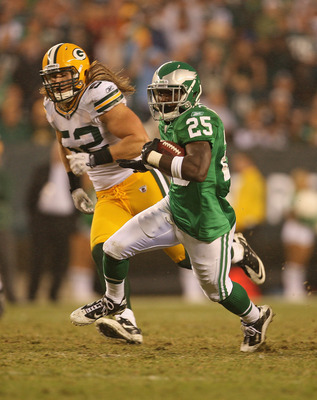 Philadelphia Eagles (2-2) at San Francisco 49'ers (0-4) 8:20 – LeSean McCoy is going to give it a go for the Birds – and believe me they need him. The Eagles have struggled to stop the run all season and that will continue today. Vernon Davis may have a huge game as well. Hopefully, week of work has given Eagles QB Kevin Kolb a sense of comfort under center.
Pick: Niners 28 – Eagles 27.
Monday October 11, 2010
Minnesota Vikings (2-2) at New York Jets (3-1) 8:30pm – The flip side of Randy Moss returning to the Vikes is the season debut for Jets wideout Santonio Holmes. Expect the Jets offense to continue to blossom into one of the best in the League. Favre's 500th touchdown pass will go to Randy Moss – ending the game highlights for the Vikings.
Pick: Jets 34 – Vikings 21
Last Week 7-7 – 2010 Season 32-16