We're six weeks into the NFL season and to be honest no one has really separated themselves from the pack, yes there are eight one-loss teams but half of them did not make the playoffs last season. Fools gold? We'll see.
As for the matchups this week several of these games could honestly go either way: Miami travels to Green Bay to face the Packers as Aaron Rogers tries to shake off last weeks concussion. The Ravens take on the Patriots, the surprise Chiefs meets the Texans, Michael Vick will sit out this one as the Eagles take on the Falcons, the Redskins try to keep momentum going as they welcome in the Colts. The reeling Saints meet the Bucs who ended their undefeated streak last season. Who will win the battle of 1-3 teams as the Vikings and Cowboys meet in Minnesota?  The week ends with a battle for the AFC South lead as the Titans travel to Jacksonville to face the Jaguars.
Byes: Bills, Bengals, Cardinals, Panthers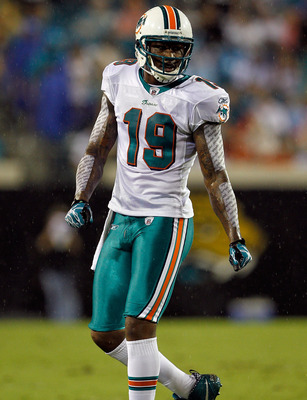 Sunday October 17, 2010
Miami Dolphins (2-2) at  Green Bay Packers (4-1) 1pm – The Packers are going to start quarterback Aaron Rodgers despite suffering a concussion last week in the Redskins loss. Not a good idea against a pretty Miami defense and a Packers ground game that continues to struggle.
Pick: Phins 28 – Packers 21
San Diego Chargers (2-3) at St. Louis Rams (2-3) 1pm – I don't think any of us thought that these teams would come into this meeting with identical records. Both teams are coming off of tough losses. The Bolts should win this game but the Rams won't make it easy.
Pick: Bolts 24 – Rams 20
Baltimore Ravens (4-1) at New England Patriots (3-1) 1pm – Bill Belichick cut of his nose to spite his face in trading Randy Moss, bringing back Deion Branch doesn't help Tom Brady in the deep passing game. The post Moss-era begins with a kick in the teeth.
Pick: Ravens 31 – Patriots 17
Cleveland Browns (1-4) at Pittsburgh Steelers (3-1) 1pm – Ben Roethlisberger returns to the Steelers today but it will be Cleveland's rookie quarterback Colts McCoy who gets the real welcome from the Black and Gold.
Pick: Steelers 31 – Browns 9
Kansas City Chiefs (3-1) at Houston Texans (3-2) 1pm – The Chiefs continue to win in spite of Matt Cassel's poor play – thanks to a above average running attack and a stingy defense. Texans quarterback Matt Schaub has thrown for nearly twice as many yards as Cassel who is going to have to get it together if the Chiefs want to remain in contention. This one could go either way as the Texans are starting to reel a little.
Pick: Texans 24 – Chiefs 23
Detroit Lions (1-4) at New York Giants (3-2) 1pm – I don't expect the Giants to suffer a letdown this week, expect Coughlin's crew to put the pedal to the floor and turn the defensive loose on these young Lions. No team feeds off of the home crowd like the G-Men. Calvin Johnson and Brandon Pettigrew will face a stiff challenge from an improved Giants secondary.
Pick: Giants 30 – Lions 13
Atlanta Falcons (4-1) at Philadelphia Eagles (3-2) 1pm – The Eagles front four will be challenged by the Falcons huge backs Michael Turner and Jason Snelling. Roddy White and Tony Gonzalez give Matt Ryan downfield options against a shotty secondary. Kevin Kolb will get the start and will LeSean McCoy as a reciever as the Falcons blitz will be focused on getting to Kolb. I'm curious to see if newcomer James Harrison is used in short yardage situations.
Pick: Eagles 28 – Falcons 27
Seattle Seahawks (2-2) at Chicago Bears (4-1) 1pm – The Seahawks best chance for victory will be on the Bears bench as Todd Collins makes way for the return of Jay Cutler. Matt Forte is playing the role of Marshall Faulk in Mike Martz's offense. The Seahawks are going to need more than stellar special teams play to challenge the Bears.
Pick: Bears 27 – Seahawks 14
New Orleans Saints (3-2) at Tampa Bay Buccaneers (3-1) 1pm – The Saints are in trouble, the division has caught up to them and in some cases passed them by. Josh Freeman and Mike Williams are developing a productive chemistry. This trip to Tampa will be no cakewalk as the Bucs are gaining confidence and expect to win this game – and so do I.
Pick: Bucs 24 – Saints 20
New York Jets (4-1) at Denver Broncos (2-3)  4:05pm – The Broncos haven't been running the ball much lately, but that will change today as Knowshon Moreno returns to the lineup. Quarterback Kyle Orton will need time to get the ball downfield to Brandon Lloyd and Eddie Royal. Mark Sanchez will try to take advantage of a banged up Broncos secondary.
Pick: Jets 27 – Broncos 21
Oakland Raiders (2-3) at San Francisco 49'ers (0-5) 4:05pm – So many underlying stories to this matchup, the biggest being the Niners at 0-5 needing a win today if they're going to make a run at the division title. For the Raiders, a win today helps them keep pace in the AFC West. Jason Campbell gets his starting job back this week as Niners QB Alex Smith hopes to keep his.
Pick: Niners 21 – Raiders 17
Dallas Cowboys (1-3) at Minnesota Vikings (1-3) 4:15 pm – I really don't know what to say here, the Vikes are better with Randy Moss but Favre is banged up and one has to wonder if his off the field woes are beginning to take its toll. But when all else fails, there's Adrian Peterson. If the Cowboys can eliminate simple mistakes they can get back into this thing in a hurry. Romo will test the Vikings secondary as Roy Williams has become the receiver they traded for.
Pick: Vikings 28 – Cowboys 24
Indianpolis Colts (3-2) at Washington Redskins (3-2) 8:20 pm – The Colts have not looked this vulnerable in years, Peyton Manning is getting it done despite injuries and a suspect defense. Same for the Redskins who will be without Clinton Portis for another week. This may come down to the two quarterbacks and who plays the stingiest defense.
Pick: Colts 20 – Skins 16
Monday October 18, 2010
Tennessee Titans (3-2) at Jacksonville Jaguars (3-2) 8:30pm – It's all up for grabs in the AFC South as the Titans defensive line looks to continue to dominate the opposition. Chris Johnson is looking for a big game against a division rival.  The Jaguars are putting it together, thanks to the emergence of tight end Marcedes Lewis and quarterback David Garrard has settled in. And of course there is the always reliable Maurice Jones-Drew. 
Pick: Titans 28 – Jaguars 13
Last Week 6-8, 2010 Season 38-24