Looking at this week's NFL lineup, I can count twelve games that hold some sort of viewing interest. That even includes the matchup between the Rams vs. Buccaneers that would've been a game of the week ten years ago. Other games include; The Eagles traveling to Tennessee to take on the Titans, the Steelers against the Dolphins, the Chargers face the Patriots. Wrapping up this week's schedule has the Giants traveling to Jerry's Palace to take on the Cowboys.
Byes: Colts, Jets, Lions and Texans
Sunday October 24, 2010
Cincinnati Bengals (2-3) at Atlanta Falcons (4-2) 1pm: The Falcons secondary was torched last week against the Eagles. You would think that Carson Palmer would be looking forward to this – he needs to connect with his receivers. Marvin Lewis cannot continue to go with Palmer if he's going to cost them games.
Pick: Falcons 24 – Bengals 20
Pittsburgh Steelers (4-1-) at Miami Dolphins (3-2) 1pm: Ben Roethlisberger is going on the road and facing a pretty good defense in his second week since his return. The Steelers will throw Troy Polomalu in the mix to help out in containing Phins wideout Brandon Marshall. Expect to see plenty of Ronnie Brown and Ricky Williams.
Pick: Dolphins 27 – Steelers 24 OT
Buffalo Bills (0-5) at Baltimore Ravens (4-2) 1pm: The Bills are going on the road to face a Ravens team that is steaming after last weeks loss to the Patriots. The results can't be good.
Picks: Ravens 34 – Bills 17 
Jacksonville Jaguars (3-3) at Kansas City Chiefs (3-2) 1pm: The Jags will look to Trent Edwards to get them out of Arrowhead Stadium with a win (David Garrard is out with a concussion), good luck. The Chiefs are out to avoid three consecutive losses after coming out of the gate winning three straight.
Pick: Chiefs 29 – Jags 12
Cleveland Browns (1-5) at New Orleans Saints (4-2) 1pm: The Saints are looking to get back on the winning path as Reggie Bush's much anticipated return looms large. The Browns may be looking to rookie quarterback Colt McCoy for the second week in a row. The Saints defense gets a boost with Darren Sharper returning to the secondary.
Pick: Saints 31 – Browns 13
Washington Redskins (3-3) at Chicago Bears (4-2) 1pm: Nothing fires up Donovan McNabb more than going back home to Chicago where he has fared well. The Skins defense ranks last in the NFL but gives up less than 20 points per contest. Devin Hester is looking dangerous again as Matt Forte could have another big game. Jay Cutler needs to make it through this game.
Pick: Bears 24 – Skins 20
San Francisco 49'ers (1-5) at Carolina Panthers (0-5) 1pm: I thought that the Niners flying cross-country to face a team that they could potentially play down to. After watching the San Francisco Giants last night – that all but wrecks my theory.
Pick: Niners 30 – Panthers 13
St. Louis Rams (3-3) at Tampa Bay Buccaneers (3-2) 1pm: The Battle of the Upstarts looks to be a showcase of two of the NFL's best young quarterbacks in Sam Bradford and the Bucs Josh Freeman. This one will come down to defense, special teams and turnovers.
Picks: Bucs 27 – Rams 24 OT
Philadelphia (4-2) at Tennessee Titans (4-2) 1pm: Football is very much needed in Philly today as it'll be Kevin Kolb vs. Kerry Collins. The Eagles are going into this game with injuries to Jason Peters and DeSean Jackson that will effect the Eagles offensive scheme against their most physical opponent to date. The Titans will not start Vince Young but he will be available, case being the same with Michael Vick. The Eagles held Falcons Michael Turner to 45 yards last week – but he's no Chris Johnson. LeSean McCoy could have a big all-purpose day.
Pick: Eagles 27 – Titans 17
Arizona Cardinals (3-2) at Seattle Seahawks (3-2) 4:05 pm: First place is at stake today as the Cardinals go up North to face the surprising Seahawks. Quarterback Max Hall is playing well for the Cards and should keep the starting job for the duration. Marshawn Lynch is just what the doctor ordered for the Seahawks who are putting it together rather quickly under Pete Carroll. 
Pick: Seahwaks 23 – Cardinals 21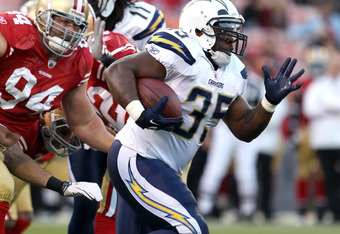 New England Patriots (4-1) at San Diego Chargers (2-4) 4:15pm: If anyone can figure out what has happened to the Chargers they'll be the first.  The Patriots will do what they have to do to avoid a potential meeting with the Chargers in the playoffs. Today, Brady & Co. land a damaging blow to the Bolts postseason hopes.
Pick: Patriots 35 – Chargers 21
Oakland Raiders (2-4) at Denver Broncos (2-4) 4:15pm: One team has a struggling passing attack and the other has no running game. Perfect. See Raiders/Chargers from two weeks ago.
Pick: Raiders 20 – Broncos 12
Minnesota Vikings (2-3) at Green Bay Packers (3-3) 8:20pm: Public Enemy number one returns with probably the second most despised opponent in Randy Moss. A win by the Vikings puts them within striking distance of the Bears for the division lead. The Packers are fading fast – lack of a consistent running game being at the top of the list. The Vikes are starting to emerge at the right time.
Pick: Vikings  33 – Packers 24
Monday October 25, 2010
New York Giants (4-2) at Dallas Cowboys (1-4) 8:30pm: The Cowboys are as good as they are undisciplined, last week I think they realized two things: they are not a team can turn it off and on and the season is slipping away faster than they think. The Giants have come around defensively and want to put the Cowboys further in their rear-view mirror. I could be wrong, but do the Giants ever play the Cowboys well in Texas?
Pick: Cowboys 20 – Giants 17
Last Week 10-4, 2010 Season 48-28