Although teams like the Cowboys, Chargers and 49'ers tricked us into thinking that they were contenders, it has been a treat to watch the Buccaneers, Rams and Chiefs come back onto the scene. Key matchup today include: Miami at Cincy, the Packers travel to Gotham to battle the Jets, Randy Moss returns to Foxboro to meet the Patriots, the Seawhawks continue their AFC West reunion tour as they face the Raiders in Oakland, the Steelers look to add another dent in  the Saints season. The week closes out as the Texans go for the season sweep of Peyton Manning and the Colts.
Byes this week: Bears, Browns, Falcons, Eagles, Giants, Ravens
Sunday October 31, 2010
Denver Broncos (2-5) at San Francisco 49'ers (1-6) 1pm: They love American football across the pond – they may not after today.
Pick: Niners 27 – Broncos 13
Jacksonville Jaguars (3-4) at Dallas Cowboys (1-5) 1pm: While the plug has been pulled on the Cowboys season, the Jags with a loss today would be approaching life support.
Pick: Jags 20 – Cowboys 10
Miami Dolphins (3-3) at Cincinnati Bengals (2-4) 1pm: The Dolphins have been seeing red all week over last week's call in Pittsburgh that changed the game against the Steelers. The Phins are undefeated on the road and after what the Falcons Roddy White did to the Bengals secondary, I would think that receiver Brandon Marshall has been wearing a bib all week. Which will occur first – a Carson Palmer benching or a T.Ocho explosion (off the field of course).
Pick: Dolphins 30 – Bengals 21
Buffalo Bills (0-6) at Kansas City Chiefs (4-2) 1pm: The Bills are going to make it a game and after close calls against the Ravens, Patriots and Dolphins they could shock the Chiefs. The Chiefs on the other hand have the opportunity to make a real playoff push with a win today.
Pick: Chiefs 27 – Bills 13
Washington Redskins (4-3) at Detroit Lions (1-5) 1pm: There a many twists and turns to this game and all of it could have nothing to do with the probable outcome. The Lions have one of the NFL's best offenses, while the Redskins defense is one of the worst, DeAngelo Hall could pick off four passes or get burned for four touchdowns. The Lions beat the Redskins last season, but quarterback Donovan McNabb has a passer rating of 137.0 against the Lions.
Pick: Lions 24 – Redskins 21 OT
Carolina Panthers (1-5) at St. Louis Rams (3-4) 1pm: The Panthers look like they're trying to round into shape, while the Rams are trying to continue to build on what's already been a successful season. 
Pick: Rams 21 – Panthers 17
Green Bay Packers (4-3) at New York Jets (5-1) 1pm: The Packers looked decent in their victory over the Vikings last week. This week they go on the road to face the Jets their toughest matchup to date. The Jets offense is as balanced and effective as any coach could have it – while the defense give up a modest 17 points per game.
Pick: Jets 30 – Packers 20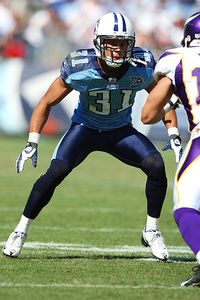 Tennessee Titans (5-2) at San Diego Chargers (2-5) 4:05 pm – The Chargers have to be kicking themselves for the roster-exempt suspension imposed on wide receiver Vincent Jackson. The Titans are holding on to a one game lead in the AFC South. Expect Vince Young to be back under center today.
Pick: Titans 28 – Chargers 16
Minnesota Vikings (2-4) at New England Patriots (5-1) 4:15pm:  Will Brett Favre play? How will Randy Moss be received in Foxboro? Can the Patriots continue their 15 game home winning streak against the NFC? I don't know about those answers, but what I do know is that the Vikings are overmatched in this one.
Pick: Patriots 35 – Vikings 23
Tampa Bay Buccaneers (4-2) at Arizona Cardinals (3-3) 4:15pm: Raheem Morris would be less than a coach if he thought his team was any less than the best in the NFC. Especially after management was split on whether or not he even was a good fit in Tampa. The Cardinals are making a most of a season that many saw as a washout, yet they have remained competitive in the NFC West.
Pick: Cards 23 – Bucs 21
Seattle Seahawks (4-2) at Oakland Raiders ( 3-4) Both Teams are looking for respect in this matchup, the Silver and Black are out to prove that last week's beatdown of the Broncos was no fluke. While Seattle is out to prove their season is no mirage. Bring back Jim Zorn and Jim Plunkett for this one.
Pick: Raiders 38 – Seahawks 35 OT
Pittsburgh Steelers (5-1) at New Orleans Saints (4-3) 8:20 pm: The last two Super Bowl Champions square off in a game that both teams need. I knew the Saints were going to miss Reggie Bush but this is ridiculus. Today Ben Roethlisberger goes into his first hostile enviroment since his return.
Pick: Saints 27 – Steelers 24
 Monday November 1, 2010
Houston Texans (4-2) at Indianapolis Colts (4-2) The Texans shocked the Colts in their first meeting but there will be no sneaking up on the Colts this go 'round. The Colts will be without Dallas Clark, Austin Collie and Joseph Addai. If Peyton Manning can pull this off, I'll wave the Manning banner all the way to Canton.
Pick: Texans 28 – Colts 23
Last Week 8-6, 2010 Season 56-34