This was one of the more entertaining weeks in the 2010 season in my opinion. It seems like cities like Cleveland, Oakland and Detroit are not going to take kindly to being the League's doormats any longer and that makes for great football. Brad Childress reminds me of a kid who doesn't realize when he's being spared the rod. Do you think the Eagles are really going to allow Michael Vick to walk away at the end of the season?
Brad Childress has lost his quarterback and most of his team and he continues to antagonize his players where is the ax? Now I see what really went down with Terrell Owens in Philly part of the problem was Childress. I was Childress who Owens told not to address him unless he (Owens) addressed him first. Childress in turn went to Andy Reid who confronted Owens, thus suspending him.  Ok, now he cuts Randy Moss without ownership approval, he nearly gets fired for that. Then on Friday, Childress gets into it with Percy Harvin, a kid who has been banged up all season (as well as a history of migraine headaches) and has done all he can to get on the field this season to save his (Childress) job. Then above all else you continue to joust with the only person anyone really listens to in that lockerroom in Brett Favre. Favre has his faults as a player and person, but he along with Percy Harvin saved your hide yesterday. I think that Childress really believes that Zygi Wilf won't write a $16 million check to see him go away.
Do you really believe that the Eagles are going to let walk at the end of this season?  Andy Reid's goal for Michael Vick was to refine his qualities as a passer while keeping his ability as a runner intact, making Vick more valuable on the open market. But since the Kevin Kolb parachute never quite opened Reid still has Vick to audition for him this season and it has worked out beyond anyone's expectations. This is a good thing given the jury is still out on Kolb. Vick has taken the offense and made it his own, he has thrown for 7 touchdowns with no interceptions for 1,017 yards and a 105.3 passer rating. He no longer looked rushed or hurried to do anything he has learned to let the game come to him. And from looking at his arm strength yesterday we may have someone who can overthrow wideout DeSean Jackson. In the end, I believe that the Eagles will make an offer (hopefully a lucrative one) to Vick. Let's just hope that parachute opens up.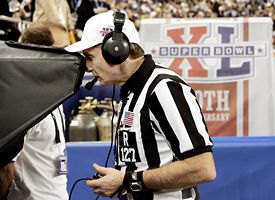 I'm all for fines and suspensions of those that deliver illegal hits to the head and with their helmets but by the same token I believe that these hits should be reviewed on the field during the game. Yesterday during the Colts- Eagles contest receiver Austin Collie was knocked unconscious during a drive late in the half that led to an Indianapolis touchdown. Momentum inthis drive can be aided to the 15-yard penalty that was assessed as helmet to helmet contact by the Eagles Kurt Coleman,  the replay does show contact after Collie caught the ball turned and dropped his head. There was no intent on the part of Coleman. At halftime of the telecast analyst Bill Cowher emplored the NFL, "Not to fine this young man – that was a clean hit."  The officials would resurface in the fourth quarter as the Eagles were clinging to a 26-17 lead. On 4th and 18 quarterback Peyton Manning is sacked and stripped of the ball by the Eagles Trent Cole, the Eagles recover and the game is over – but hold on. During the sack Coles hand comes across the back of Manning's helmet barely moving his head and Cole is whistled for a 15 yard personal foul penalty again allowing the Colts to score. Those 14 points by questionable calls by the officials nearly cost the Eagles yesterday, I'm for player safety but I also don't want games decided on the kneejerk reaction of a referee. So let's head to the booth on these calls to get them right. Eventually, this is going to cost a good clean player his reputation and  alot of unnecessary money and a deserving team a critical game.