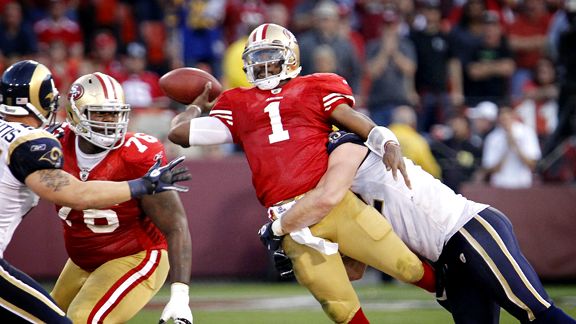 What a banner day in the NFL yesterday – two fantastic finishes, the Bills get their first win of the season and the Cowboys get up off of the slab to defeat the Giants.
There may be an overdue changing of the guard is Minnesota while one has definitely taken place in 'Frisco as Troy Smith has given the 49'ers a much needed spark – as winning the NFC West doesn't look so much like a pipe dream now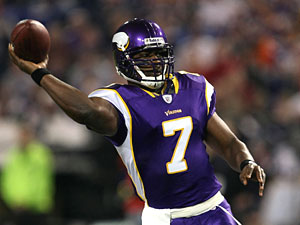 It is time for the Tavaris Jackson Era to begin in Minnesota. If Brett Favre's postgame press conference didn't convince Brad Childress that now is the time for Tavaris Jackson, his performance should have. The buzz this week has been how despised Childress is by his players, most notably Favre. It wasn't Childress who threw three picks yesterday, it hasn't been Childress who hasn't put this team in a position to win hardly anything this season. That's Favre's cross to bear, and while Childress has done his part in screwing this season up too, alot of this falls at the feet of the guy who the brass sold their soul to bring back. Solution: Start Tavaris Jackson now, and dammit run Adrian Peterson more!
What is former Dallas Cowboys head coach Wade Phillips feeling this morning? The shot of Eli Manning (above) says it all – a man without answers. Jason Garrett was chided this week for using too many "down and out" cliches this week. He talked to the Cowboys about pride and circling the wagons – he even instituted a business dress code (which Felix Jones violated on the first day). Yesterday, the Cowboys played like men whose jobs were on the line while the Giants were expecting a laid-back facsimile. In the end it was the Giants who look undisciplined and laid back. Maybe the 'Boys needed someone new to deliver the message.
Is anyone ready to talk about Josh Freeman and the Tampa Bay Bucs? Freeman is in the top 10 among NFC signalcallers in several significant categories. Yet all we hear about are Brett Favre and his struggles, the Jets, and the justification of quarterback benchings around the League. Last season the Bucs brass was considering not bringing back rookie head coach Raheem Morris because of the growing pains of playing Freeman. All Morris has done is infuse this team with a youthful confidence on both sides of the ball and it all starts with Freeman. The Bucs sitting at 6-3 and in prime position for a playoff run.