$178 Million invested in TWO players – they need to check this guy's urine. 
Donovan McNabb has taken more shots than Charlie Sheen at an open bar for the better part of eleven NFL seasons and yet remains one of the game's most respected gentlemen. While most good guys wear the white hat for McNabb seems more suited for a crown of thorns . He lacks a championship, he's a company guy, he's not Black enough, he smiles too much, he chokes, he's a Momma's Boy and the latest; his cardiovascular endurance is too poor to run the two-minute drill.
Don't forget to add ultra-paid to that list now.
Yesterday McNabb signed a five-year extension with the Redskins totaling  $78 million with the potential to reach $88 million. Two weeks after being benched by head coach Mike Shanahan who went on to further question McNabb's work ethic and intelligence as an NFL quarterback.
Obviously, Redskins owner Daniel Snyder feelings don't reflect those of Shanahan and he opened his wallet to prove it. Be it his genuine sentiment or a veiled apology McNabb signed the deal in about the same time that it took the Eagles to get on the scoreboard last night.
 The most intriguing aspect of the deal seems to be guaranteed money which seems to fluctuate by the hour. Sources have McNabb receiving as much as $40 million in guaranteed money and as "little" as $10 million. No one in their right mind can blame McNabb for signing this deal, after all he's 34 and approaching the twilight of a Hall of Fame career.
McNabb made it clear to anyone that would listen that he wanted one more big payday. Considering that he got it  just under the wire of an impending lockout in 2011 is sheer brilliance on the part of his agent Fletcher Smith. With no guarantees after that, he was going to probably see one-third or maybe less of what he signed for.
Not bad for a guy who's coach all but called him lazy and shiftless two weeks earlier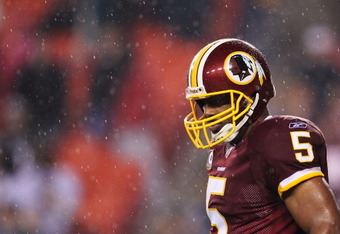 As witnessed last night, McNabb didn't have one of his better nights in his second meeting with his former Eagles mates this season (17-31 for 295 yards, 2 touchdowns and 3 interceptions). McNabb and the Redskins were on the sore end of a 59-28 pounding by the Eagles as McNabb protege Michael Vick put on an eye-popping performance. More on Vick later.
When the final gun sounded on the game McNabb ally and former teammate Terrell Owens took that as a signal shot out of the starters block with an indictment of Redskins ownership and McNabb's subpar performance since signing the deal. Owens in a Twitter message said the following: "How do U justify a 78 million contract w/this type of performance?" This coming from a player who has spent his last two sseasons in football hell and purgatory living out of a suitcase. For all of Owens' talent he won't see a quarter of the money McNabb makes if he played 10 more seasons. I almost forgot Owens was having a career season for the AFC North-leading Cincinnati Bengals, catching passes from Ken Anderson.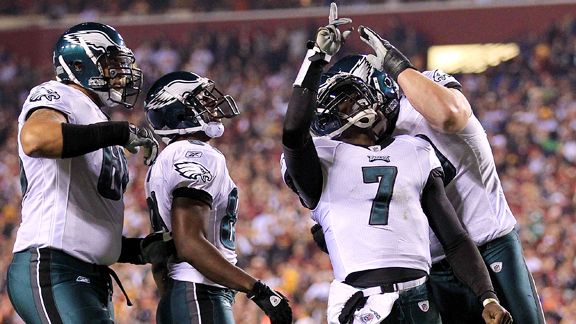 The fallout from the McNabb deal only mean a bigger payday for the Colts' Peyton Manning and the Eagles Michael Vick. It is Vick who is in prime position to return back to one of the elite players in the NFL after a two-year hiatus. Last night Vick had the type of game that you tell your grandchildren about as he threw for four touchdowns and ran for three more scores. I see the cover of Madden 12 in his immediate future.
All thanks in part to the guy in the white hat.