Ray Allen's three pointer with 12 seconds remaining in regulation gave the Celtics a 87-85 victory over the New York Knicks in Game 1 of their opening round series. This weekend featured some great matchups and even some surprises
Below are the recaps and my predictions.
Eastern Conference
Chicago 104 – Indiana 99: The Pacers message to the Bulls was simple; there is no truth to the rumor that the playoffs begin in the second round. Bulls in 5.
Miami 97 – Philadelphia 89: Thaddeus Young led a second half charge that saw the Heat lead cut to one with less than five minutes remaining. I'm still trying to digest the 39-15 free throw differential that favored the Heat. Heat in 6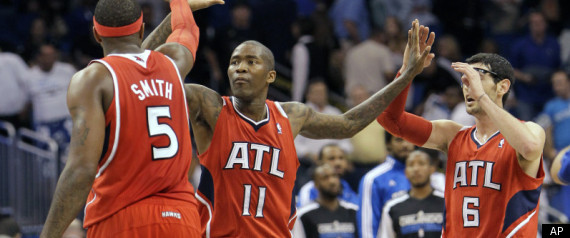 Atlanta 103 – Orlando 93: The Hawks larger backcourt snipers may be the undoing of the Magic in this series. Magic in 7
Boston 87 – New York 85: This has all the makings of a first round classic. Dust off Larry and Bernard. Celtics in a HARD 7
Western Conference
Dallas 89 – Portland 81: If it's the NBA Playoffs, one thing you can count on is the Dallas Mavericks letting another great regular season go to waste. Blazers in 6
Memphis 101 – San Antonio 98: I had the Spurs picked to win this series in six games – I thought Memphis killed themselves to stay in the playoff hunt. I couldn't have been more wrong. Spurs in 6
New Orleans 109 – Los Angeles 100: That's the best ball I've season out of  CP3 in almost two seasons – so much for the sweep. Lakers in 6 
Oklahoma City 107 – Denver 103: For good portion of the game last night Kevin Durant was Gervin-esque. This is the 2nd best series of the first round (Boston/New York) Thunder in 7