The Miami Heat knew that the Philadelphia 76'ers were going to push back in front of a sold out Wells Fargo Center crowd.
So they waited until late to land the potential knockout blow.
Dwayne Wade fought off a nagging shoulder to score 32 points and grab 10 boards in the Heat's 100-94 victory in Philadelphia to go up in the series 3-0.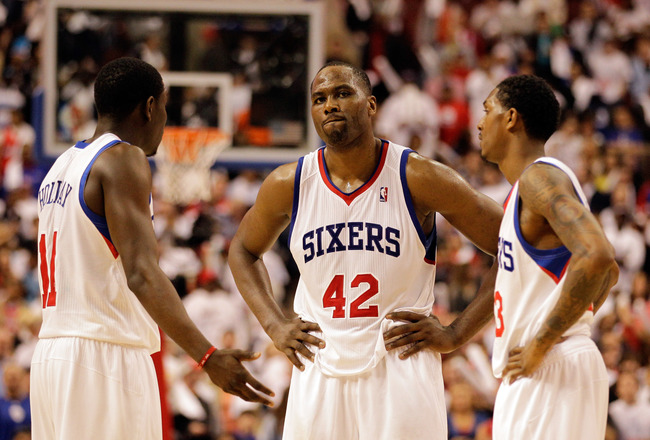 The Sixers played their best game of the series and it still wasn't enough to cool off a white-hot Miami team who looks to be hitting their stride. LeBron James, Dwayne Wade and Chris Bosh combined for 75 points and 31 boards as the pushed a game Sixers squad to the brink of elimination 100-94 in front of a raucous and energized crowd of 20,404
The Sixers jumped out to a 9-0 lead to begin the contest. They showed no lasting effects from the poor shooting effort on Monday and shot 59 percent from the floor and after one quarter were up 29-21.  Spencer Hawes, Jrue Holiday and Lou Williams combined for 20 of the Sixers first 29 points. Wade and Chris Bosh were a collective 3 for 12 as the Heat shot 34 percent and would trail by as many as 10.
The second period saw Elton Brand take over the scoring responsibility for the home team, scoring 11 of a 23 points and pulling down 4 rebounds but the Sixers lead would be trimmed  to 52-50  by the half as the Heat shot a blistering 9 for 13 (69.2%) led by Wade's 12 points. The Sixers managed only four points in the paint in compared to 12 in the previous quarter.
Sixers made a deliberate effort to adjust their physical play – Brand, Hawes and Tony Battie made things uncomfortable for anyone venturing into the blue area  – keeping the towel boys busy. Chris Bosh, who was in the Sixers defensive cross hairs managed only 7 points on 2 for 8  shooting in the first half. The Sixers despite a shrinking lead were still in control as they were able to counter runs by the Heat with spurts of their own, minimizing turnovers was key as the Sixers had only four to Miami's nine.
The Heat would take their first lead on a 20-footer by James 45 seconds into the third period. James had been in triple-threat mode in the first half with 10/7/4 and was beginning to slowly  find his "normal" stride. Wade, who would lead all scorers at the end of three with 24 points was pacing himself for a big finish. The Sixers would regain the lead and go up by as many as eight – continuing to hold the Heat at bay as Bosh started to become a factor. The Sixers and the crowd were still alive up 75-73 heading into the final stanza.
Naysayers, haters and hostile crowds have been dish served to Chris Bosh, LeBron James and Dwayne Wade for almost a year now. Now, they're preparing a dish of their own – CROW.
The Sixers have bounced back from an uncharacteristic Game 2 performance to show the everyone that they're well aware of who and what they're facing  – refusing to go quietly.
James and Wade would combine for 15 points and 7 rebounds (4 offensive), including an out of his shoes put back by Wade that all but put Miami in the driver's seat for good. Elton Brand, Andre Iguodala (10/5/10), Williams and Holiday would continue to guide the Sixers with a gallant efforts but it wasn't enough as the Heat pushed the Sixers to the brink of elimination with last night's victory.
In the end, Doug Collins for all he's accomplished this season was left with two words, "win Sunday". Collins was obviously annoyed by some of the iffy officiating down the stretch but he kept his complaint to a very respectable tone – pointing out the fact that Bosh, Wade and James played a total of 124 minutes and were only whistled for two personal fouls in a pretty physical game.
Heat coach Erik Spoelstra was proud of the effort his team gave under extreme circumstances, "Their athleticism is so extreme and so quick that you have to be engaged and ready from the get-go." Chris Bosh asserted himself in the 2nd half to finish with 19 points and 6 boards, Spoelstra expected no less from his power forward. "He understood not to panic, once we got into out rhythm in the 2nd half you saw him become more aggressive.
The statistic of the night was the Heat grabbing 20 offensive rebounds. Spoelstra explained how Bosh grabbed three in one sequence. "My favorite play by him (Bosh) was when he was up three consecutive times for and offensive rebound, that late (in the game) being that quick to the ball."
Collins final quote of the night summed up the situation facing his young team, " If we score 94 points on Sunday, we may get lucky."