Twice yesterday Lebron James had to take one last look back to Cleveland before coming full circle. James received word earlier in the day that his former Cleveland Cavaliers teammate Robert "Tractor" Traylor had died of a heart attack in Puerto Rico. 
James via Twitter: rip "Tractor". Another one of my former teammates found dead at such a young age. SMH!!
Last night, James emphatically exorcised the demons of last season's playoff loss to the Celtics (almost a year to the day) followed by the media backlash in the wake of  his "Decision" to play in Miami by scoring game's final 10 points. The Celtics were held scoreless for the final 4:29, as the Heat went on to a 97-87 victory to eliminate the Celtics in five games.
And in closing offered one last apology to the fans of Cleveland.
In between those watershed moments, James unleashed a year's worth of frustration on the Boston Celtics. James screamed yelled and postured to the Heat faithful – clearing his lungs and his conscience, slowly transforming into something more dominant than any of us could've imagined.
A disgraced King  was in search of his crown, taken by the paupers that held him aloft at dawn only to bury him at sunset. As his quest ensued, James continued to gain momentum, finding ways to be effective even if it meant deferring to knights Dwayne Wade or Chris Bosh who were also chided by the Celtics and naysayers.
James was saving himself for the Celtics.
In their first four encounters, the combination of James, Wade and Bosh took turns on the Celtics, run after run slowly weakening their nemesis with every strike.
Last night James unleashed his finest excalibur – the one intangible the paupers and peasants could not touch. When it looked as if the Celtics were in a position to fell James and his knights and gain another day on the battlefield – James unsheathed his sword and in a blitz of carnage and heroism slayed the Celtic warriors in an exhausting battle.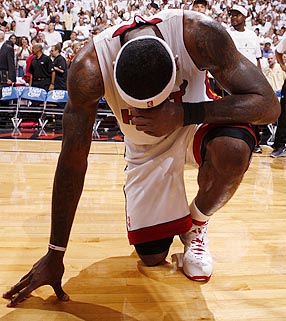 In the end James was left with his thoughts from a year past, the redemptive young King had regained his crown.
All that awaits is his coronation.