Dwayne Wade may be off the hook.
The Oklahoma City Thunder's Kevin Durant threw down a monstrous dunk over Dallas Mavericks center Brendan Haywood with the Mavericks leading 28-19 in the first quarter.
The dunk seemed to ignite a Thunder team that came out somewhat sluggish, falling behind by as many as 11 points in the opening quarter. Durant and reserve James Harden would pace the Thunder in a 106-100 victory to even the Western Conference Finals series at one game each.
Things returned to normal in Game 2 of the WCF, there were no notable performances or streak-watching going on. The Oklahoma City Thunder woke up and realized that they were in a series and got down to business.
Kevin Durant and James Harden were the engine last night as the Thunder pulled even with the Mavericks in this best of seven series with a 106-100 victory. Dirk Nowitzki scored 29 points on 10 of 17 shooting and 9 of 10 from the line. The Thunder warded off and opening run by the Mavericks that saw them take and early eleven-point lead in the first quarter prior to Durant's dunk.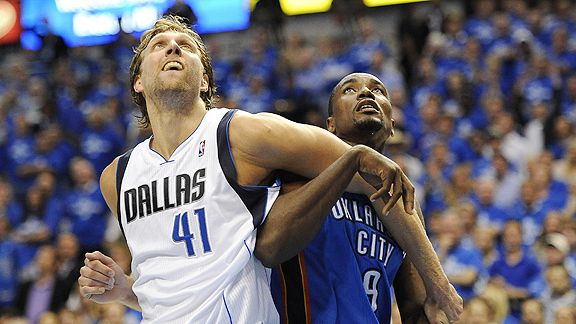 The Thunder seemed more focused defensively and once the game settled in made a more concerted effort defensively on Nowitzki and the reserves. After Nowitzki, the next closest Maverick in scoring was Tyson Chandler with 15 points. Reserves Jason Terry and J.J. Barea, who lit up the Thunder for 24 and 21 points,  respectively, combined for a pedestrian 19 points last night. The Mavs were nowhere near their defensive effectiveness of Tuesday night.
And they paid for it.
The game held nine lead changes and was tied ten different times. The Thunder would use a 33-point second period as the starting point for their turnaround.
In the 4th quarter starting point guard Russell Westbrook who  was benched in favor of reserve Eric Maynor who was 5 for 9 for 13 points. While Westbrook was more productive offensively than in Game 1 he continues to struggle from the field (7-15, 18 points, 4 assists), Maynor has been more than adequate as a backup. Despite being visibly upset at coach Scott Brooks decision, Westbrook drove home the point several times that the team was winning so things were alright although the media wanted something more.
The scene shifts to Oklahoma City tomorrow night at 9pm. for Game 3.