Last week Rick Welts, Don Lemon and Will Sheridan revealed to the American public that they were openly gay and had been for some time. Welts is President of the NBA's Phoenix Suns, Lemon is a popular news anchor for CNN and Sheridan was a starting forward for Villanova University from 2003-2006.
Their coming forth only brings us closer to the day when an athlete of note will cross one of the final social barriers - revealing their sexual preference. I believe it's time we face the elephant in the room.
Are we ready for the next movement?
I'm not here to condemn, praise or pass judgement.
Hearing the stories of Welts, Lemon and Sheridan (In that order) all within an hour convinced me to face this issue. Welts is the highest official in American team sports to "come out".  Don Lemon has been a well-respected and admired media figure who was willing to go public with sexual preference. When news of  Will Sheridan's story hit in an excellent piece by ESPN's Dana O'Neil, I knew that I had to go with this.
It would be foolish for anyone to speculate who the individual is or when the moment will occur – I guarantee  it will happen and I wonder if we as a society are ready for it.
Many athletes have come forward in the past. Some have participated in Olympic sports, others in individual sports like tennis and golf. Many have been females involved in these sports. Of the males involved, very few have been participants in team sports - even more specifically, the four major sports in America. No athlete in American team sports has ever come forward while in an active status. Why?
Are many gay athletes remaining silent - fearful of the scrutiny that they'll face in the locker room or the backlash they could receive from once-adoring fans?
In reading Sheridan's story, he discussed his sexual preference as a freshman with then-roommate/teammate Mike Nardi and later with the team who handled the situation as mature as it can be handled for a group of young men. Sheridan's lifestyle was never discussed - so much so that Villanova coach Jay Wright didn't know of Sheridan being gay until after he graduated. Sheridan talked about how his mother expressed shock and talked about how she would miss out on one day having a daughter in-law and grandchildren. How his choice drove a year long wedge between the relationship that he shared with his father that is now on the mend.
How would Sheridan's revelation to teammates play out in a professional locker room?
Four years ago former Orlando Magic center John Amechi became the first NBA player to identify himself as gay. In his story Amechi discussed how he had seen both sides of the coin as a player with the Utah Jazz – how there was a rift between he, owner Larry Miller and coach Jerry Sloan. Amechi described former teammate Greg Ostertag as the only player with enough courage to ask him if he was gay. He never gave him a straight answer but told Ostertag "He had nothing to worry about." Teammate Andrei Kirilenko was accepting of whoever Amechi had in his life. Something that Amechi says aided him in living his lifestyle more out in the open.
The locker room is a sacred place for all athletes but for professionals it is their haven. This is their barbershop or night out with the fellas – whatever happens or is mentioned there stays there and goes to the grave with all parties, unless otherwise instructed.
So what if a teammate isn't forthcoming with his preference until he's out of the game - is there a feeling of disrespect, betrayal – dare I say a violation amongst his peers that thought otherwise?
In February 2007, LeBron James' view was that an openly gay player could not survive in the NBA:
"With teammates you have to be trustworthy, and if you're gay and you're not admitting that you are, then you are not trustworthy," James said. "So that's like the No. 1 thing as teammates — we all trust each other. You've heard of the in-room, locker room code. What happens in the locker room stays in there. It's a trust factor, honestly. A big trust factor."
Is that code really iron clad when it comes to something this deep?
There have been two recent incidents where NBA players uttered what is considered a homosexual slur in plain view of NBA cameras and fans. Kobe Bryant was fined 100,000 after he directed the slur towards a referee and Joakim Noah, 50,000 after yelling the same at a fan for allegedly disparaging his mom in the 2nd most watched NBA contest ever on cable.
In the wake of a new NBA public service announcement featuring Grant Hill and Jared Dudley that discourages abusive language and slurs towards gays and lesbians, our youth – particularly – have been put on notice.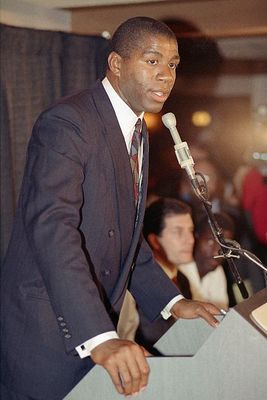 The closest we've come to this has been Magic Johnson's revelation he was HIV positive, through heterosexual contact. Although the NBA community and the world applauded Magic's return to the hardwood there were some concerned about incidental contact with Johnson that could lead to possible contraction of the disease. Most notable was Karl Malone's comments over a sudden concern of playing against Johnson. The Mailman's reaction was shocking considering  there was no prior indication of his true feelings that summer when the two were teammates on the original Dream Team in Barcelona. Ultimately, Johnson decided that it was best that he retire from the NBA for good.
What if it was the sixth man for the Los Angeles Clippers who contracted HIV/AIDS through homosexual contact ? Would there be the same compassion?  Johnson did receive his share of harsh criticism for living a self-admitted promiscuous lifestyle - but in the end had our support.
Could we say the same for someone of lesser notoriety?
What effect would a star player coming out have on our impressionable youth.? What do I say to my 8 year-old who hypothetically hears "things" said about the player whose jersey he wears to school every Friday? Do I take the jersey away? Do I sit him down and explain the scenario as best I can and hope he gets the crust of the story and not the whole pie – not yet.
Most children have unbiased feelings or emotions towards people. Unless something is done to them directly or they're told otherwise – they're most likely to look past something we would have an immediate judgement on. Kids are really concerned simply what their favorite player is doing at that point and time.
It's up to us to do our job as parents whenever something like this arises without prejudice.
What about that teenager who's looked up to Player X for as long as he can remember only to hear that he's gay? Does he stay loyal or fold in the wake of constant teasing in that pressure cooker we call high school?
Then there's us - the new "old school" – who know what we were taught about homosexuality and it's lifestyle as kids.  Coming up, if someone we knew went that way, short of family they got the long-handled spoon.
In 2011, it's guys that we went to school with or girls we dated. Also, it's the player you'd slap down 1/10th of your paycheck to see throw for 300 yards or the guy whom can hit the ball a country mile. At that point where do you stand?
America likes to think of itself as a forgiving and ultimately "second chance" society because after the initial shock of an event wears off things seemingly get back to normal.
The potential of  an elite athlete coming out is different right? This isn't Jackie Robinson breaking the color barrier. This is more about individuals choosing to live an alternative lifestyle. They are preachers, teachers and lawmakers who we'll elect into public offices and some, sans revelation just happen to be some of the best athletes in the world.
Are we ready for that moment?