The passing of NC State hero Lorenzo Charles shocked all of us that remember that night in Albuquerque. Charles slammed home the game-winning basket on a shot taken by teammate Dereck Whittenburg that came up short of the rim. In all of the mayhem the late Jim Valvano in euphoric disbelief ran frantically looking for someone to hug.
I think he finally found the guy he was looking for.
While the summer months are all about fun, the sports world has suffered some of its greatest tragedies during this time.
Twenty eight years ago today second year running back Joe Delaney of the Kansas City Chiefs drowned while trying to save three children from a water hole left by construction workers. One of the children managed to escape but one child was discovered with Delaney and the third child died at the hospital.
I remember Joe Delaney as a player and sadly enough, I remember that day. Delaney was the first active athlete that I remember dying.  But there would be so many more that would follow, the irony was that these deaths were occur in the summer months. Of course there's no conspiracy theory or anything like that. But it's an eerie coincidence, that leaves us all stunned.
July 2009 will be remembered as a month that shook the sports world. In the span of 25 days three active athletes, quarterback Steve McNair, boxers Arturo Gatti and Vernon Forrest died, retired boxer Alexis Arguello was the fourth. McNair and Forrest were murdered while the deaths of Arguello and Gatti have for now been ruled suicides.
The Minnesota Vikings Kory Stringer died from complications from a heat stroke suffered during Vikings training camp in 2001. His death resulted in teams wearing lighter colored uniforms to players being less pressured to "bulk up" and having doctors readily available at team practices. 
The Boston Celtics were still dealing with the death of Len Bias when superstar Reggie Lewis collapsed and died during an off-season practice in June of 1993. There was early speculation that cocaine use may have contributed to Lewis death. However autopsy results proved no such findings.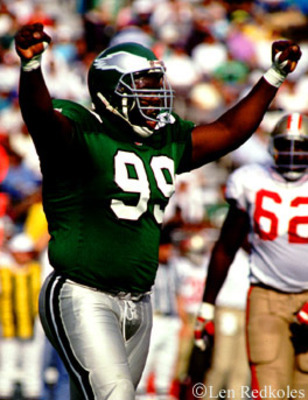 The night Reggie White joined Billy Graham at a Christian Crusade in Philadelphia, he announced to a hushed Veterans Stadium crown that his teammate and fan favorite Jerome Brown had died earlier in the day as a result of a car crash. Brown and his nephew Gus were killed when Brown lost control of his Corvette and struck a pole. In the nineteen years since his death, the Eagles have yet to replace the void left by Brown's death.
The deaths of Don Rogers and Len Bias brought the conversation of drugs and athletes into the national forefront and into my home. Their deaths were eight days apart (Bias June 19th) Rogers suffered cardiac arrest the day before his wedding.
The death of an athlete seems to hit a little harder because we grow up with these individuals. And as human as they are we still give them an aura of invincibility. There are others that I did not mention: Malik Sealy, Drazen Petrovic, Thurman Munson and Darryl Kile.