The NFL Preseason schedule got underway last Thursday night and it from the looks of things, the NFL was missed. I got a chance to look in on some of this weekend's games and I must say from the play of some of the rookie quarterbacks, the future looks bright.
Let's get to Questions and Answers.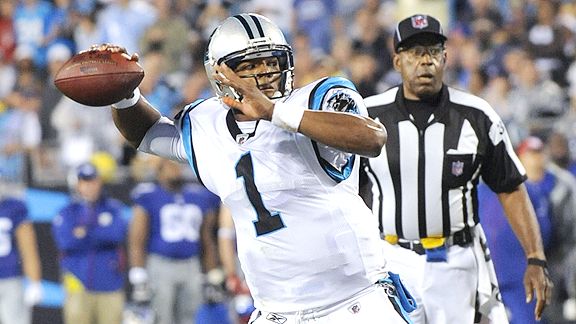 1. Cam Newton, Jake Locker, Blaine Gabbert and Ryan Mallet were all impressive in their own way in their professional debuts. Who among this rookie class has the best opportunity of starting at some point during the season? I believe that the door is wide open for Newton and Locker while Gabbert has a shot and his progression will only shorten the rope that Jack Del Rio will give starter David Garrard. Mallet's time under center would only come at the expense of an injury to Tom Brady. I believe at some point Newton's ability to get the ball downfield and the ability to prolong plays will be his ticket to unseating Jimmy Clausen as the  starter. Jake Locker may just have to show up with a warm arm – I don't believe there's much left in Matt Hasselbeck's tank. Locker's progression can only hasten the inevitable.
Tennessee Titans running back Chris Johnson wants a contract that will make him one of the highest paid players in the League. Is he worth it? Johnson has averaged over 300+ carries per season – building blocks for a shortened career (see Jamaal Anderson). Johnson knows he's going to be the focal point of the Titans offense that lacks any other big-play options. I don't blame Johnson for seeking the highest possible dollar for his services. At the same time I don't see the Titans brass offering him anymore than what Minnesota Vikings running back Adrian Peterson makes ($10 million base). After Johnson sits out a regular season game or two, both sides may meet somewhere around the $12-13 million mark.
Is there an NFL for Terrelle Pryor? *spoken in severe sarcasm* A  two-sport athlete prodigy comes along, lives the life of Diddy on campus unbeknownst to his head coach who works tirelessly to mold his players into upstanding young men. All of this while the star quarterback sinks a proud program and coach into oblivion. Yes, Terrelle Pryor will get a shot at the NFL but not without it's share of scrutiny (He will be asked to play a position other than QB or head North to Canada) and the watchful eye of Commissioner Roger Goodell hovering. This may be a one-shot deal for Pryor.
Philadelphia Eagles President is taking a huge gamble by not signing DeSean Jackson now? I'm not in the information loop but I've heard nothing remotely from either side in these negotiations. My feeling is that not much is going on and if this carries into the off season DeSean Jackson is going to listen to every offer, no matter who the team is. Not signing Jackson nullifies everything that they've done in free agency – and remember that Michael Vick is up for a new contract in 2012.