In our first segment, we examined the story of Terrelle Pryor, who went from savior to sinner quicker than a game-winning drive against Michigan. The debacle at Ohio State left Pryor minus his senior season of eligibility as well as the ire of the Ohio State faithful. Pryor faced media scrutiny for his "role" in bringing down the Ohio State program, resulting in the resignation of Jim Tressell. After being selected in the 3rd round by the Oakland Raiders, Pryor was suspended for the first five games of this season as a result of his non-compliance with the NCAA during the OSU investigation. Pryor is receiving further backlash from "experts" questioning his ability to play quarterback in the NFL. Something that was a non-issue while he compiled a 31-4 record as a starter at OSU.
Today we look at Cam Newton.
"Every man is born equal to become unequal." – Coach Eddie Robinson
Cam Newton is as polarizing a figure to come out of the college ranks as there has ever been. His 6'5″ 245lb. frame possesses a cannon arm and piston legs that have defensive coordinators around the NFL preparing for the day Newton breaks out. Not today, not even tomorrow but the day will come.
And that wasn't always the case…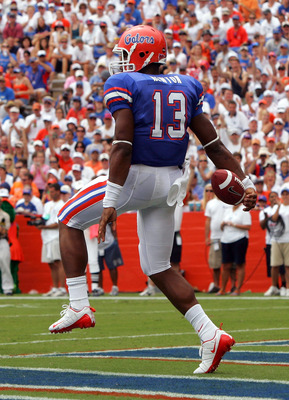 Newton's collegiate career began at the University of Florida as a backup to Tim Tebow, where he played for less than two seasons due to a suspension for the alleged theft of a laptop – suspended indefinitely after the laptop was found in his possession. Three days before the Gators took on Oklahoma for the National Championship, Newton announced intentions to transfer. Charges were dropped after Newton entered a pretrial diversion program.
Although Newton announced his intentions to transfer Foxsports.com reported that Newton left the University following the fall semester rather than face expulsion in part because of three situations involving academic cheating.
Newton would spend the 2009 season at Blinn Jr. College.  Newton would lead Blinn to the 2009 NJCAA National Championship in a season where he threw for 2,855 yards (22 touchdowns) and rushed for 655 yards. Newton would close out the season as a JUCO honorable mention All-America as well as the most sought after JUCO quarterback in the nation.
Auburn University won out over Oklahoma and Mississippi – a decision that would not come without controversy.
Newton spent the first half of his junior season re-writing the SEC record books and second half trying to keep his name in it. In the Tigers eighth game of the season against LSU, Newton would rush for 217 yards becoming the first SEC quarterback to rush for over 1,000 yards in a season.  Three weeks later against Georgia, Newton would become the first SEC player to pass for 2,000 yards and rush for 1,000 yards in a season. All while leading the undefeated Tigers to a number one ranking in the BCS Polls.
Newton's season was littered with stellar plays and moments that simply left one in awe of his ability to take over a game. There was the 49-yard run against LSU where he broke four tackles and carried a defender to pay dirt – part of a 217 yard rushing performance. And of course there was the comeback for the ages against the hated Crimson Tide. The Tigers trailed 24-0 and rallied behind Newton's three passing touchdowns and one rushing score to win 28-27. But Newton's finest moment may have come in the SEC Championship Game where he accounted for six touchdowns (4 passing, 2 rushing) in a 56-17 drubbing of the South Carolina Gamecocks.
Cam Newton was playing in the shadows of Condredge Holloway and Homer Jordan, men who took the front line punishment that allowed Newton to stand tall in the pocket of a region where the stench of racism isn't as strong – but still lingers.
Some of Newton's greatest performances came in the midst of a pay-to-play scandal in which Cam's father, Cecil Newton reportedly told recruiters from Mississippi State that it "would take more than a scholarship" for Newton to attend MSU.  The elder Newton reportedly requested $180,000 in exchange for Newton's commitment to the Bulldogs. Newton's eligibility hung in limbo for weeks before it was determined that Cam had no interaction with anyone at MSU. Newton was declared eligible for the SEC Championship Game and his Heisman eligibility was restored.
Why was this even an issue if NO money changed hands?
Cam Newton would win the Heisman by one of the greatest margins in its history Newton had 729 first place votes compared to runner-up Andrew Luck's 78. Newton's total points in votes (2,263) more than doubled Luck's (1,079). Even with such an impressive margin of victory there were those in the media questioning how long the award would be in Newton's possession despite being cleared in the pay-for-play scandal.
All that was left for Newton and the Tigers was nailing down the  BCS National Championship.
Newton's performance in the BCS National Championship Game lacked the fireworks that fans had become accustomed to but that was bound to happen at some point. Newton was 20-34 for 265 yards, threw for two touchdowns and an interception and also rushed 22 times for 69 yards – far from what we had grown accustomed to seeing. The Oregon defense came with a game plan to keep Newton from dominating the game but Auburn would win its first National Championship since 1957 on a last second field goal 22-19.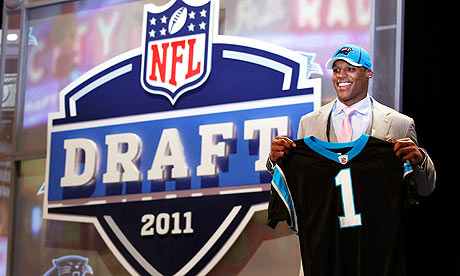 In the weeks leading up to the NFL Draft there was talk about how Newton – in spite of his performance throughout the season – was not the best player, let alone best quarterback in the draft. I remember one ranking having Newton listed as the sixth or seventh best QB on the board. This man swept every major college award that he was eligible rather convincingly, and now all of the sudden he's a fringe player???
Call it the Jamarcus Russell rule. The long and short of it is that in 2007, former LSU quarterback JaMarcus Russell at 6'6″ 260 lbs. wowed the Raiders' Al Davis with his size and the ability to throw the deep ball at the draft combine. When it was all said and done (three seasons), Russell burned the Raiders for about $40 million and was out of the league.
If the media wasn't comparing Newton to Russell, they were talking about the pay-to-play scandal that was now a dead issue or trying to pick apart his game to justify why he shouldn't be the #1 overall pick.
The draft came and went with Newton being selected number one overall by the Carolina Panthers and Newton jumped right into his playbook. Although the NFL Lockout kept him away from his coaches Newton utilized his available resources to the max in his introduction to the NFL .
Newton mentioned during the NFL Combine that he wanted to be an "Icon" when he finally reached the next level. His comment drew the ire of the same critics quick to point out Newton's "character issues" before and during the NFL Draft.
One man was listening and had his own idea of what an icon should look like.
Jerry Richardson, when meeting Cam for the first time, asked Newton if he had any tattoos. After Newton told him that he did not, Richardson mentioned that he wasn't a big fan of tattoos and felt that the "face of the (or his) franchise" should not wear any. Richardson's comments scream racism and fear of a generation that is based on self expression and individuality. Richardson is a 75-year old multi-millionaire with a plantation mentality.
To play this kind of mind game in 2011 is sick – but far from surprising. Is Newton thinking that if he does something self-expressive how will it upset the man that's paying him? That's the type of mental masturbation that these owners play to keep Black players "in their place". In no way does employment constitute ownership. If Richardson wasn't happy with Newton or didn't trust him, he wouldn't have selected him. Maybe he realized that Newton would get a new owner before he got another Cam Newton.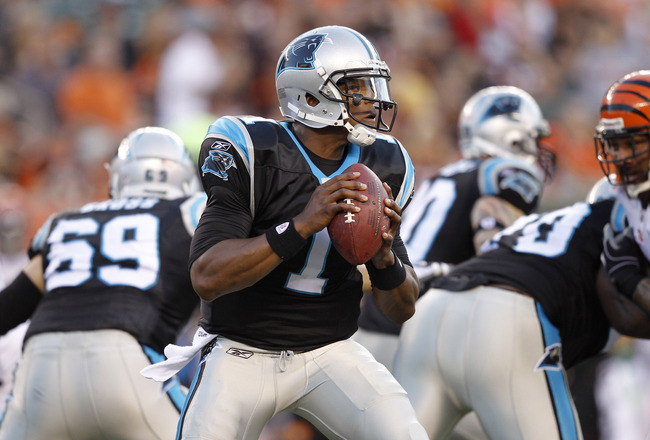 "Cam Newton did everything in his power not to earn the starting job during last night's game against the Cincinnati Bengals but it appears that he is going to be the Carolina Panthers starting quarterback anyway."
"Jimmy Clausen has outplayed Newton in terms of competency and having similarities to NFL quarterbacks. A Newton supporter will point to the fact that he is yet to throw an interception, but a rational cynic can point to his 40.4-percent completion percentage and say that defenders can't catch balls out of bounds." –  Brendan O' Hare – Bleacher Report
"Panthers No. 1 overall pick Cam Newton (7 for14, 66 yards) started ahead of Jimmy Clausen at Miami, and his performance–in a couple of ways–was similar to the extensive action he saw against the Giants last week. He again made good use of his skilled tight ends and again didn't throw an interception, but this time he couldn't connect downfield or lead Carolina on any scoring drives in the first half. He remains an inconsistent passer, but it's the second small step in a long learning process." – Vinnie Iyer – Sporting News
I'm totally in search of a rookie quarterback that hasn't struggled at some point. O' Hare would go on to say that Newton had "no weapons" to succeed. Damn he has two potential Pro Bowl tight ends in Jeremy Shockey and Greg Olsen, DeAngelo Hall is a Pro Bowl running back when healthy, Jonathan Stewart is a more than capable backup and an above average wide-out in Steve Smith – who had no one opposite him forever. But I digress, Newton is going to face this type of scrutiny no matter who Jerry Richardson places around him.
With or without tattoos.