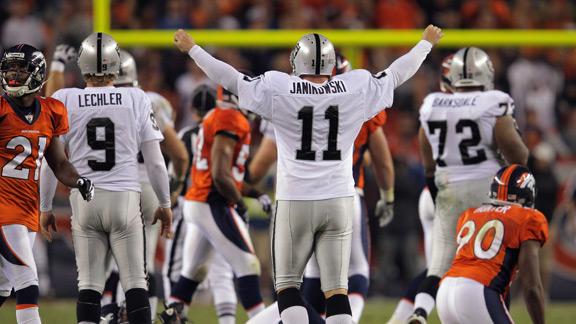 Ok folks, this is the first go round of the new season so don't expect this to be just right just yet. My hope is by the third or fourth week we should be on a roll. The rankings for this week are based on win, loss, performance  and projection for the season. This is probably the only week projection will be a factor since I didn't release a pre-season ranking.
Let's Janikowski this thing…
1. Green Bay Packers (1-0) – No surprise here, the champs looked great across the board last Thursday.
2. New England Patriots (1-0)  – Tom Terrific would get it done with three Wes Welkers, he's tailor made for Bill Belichick's system.
3. Baltimore Ravens (1-0) – The Ravens know they'll be facing a different Steelers team Nov. 6th in the Steel City
4. Philadelphia Eagles (1-0)  –  The defense gathered itself after Steven Jackson's injury and outscored the Rams 31-6 the rest of the way.
5. New York Jets (1-0) – Great comeback win for the a Jets team that can't afford to fall behind early.
6. San Diego Chargers  (1-0) – The Bolts face an early test next week up in Foxboro before home games against the Chiefs and Dolphins.
7. Chicago Bears(1-0)  – I really thought that this Bears team was going to take a step back this season. I can see this team going toe-to-toe with the Packers at some point.
8. Houston Texans (1-0) – They can't blow a division that's been gift wrapped to them can they?
9. New Orleans Saints  (0-1) – I came away impressed with the new-look Saints even in defeat. That goaline play will haunt Sean Payton for some time.
10. Pittsburgh Steelers  (0-1) – Mike Tomlin's gang is going to beat up on everyone until late October when the Patriots come calling.
11. Detroit Lions (1-0)  – A blood and guts win on the road in a tough place to win.
12. Washington Redskins (1-0)  – London Fletcher's presence on this team in invaluable.
13.  Tampa Bay Buccaneers (0-1) – Tough loss to a good Lions team, but four of the next five are winnable games.
14. Atlanta Falcons (0-1) – If this team comes out the gate 0-2 they will more than likely have to sweep the Saints to win the South.
15. Dallas Cowboys (0-1) – Jerry Jones has that antsy look in his eyes after a rough offseason.
16. San Francisco 49'ers (1-0) – The Niners are a leg up on the Rams who have all but had the division handed to them in the preseason.
17. New York Giants (0-1) – Didn't look like they wanted to be out there Sunday, if that's the case Tom Coughlin won't make it to Thanksgiving.
18. Arizona Cardinals (1-0) – Nice debut for Kevin Kolb who has a team to call his own.
19. Buffalo Bills (1-0) – The Bills could be 2-0 when the Pats come to Ralph Wilson Stadium in two weeks.
20. St. Louis Rams (0-1) – Can't afford to have Steven Jackson and Sam Bradford out for a significant amount of time.
21. Oakland Raiders (1-0)
22. Miami Dolphins (0-1)
23. Cincinnati Bengals (1-0)
24. Jacksonville Jaguars (1-0)
25.  Tennessee Titans (0-1)
26. Kansas City Chiefs (0-1)
27. Minnesota Vikings (0-1)
28. Indianapolis Colts (0-1)
29. Cleveland Browns (0-1)
30.Carolina Panthers (0-1)
31. Denver Broncos (0-1)
32. Seattle Seahawks (0-1)