I apologize for overlooking the dramatic comeback win Sunday by the Tampa Bay Buccaneers. Josh Freeman threw for 243 yards with a touchdown and an interception in a game the Bucs trailed Donovan McNabb and the Minnesota Vikings 17-0. More importantly, he orchestrated two fourth quarter scoring drives, including the eventual game winner.
This was the eighth fourth quarter comeback for Freeman who is only in his third season.
1. Green Bay Packers (2-0) (1) – The Pack found themselves in a firefight with Cam Newton and the Panthers – where would they be without Charles Woodson.
2. New England Patriots (2-0) (2) –  I heard someone say the other day that Tom Brady is slowing down. I don't know what NFL he's watching, but Brady may be as good as we've ever seen.
3. New York Jets (2-0) (5) – Four of Luke McCown's ten completions went to the New York Jets. Keeping Antonio Cromartie may have been the Jets biggest free agent acquisition.
4. Houston Texans (2-0) (8) – Amazing that Andre Johnson has put up the numbers he has with a marginal running attack and no real threat opposite him for most of his career.
5. Detroit Lions (2-0) (11) – Ndamukong Suh, the next Joe Greene? Not that far-fetched.
6.  Buffalo Bills – (2-0) (19) – Huge leap up for the Bills who always play the Pats tough at home.
7. New Orleans Saints (1-1) (9) – Drew Brees has yet to throw a pick, a serious comeback from the 22 he tossed last season.
8. Washington Redskins (2-0) (12) – Ok Rex, beat the Cowboys Monday night and I'll start paying attention.
9. Pittsburgh Steelers – (1-1) (10) – You just knew that Seattle was going to catch the wrath of this team. The warpath leads up to Indianapolis this weekend.
10. Atlanta Falcons (1-1) (14) – Matt Ryan was able to take a pounding from a fierce Eagles pass rush while finding open receivers in an early must-win game.
11. Philadelphia Eagles (1-1) (4) – Mike Vick is looking like he'll go Sunday against the Giants. A concussion two games into the season worries me.
12. Tampa Bay Buccaneers (1-1) (13) – The unknown legend of Josh Freeman can write another chapter with a win against the Falcons Sunday.
13. San Diego Chargers (1-1) (6) – Falling behind early against the Patriots on the road normally spells doom.
14.  Dallas Cowboys (1-1) (15) – Gutsy win against the Niners on the road. Romo's status is up in the air for the Skins Monday Night.
15. Baltimore Ravens – (1-1) (3) – I gave the Ravens too much too soon so they'll have to earn it from here.
16. Chicago Bears (1-1) (7) – No shame in losing to the Saints on the road, it was the beating that Jay Cutler took that made this one ugly.
17. New York Giants (1-1) (17) – With Domenik Hixon on IR with a torn ACL, guess who could use Plaxico Burress now?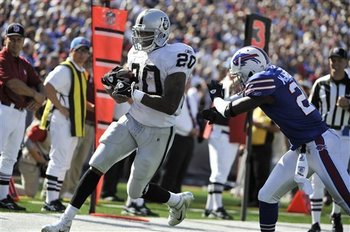 18. Oakland Raiders (1-1) (21) – I wasn't kind enough to the Raiders in their initial ranking so I placed them here. Blowing a lead like that on the road is inexcusable.
19. Jacksonville Jaguars (1-1) (24) – The Blaine Gabbert era begins Sunday in Carolina against one hell of a measuring stick.
20. Tennessee Titans (1-1) (25) – One huge win to build on for a Titans team in transition.
21. Arizona Cardinals (1-1) (18)
22. San Francisco 49'ers (1-1) (16)
23. Denver Broncos (1-1) (31)
24. Miami Dolphins (0-2) (22)
25. Carolina Panthers (0-2) (30)
26. Cincinnati Bengals  (1-1) (23)
27. Cleveland Browns (1-1) (29)
28. St. Louis Rams (0-2) (20)
29. Indianapolis Colts (0-2) (28)
30. Minnesota Vikings (0-2) (27)
31. Kansas City Chiefs (0-2) (26)
32. Seattle  Seahawks (0-2) (32)