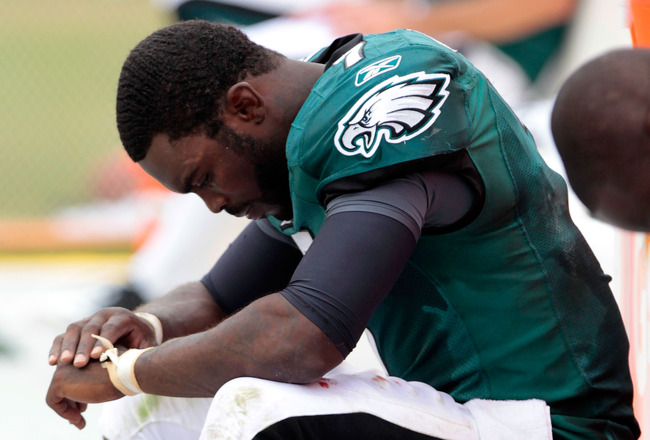 For the second season in a row there has been a discussion about the hits that Philadelphia Eagles quarterback Michael Vick has taken after he has released a pass during a game. Sunday Vick let his frustrations flow and some in the press chose to label it as whining. Is it whining when every time a lineman falls at Tom Brady's feet he's snapping an evil glare at the back judge that didn't toss a flag and miraculously one lands on the turf? Is that protection only for special quarterbacks? I can still remember the personal foul penalty assessed to the Eagles defensive end Trent Cole for literally glancing the helmet of the Indianapolis Colts Peyton Manning in a game last season.
Get it right refs!
Has Jason Campbell found a home in Oakland? Through three games Campbell's numbers are encouraging (584 passing yards, 65.9 comp. %,  3 tds., 1 int. 93.8 passer rating) that's what a top flight back in Darren McFadden will do for you. Rookie head coach Hue Jackson has the Raiders mixing it up offensively which doesn't put too much pressure on Campbell. Now rocking the captain's "C", I'm hoping that Campbell can finally settle in with the Silver and Black and get his career underway.
Eight fourth quarter comeback victories, comparable numbers to Peyton Manning and Tom Brady after 32 starts (Freeman only has 29) , when is the league going to take Josh Freeman seriously?  Matt Ryan, Matthew Stafford, Sam Bradford and oh yeah, Josh Freeman. That's how it pretty much comes across when the topic of good young quarterbacks are mentioned. Freeman has the Bucs off to a 2-1 start in a season where teams are on the lookout for the Bucs but the quarterback is still a mystery to fans across the nation. Had the opportunity to look at Freeman's numbers thus far and while they are comparable to those of the "standard bearers" Peyton Manning and Tom Brady. If the Bucs keep winning, everyone will be forced to take notice.
David Garrard has as many playoff wins as Tony Romo and played with less talent, why isn't his phone ringing? Did David Garrard fall off to the point that the Indianapolis Colts won't even consider him? Money aside, the Colts are in a division that they can still be a factor in if they can get some wins under their belt. Curtis Painter and Kerry Collins are not even a short-term solution. The Colts gave the Steelers all they could handle Sunday night thanks largely in part to the play of Dwight Freeney and the defense. I think Jim Caldwell is playing with fire riding it out with these two stiffs under center.
The Philadelphia Eagles are in trouble. Unheralded Giants wide receiver Victor Cruz celebrated Hispanic Heritage Month with a Cha-Cha at the expense of the Philadelphia Eagles secondary.  Brandon Jacobs taught rookie linebacker Casey Matthews a painful lesson in play action coverage. And Ahmad Bradshaw highlighted the defensive units inability to tackle in a 29-16 victory over the favored Eagles. The Eagles front office went all in this season for a Super Bowl run and this season has started off way below expectations. If this season continues to unravel, heads are going to roll, it's just a matter who.
If anyone noticed Bill Belichick and Rex Ryan being outcoached and Tom Brady throwing four interceptions they sure didn't mention it. Hue Jackson and Chan Gailey coached great games against two of the better coaches in the NFL and no one is discussing that. Tom Brady throws four picks and no one bats an eyelash. Lower profile coaches and players around the league get raked over the coals for performances like this but for some reason these three (and there are others) have become untouchable and that's wrong.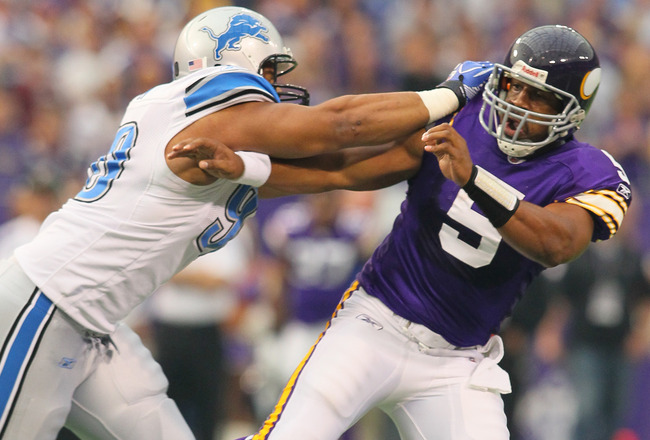 Has the time come for Donovan McNabb to call it a career? I hate to say it let alone think it but Donovan McNabb is going to be benched and once again playcalling will be the reason why. The Vikings led the Lions 20-0 at the half and could only produce three points in the second half largely because they refused to run the ball. Adrian Peterson was virtually non-existent in the Vikings game plan when they needed it most. Jared Allen played a huge final series in regulation to force overtime before the Lions kicked the game-winning field goal. I think if the Vikings loose one of the next two games we'll see rookie quarterback Christian Ponder under center.