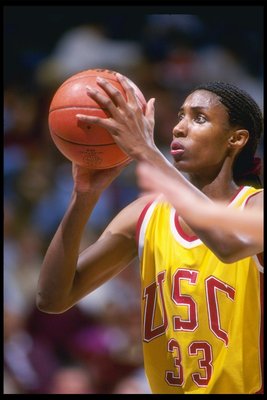 We salute lady hoops in this week's Diva Debate. Most of us remember Cheryl Miller (short chat with Chery down the page) dominating women's basketball at USC and capturing Olympic gold in 1984. She went on to coach at her alma mater and has since been an NBA analyst. There was no women's professional league with the following of today's WNBA. Had there been – Miller would've easily been the logo.
If you had to select a player to be the standard of women's basketball for the last decade and a half, Lisa Leslie is the choice of many. One of the most decorated players in history, Leslie is the cornerstone of the WNBA of which she is a member of the inaugural draft (#7 overall).
Let the debate begin…
Lisa Leslie's childhood dreams did not include being an ambassador for women's basketball, they didn't include sports at all. The 6'5″ Leslie had aspirations of being a weather anchor. At the end of the day it was Lisa Leslie who would be the barometer by which all great players in the WNBA would be measured.  Prior to joining her high school team Leslie had never played anything other than tether ball and double dutch. The only lefty on her middle school team, Leslie worked on her right hand so she wouldn't have to do drills alone, becoming ambidextrous. By the time Leslie entered high school at age 14, she had over 100 college letters from top programs, including Tennessee and Stanford University.
Leslie would score 100 points in a half while at Morningside High, accompanied by scoring records, state championships and even an invitation to the Junior World Championship team as a junior in high school. Leslie would go on to have a stellar career at USC averaging 20.1 points and went on to set PAC-10 records in points (2,414), rebounds (1,214) and blocked shots (321). Leslie would win National Player of the year in 1994.
Leslie was the 7th overall pick in the WNBA's inaugural draft of the Los Angeles Sparks in 1997 and like her male predecessors Chamberlain and Jabbar before her Leslie herself was a force in the paint, while off the court never giving the indication that she was a basketball player. Sure she was exceptionally tall but she maintained her femininity at all times even taking off a year to give birth. The signature moment of Leslie's career came on July 12, 2002 when she became the first woman to dunk in a WNBA game. Among Leslie's accomplishments are four gold medals several All-Star appearances and two WNBA Championships.
Cheryl Miller began setting the bar for women's basketball in the Miller driveway. Cheryl's younger brother Reggie was the object of her aggression on a daily basis.  Cheryl sharpened her game at the expense of her younger sibling.  By the time she reached Riverside Polytechnic High School she was ready for anything and anyone. Miller would become the first player, male or female to be named an All-American by Parade Magazine four times. She was named Street and Smith's national player of the year in 1981 and 1982. Miller would score 105 points in a single game during her senior season.
While attending USC Miller teamed with the McGee Twins (Pamela and Paula) and Cynthia Cooper to lead the Lady Trojans to back-to-back National titles in 1983 and 1984. Miller would win the Naismith award three times while becoming the fifth leading scorer in NCAA history (3,018) as well as its third leading rebounder all time (1,534). Miller still holds almost every major offensive and defensive record for the Lady Trojans.
In 1984 Miller turned her game to gold in the 1984 Olympic Games in Los Angeles, she also won gold in the Pan American and Goodwill Games. In 1986, Miller was drafted by the USBL, a men's league, but knee injuries shortened her career and eventually led her into broadcasting where she works as an analyst for The NBA on TNT.
Miller serves as a bridge in the evolution of women's college basketball that begins with Immaculata College in the 1970's and the dominance of the Universities of Tennessee and Connecticut in the 1990's and beyond.