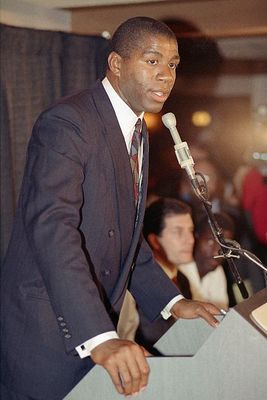 It was a moment in time that stopped you cold, rendering you speechless, emotionless and somewhat hopeless. Magic Johnson proclaiming that he was HIV positive left the world stunned and anyone with a questionable past either scrambling for a blood test or running away from the potential truth.
Prior to the Events of 9/11, "The Announcement" was possibly the defining moment of my generation. And for a then 19-year-old looking forward to finally entering adulthood, the rules of engagement had been changed forever.
Magic Johnson isn't supposed to be here. He gave his eulogy in The Forum two decades ago.  We've witnessed the relentless power of this disesase, as evidenced in the passing of Rock Hudson, Liberace and Freddie Mercury – all white men, all gay. Johnson is a heterosexual Black man.
For Black men and women across America, the game just became real!
There was an unprecedented wave of second guessing following Magic's announcement. What happened after that third rum and coke? That little black book seemed as important as the Bible, holding the answers to a moment once taken for granted. The rules of engagement were violated as we looked for offenders and we prayed that we had not been offenders ourselves.
Multiply that feeling times four in the sports world where even the team's equipment manager had a following. Imagine a player of Johnson's status and what readily available to him in every NBA city. What looked to be top shelf was in reality the lowest of the laying fruit, able to wreck a family and the lives they cherish in one moment of faux passion.
As I tried to brace myself mentally and emotionally for what Magic would have to endure, there was a silver lining in this dark cloud – his new bride Cookie and their unborn child (Earvin III) tested negative.
But what about Magic?
I couldn't wait for my facial hair to grow in enough so I could have a goatee like Magic – I was in awe of what a man his size could do with a basketball. Friday nights for me meant one thing,  the Lakers coming on at 11:30 on CBS.  The megawatt smile, the engaging conversations with that midwestern drawl made Johnson seem like a cousin or brother that you always wanted.  I always had love for Magic, even if it came at the expense of my Sixers in The Finals. I could take losing to Magic – I couldn't take losing to Larry Bird.
I loved Magic Johnson because he was a winner.
But this was a different game with no rules, his opponent was relentless – he would be engaged in a 24/7 battle for his life. There was no referee, no shot clock and no way out – this wasn't Game 7 in the Boston Garden. This disease was undefeated and broke down men and women physically before breaking their wills, without discrimination.
That was before HIV met Earvin "Magic" Johnson.
I watched his announcement for the first time since that day while writing this and two things stood out – first, was Magic's demeanor during his speech, his approach was one of fearlessness and aggression, almost welcoming the challenge. Second, were his words, "My life will go on…" At the time I saw it as Johnson being heroic and trying to put our fears to rest. What would he be saying in a year or when the virus becomes full-blown AIDS.
Charles Barkley changed his number from 34 to Magic's 32 to honor the retired legend

As shock waves spread throughout the world there were there was a great outpouring of affection for Johnson, while the holier-than-thous took the opportunity to chastise Magic and say everything short of him"deserving" this fate. Johnson talked of having unprotected sex with multiple sex partners and how at the time he didn't feel that it would happen to him. Johnson became a spokesperson for the disease through The Magic Johnson Foundation, as well as lecture on the prevention and spreading of the deadly disease.
Johnson had ruled out basketball because he was infected and didn't want to put any players at risk. But the fans who voted Johnson in as a starter and Tim Hardaway (who gave up his starting spot) thought enough of Johnson to see him start in the 1992 NBA All-Star game – which was quite appropriate since there would be no retirement parties in arenas around the league because he was abruptly leaving the game. What better way to go out than on a stage with and against the world's best.
As the All-Star game luster wore off, the United States was preparing to send a professional contingent of NBA players to the Olympic games for the first time. Johnson left Michigan State after his sophomore season thus he was ineligible to tryout for the team that was to play in the Moscow games that the U.S. ended up boycotting anyway. But this team was much greater – the greatest team ever assembled and it was the perfect platform for Johnson, who wanted to spread his word about HIV awareness. As he and his " Dream Team" mates prepared to smash the world – Johnson would be afforded that chance.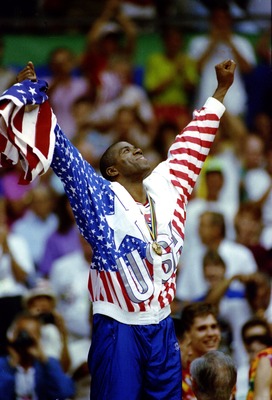 As the Dream Team did what they set out to do, Johnson would collect his first gold medal becoming only one of a handful of players to win an NCAA Championship, NBA World Championship and an Olympic Gold Medal.  Since the All-Star Game, things had gone smoothly from a basketball standpoint, with the exception of sore knees,  Johnson's game didn't miss a beat and fatigue wasn't a factor – why not return to the NBA?
Magic would play in several preseason games as the 1992-93 season was on the horizon, but a funny thing happened on his way to returning, several NBA players, including Johnson's Olympic teammate Karl Malone, expressed fear of what could possibly happen if Johnson did suffer an open wound.
"Just because he came back doesn't mean nothing to me," said Malone. "I'm no fan, no cheerleader. It may be good for basketball, but you have to look far beyond that. You have a lot of young men who have a long life ahead of them. The Dream Team was a concept everybody loved. But now we're back to reality."
Funny how Karl Malone's last-ditch effort to win an NBA title landed him in Lakers purple and gold.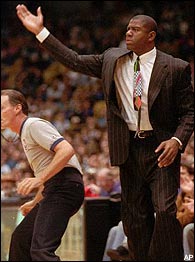 Johnson would not return to the NBA until the end of the 1993-94 season, replacing Randy Pfund but his tenure would only last until the end of the season. Johnson would purchase a 5% share in the team. Johnson would return to the Lakers for the 1994-95 season. Playing power forward he would average 14 points 5 rebounds and 7 assists per game. Johnson said following a first round exit to the Houston Rockets: "I am going out on my terms, something I couldn't say when I aborted a comeback in 1992."
In the two decades since "The Announcement" – American culture has become a smorgasbord of sexploitation. Stories of celebrity scandal trump those of hungry children and poverty-laden communities. Television reality shows glorify sexual promiscuity and infidelity. America's desire for the low-lying fruit is at an all time high – even when stepped upon. The anxiety in the days that followed November 7, 1991 has been matched by a total disregard for the message.
Johnson is beautiful picture of health, Cookie and their son  Earvin III remain healthy. The Johnson's also adopted a daughter Elisa in 1995. The list of Magic's business ventures has become long and profitable, he has become a spokesperson for everything from Rent-A-Center to his own contract food company Sodexo-Magic.
While Johnson's has gone on with his life as he promised he has remained true to his cause. He continues to educate both young and old on HIV/AIDS awareness, as well as lecturing across the country as a motivational speaker and philanthropist.
That's the Magic we've known, goatee and all – looking for the next big assist.