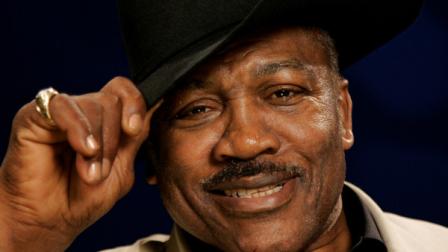 "Life doesn't run away from nobody, life runs at people" – Joe Frazier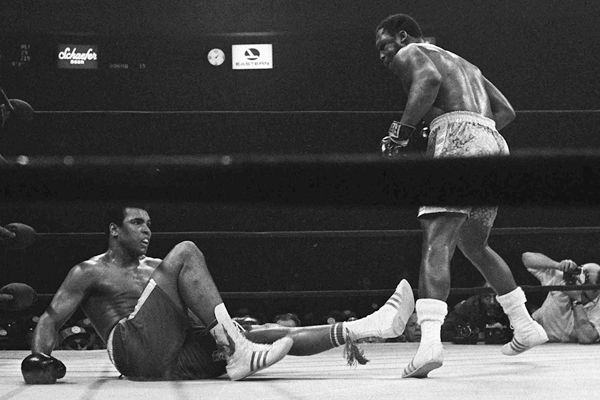 Life came at Joseph William Frazier early on, covering  all angles, maybe that's what allowed him to develop his "bob and weave" style, never allowing life's trials and tribulations to get a clean shot.
Joe Frazier died last night – life stole one from us all.
My introduction to sports was "The Thrilla In Manila" – age 4 with my dad on the couch, watching Wide World of Sports. Muhammad Ali sending Smokin' Joe's mouthpiece into the second row was the image that sticks in my mind. Little did I know that I was watching a mighty warrior in boxing's greatest era. Their bout would be the closest that I've seen two men come to killing one another.
Frazier lost two of three fights to Ali,  possibly winning  the most important bout of their historic trilogy. Frazier validated his winning the Heavyweight title in 1970 over Jimmy Ellis by outpointing Ali in their first meeting in Madison Square Garden on March 8, 1971. The signature moment in the fight and possibly Frazier's career was his perfectly placed left hook on Ali's chin, flooring the challenger. Ali was seeking to reclaim the Heavyweight title after being stripped in 1967.
Before and after their 1971 bout Frazier was taunted by Ali sometimes relentlessly, being called everything from an "Uncle Tom" to a Gorilla. In the "Thrilla In Manila" pre-fight build-up Ali purchased a toy gorilla and depicted it as Frazier. The venom that came from Ali made many uncomfortable with the possible exception of those in the Ali camp. Ferdie Pacheco thought that Ali's taunting of Frazier "was great".
Joe Frazier taught me as much about standing up for what you believe in as Ali. It's not mentioned enough that Frazier supported Ali's decision, stating that "If Baptists didn't have to fight – I wouldn't go", speaking of signing up to fight in the Viet Nam Conflict Frazier was there for Ali financially in the weeks, months and years following his suspension.  Frazier boycotted the 1967 elimination tournament to crown a new champion in protest of Ali's suspension. He even petitioned then-President Richard Nixon to reinstate Ali, even setting up a series of matches.
Beufort, South Carolina may have birthed Joe Frazier – but Philadelphia, Pennsylvania adopted him as their own. Frazier raised his family in the city, they were educated in the Philadelphia Public School system.
Frazier built a gym 5 blocks from my home in the heart of North Philadelphia saving several young men and women from the penitentiary – or worse. He made himself as visible as an icon could be – the gym being an open door for anyone that wanted to hit the bag, get an autograph or touch the left hand that dropped The Greatest.
In a city that seeks its first Vince Lombardi Trophy and another visit from Lord Stanley's Cup, we've always had Joe Frazier to hang our hat on as ours.
Life moves on – Joe Frazier's Gym which was once THE landmark in North Philadelphia now a furniture store (much to my disgust) is nothing more than a memory. Sometime in the future I would love to see the gym purchased and placed back into Frazier's name and converted to a museum honoring Frazier and other notable Philadelphia fighters. It's also time to build a statue in Frazier's honor and place it either at the Blue Horizon or on the steps of the Art Museum – a tribute more befitting than that for a fictional character.
Finally, ditch any ideas for any future Rocky scripts.
He died last night.