Several games this weekend will have a direct impact on divisional and conference races around the NFL. The Dallas Cowboys and Tampa Bay Buccaneers, both at 4-4 will take on divison leaders in the AFC East and South in the Buffalo Bills and Houston Texans, respectively. The New Orleans Saints look to increase their one-game lead in the NFC South will take on the Falcons in Atlanta.
The surprising Cincinnati Bengals face the Steelers today, beginning a gauntlet which includes five divisional games in the next eight weeks. The Detroit Lions face the surging Chicago Bears at Soldier Field, a unified NY Giants team heads west to take on the 7-1 49'ers. The Broncos and Chiefs meet in a suddenly wide open AFC West. Finally the  New England Patriots and NY Jets battle for AFC East supremacy on Sunday night.
Sunday November 12, 2011
Games Beginning at 1 pm:
Buffalo Bills (5-3) at Dallas Cowboys (4-4) – The Cowboys run defense will be put to the test against one of the league's best in Fred Jackson. I'm sure defensive coordinator Rob Ryan turned to brother Rex for pointers.
Cowboys 27- Bills 23
Tennessee Titans (4-4) at Carolina Panthers (2-6) – The Panthers have lost more close games than they've won. The Panthers are the NFL's most explosive offense coming off of a bye week against a Titans defense going in reverse.
Panthers 30 – Titans 21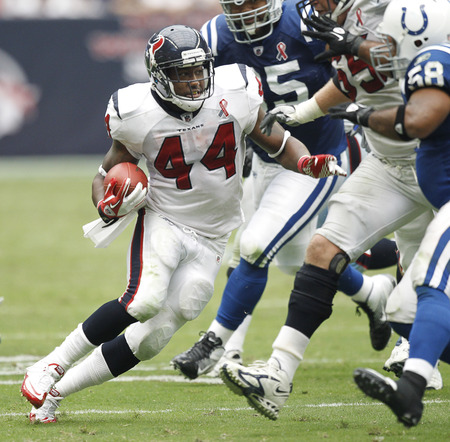 Houston Texans (6-3) at Tampa Bay Buccaneers (4-4) – Arian Foster and Ben Tate are the best RB tandem in the NFL right now, Josh Freeman, who has struggled in recent weeks, now faces and opportunistic Texans secondary who is ranked third in interceptions.
Texans 24 – Bucs 20
Jacksonville Jaguars (2-6) at Indianpolis Colts (0-9) – The Jags are better defensively, but equally poor quarterback play opens the door for a Colts win.
Colts 16 – Jaguars 12 
Arizona Cardinals (2-6) at Philadelphia Eagles (3-5) – Here are the real 'Angry Birds'. The Eagles have no margin for error and need a miracle to make the playoffs.
Eagles 35 – Cardinals 10
New Orleans Saints (6-3) at Atlanta Falcons (5-3) – The Saints bounced back last week, Michael Turner may get 30 carries today against an inconsistent Saints front four.
Saints 33 – Falcons 22 
St. Louis Rams (1-7) at Cleveland Browns (3-5) – The are trying to salvage this disappointing season.
Rams 20 – Browns 16
Washington Redskins (3-5) at Miami Dolphins (1-7) – The Shanahan Plan has failed miserably and no one feels sorry for them.
Dolphins 24 – Redskins 14
Denver Broncos (3-5) at Kansas City Chiefs (4-4) – I can't help but marvel at Willis McGahee, who has made the most of his opportunities regardless of the uniform or the team's situation.
Chiefs 24 – Broncos 13
Pittsburgh Steelers (6-3) at Cincinnati Bengals (6-2) – Maybe a win against the Steelers will get Bengals head coach Marvin Lewis Coach of the Year consideration.
Steelers 28 – Bengals 27
Games Beginning at 4pm or later:
Baltimore Ravens (6-2) at Seattle Seahawks (2-6) – The Ravens are in a perfect "trap" situation: a team coming off a big division win, heads west against a struggling opponent that's always tough at home.
Ravens 24 – Seahawks 20
Detroit Lions (6-2) at Chicago Bears (5-3) – Both teams are trying to lock down one of two wildcard spots, the Bears might be finally coming together.
Bears 25 – Lions 17
NY Giants (6-2) at San Francisco 49'ers ( 7-1) – A true battle of wills here, the Giants are unified and are the best in the NFC East while the Niners are still out to prove that they belong among the elite this year.
Niners 27 – Giants 24 (ot)
New England Patriots (5-3) at NY Jets (5-3) – Rex Ryan longs for the day when he can turn Mark Sanchez loose, he should start today.
Jets 30 – Patriots 28
Monday Night November 14, 2011 8:30pm:
Minnesota Vikings (2-6) at Green Bay Packers (8-0) – I'll be asleep by 8:45
Packers 38 – Vikings 10
Thursday November 10, 2011
Oakland Raiders 24 – San Diego Chargers 17
 Last Week: 9-5
2011 Season 71-48