The Divisional round of the NFL playoffs produces arguably the best football of this mini-tournament. Saturday afternoon, the surprising 13-3 SanFrancisco 49'ers host the New Orleans Saints led by Drew Brees who passed for 466 yards and 3 touchdowns against the Detroit Lions last week in the wildcard round. In the nightcap Tom Brady and the New England Patriots take on the Denver Broncos in chilly Foxboro. Sunday the Baltimore Ravens take on the Houston Texans who are looking to continue their playoff run. Sunday evening the New York Giants get their second shot at the world champion Green Bay Packers at Lambeau Field.
Saturday January 14, 2012: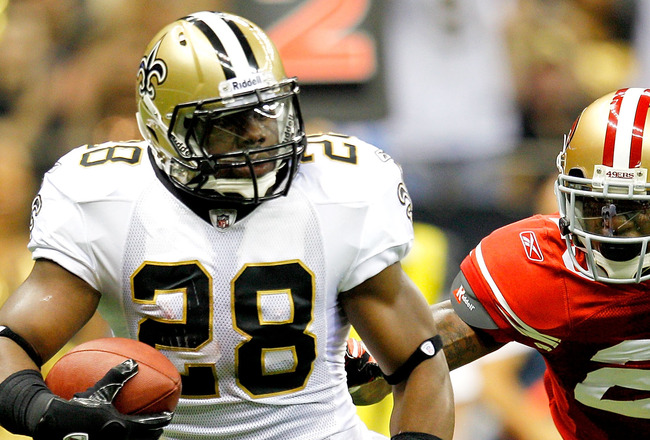 New Orleans Saints (14-3) at San Francisco 49'ers (13-3) – Expect Drew Brees and the Saints to be in a down and dirty battle in 'Frisco. The Niners will try their best to slow the game down and eat up the clock. The trick is that the Saints can play that game as well. The Niners have the ground game and the defense to limit the Saints scoring output, I said limit – not overtake.
Saints 27 – Niners 21
Denver Broncos (9-8) at New England Patriots (13-3) – Bill Belichick's defensive schemes have caused problems over the years for many a QB – though this year's edition has been its own worst enemy. Facing Tim Tebow earlier this year gives Belichick and the defense a heads up for what they'll see this weekend. The Broncos need to continue what they did last week but not try to go after it in bunches.
Patriots 33 – Broncos 17
Sunday January 15, 2012:
Houston Texans (11-6) at Baltimore Ravens (12-4) – Joe Flacco minimizing his errors is the key to the Ravens Super Bowl hopes, but with a back like Ray Rice and a rested Ricky Williams running the ball in January, Flacco's chances at hurting the Ravens are reduced. The Ravens won the earlier meeting this season in a game that wasn't decided until the final quarter. But that was with Matt Schaub under center, now with T.J. Yates at the helm the Ravens will look to take away backs Arian Foster and Ben Tate, placing the game on the arm of Yates.
Ravens 28 – Texans 19
New York Giants (10-7) at Green Bay Packers (15-1) – The Giants are right where they want to be and this time they're healthy. The Giants receivers are about even with the Packers, the difference is the Packers secondary is superior to the Giants and could be the deciding factor in this contest. Aaron Rodgers and Eli Manning will be tested by two aggressive defensive game plans.
Packers 23 – Giants 21