(AP Photo/Nick Wass)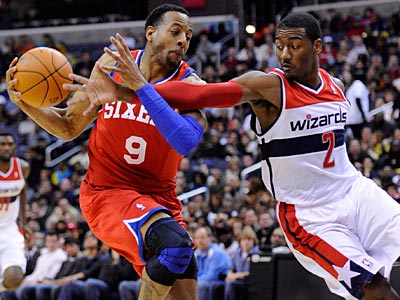 The Philadelphia 76'ers picked up where they left off on Friday night with another strong defensive performance and another solid effort from the bench. Andre Iguodala was the defensive catalyst again last night as the visiting Sixers completed the weekend home and home matchup with a 103-90 victory over the Washington Wizards.
(AP Photo/Nick Wass)
The Sixers have passed two early season tests with flying colors. First there was the five-game western swing to open the season in which they went 3-2. Last night they completed seven game in nine days going 6-1 with all six victories coming by double figures – four of those wins coming by 20+ points.
Once again the Sixers went out and did what they were supposed to do against a lesser opponent, last night it was the Washington Wizards for the second consecutive game. Lou Williams led the Sixers in scoring with 24 points followed by Andre Iguodala with 23. The Sixers didn't get off to a fast start like the previous night and the Wizards for the most part kept the game close but the team's defensive intensity remained intact fueling their fast break. The Sixers shot 43 percent compared to 55 percent on Friday night. Jrue Holiday contributed 13  points as he continues to search for his shooting touch. The coaching staff  must approach the health of center Spencer Hawes (back) with caution, Hawes played only 19 minutes last night. Elton Brand scored 12 points in 22 minutes of play.
The night belonged to the bench, led by Williams and Thaddeus Young, who bounced back from a shaky Friday night with 18 points, 4 rebounds, 2 steals and 2 blocked shots.
The Wizards put forth a better effort as John Wall scorer 19 points and come within a rebound and an assist of a triple-double. Nick Young led all scorers with 27 points and 7 rebounds. JeVale McGee had a huge game with 23 points and 18 rebounds. 
The Sixers have completed what some may consider a "soft" portion of their schedule as the level of competition will pick up in the next couple of weeks with games against the Bucks, Nuggets, Hawks, Heat and Magic. There will be games against the Wizards and Nets sprinkled in there but for the most part the Sixers have to make a more than better showing against teams that they see as potential playoff opponents.