Josh Smith's presence in the paint is comparable to that of a bouncer in the world-famous gentleman's establishment in his beloved ATL -bold, deliberate and often times – violent. For seven seasons, Smith has been one of the cornerstones of an Atlanta Hawks franchise that now has enough youth and veteran leadership to take them to the pinnacle of the NBA.
Smith, in his seventh season is off to a great offensive start as are the 13-4 Atlanta Hawks. The 6'9″ power forward is averaging 16 points and 9 rebounds per game. Smith's play at the defensive end comes as no surprise – averaging one steal and almost two blocks per game.
Last Friday, prior to the Atlanta Hawks contest against the Philadelphia 76'ers, I had a chance to sit down with a slimmer Josh Smith (lost approximately 25 lbs.) not long before tipoff.
RG: I just had a chance to speak with coach Drew and we discussed how much you slimmed down in the off-season and your fast start. It looks like your having an All-Star caliber season. How do you feel being off to one of your better starts?
JS: I feel good, I feel healthy,  just being able to do everything the right way. The weight loss – I think it was for the better, not saying that I would always come to training camp in shape. You know I was always playing one position and that was the "four" and you have to play with a certain kind of weight to match the physicality of "fours" around the league. During the post season last year, they threw me in at the "three" alot. Not saying it was a challenge but it was an opportunity to fight around pick and rolls and with the weight off, I was able to really become the most versatile since my rookie year.
RG: From what I've seen so far this season it looks like your working more in the paint area, is that by design?
JS: It's just where I'm at on the offensive end and where I'm at on the floor, being able to get my game off on the inside – it opens up more stuff whenever I'm down there and I'm able to get to the line a little bit I guess it opens things more.
RG: How tough has it been without Al Horford? (The All-Star center is out at least three months with a shoulder injury)
JS: It's real tough, Al helps the game out in so many ways – he's a shot changer, he's a rebound gobbler and he makes his mid-range shots. He just does a lot as well on the defensive end like moving his feet off of pick and rolls. He does a lot for this basketball club and it's just nice to see guys step up in his absence.
RG: The last couple of playoff appearances have been disappointments, with the way things are shaping up in the East and the good mix of youth and veteran leadership on this team what is your outlook?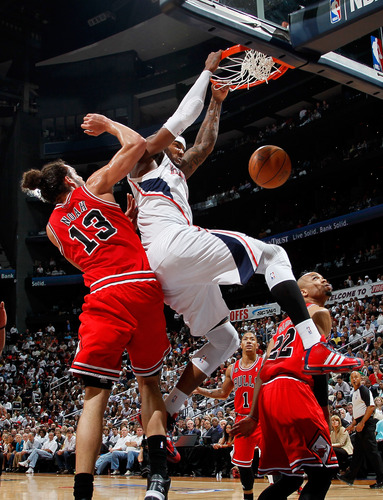 JS: We're good, our goals never change. We want to get to the championship and if you don't belive in making that far then there's no reason for you to be playing. I think last year was probably a notch to that next step.  We took Chicago to six games, I feel like we could've been a bit little more competitive. I was a little banged up but that's not an excuse I'm going to make. But it definitely put a lot of fuel into our bellies to be able to take that next step.
RG: How have you handled the condensed schedule and travel so far?
JS: It's definitely hectic, but I'm just happy to be back playing again.
RG: What did you do during the lockout out side of basketball?
JS: Just having fun, doing stuff that I really can't do because of the amount of time we have. I was out in LA, I was able to experience that, it was somewhat different. I had a good fun, but at some point and time – I wanted to get back playing again.
RG: What's it like playing so close to home?
JS: It has its pros and cons, I was born and raised here – been here all my life. It definitely has its benefits.
RG: You never had the college experience, do you ever think about that?
JS: No, never. I think I missed that roadblock to get to my ultimate goal.
RG: How's it been playing with Tracy McGrady?
JS: He's been good, whenever he's out there it's always been beneficial. Even when he doesn't play he sees the game, he has such  a high basketball IQ that he keep us cool each and every minute he's out there.
RG: And Joe Johnson?
JS: He's been playing with a real fire since Al has been out. We have taken it on our shoulders to get the team started.
RG: Thanks for your time Josh.
JS: No problem.